Another first for scooters in L.A.: a conviction for scooting under the influence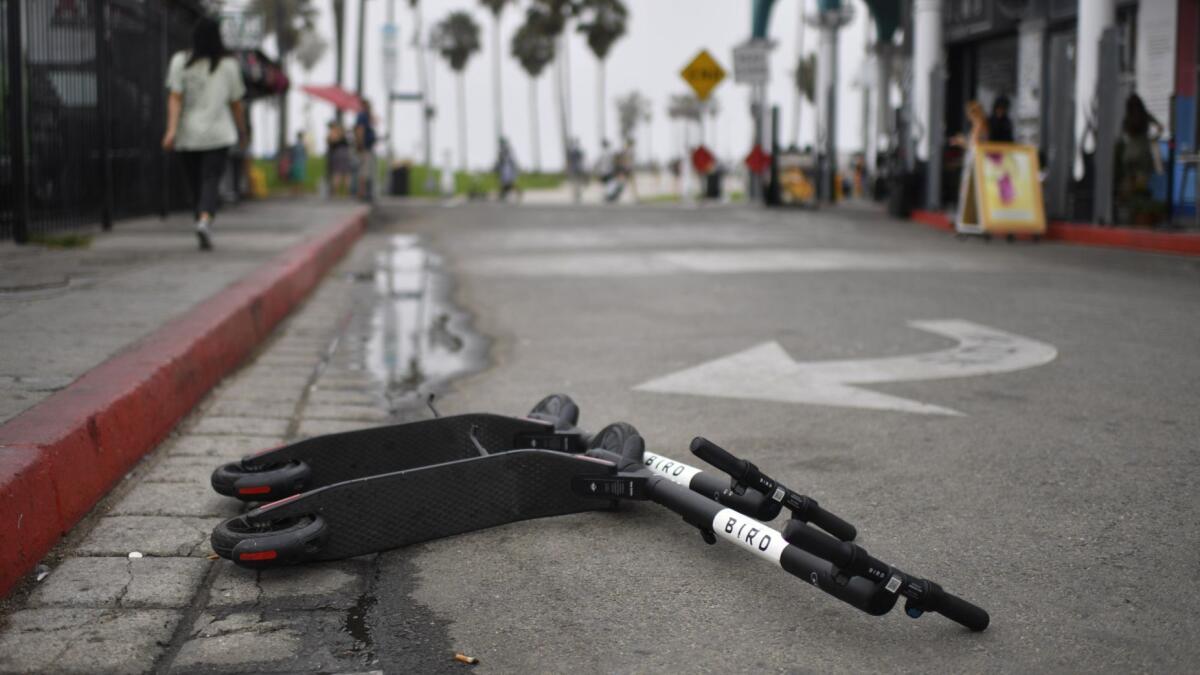 Southern California has seen a series of firsts since motorized rental scooters began flooding streets and sidewalks last year, including the first collision with a driver and the first scooter sent to a watery grave in the Venice canals.
On Wednesday, Los Angeles officials reported another: the first conviction for scooting under the influence.
City Atty. Mike Feuer said his office had secured a misdemeanor conviction against Nicholas Kauffroath, 28, who was riding a Bird scooter on a sidewalk in West L.A. when he knocked a pedestrian to the ground and scooted away to a nearby apartment building without stopping to render aid.
When police officers found Kauffroath, Feuer said, his blood-alcohol level was measured at .279, more than three times the legal limit.
Kauffroath pleaded no contest to one count of operating a motorized scooter while under the influence, and one count of hit-and-run, officials said.
Kauffroath, who did not return a request for comment, was sentenced to three years of probation and ordered to pay a $550 fine, Feuer said. He was also ordered to pay restitution to the victim, complete a three-month DUI program, and stay off scooters while drinking.
"Drinking while operating a vehicle, a bike — or a scooter — is not only illegal, but can lead to serious injury or worse," Feuer said in a statement. "This conviction demonstrates our office's continued effort to enforce our drunk driving laws and make our streets and sidewalks safer."
Los Angeles prosecutes thousands of misdemeanor DUI cases each year, but this is the first involving a motorized scooter, said Feuer spokesman Rob Wilcox.
The thousands of Bird and Lime scooters that have appeared in Los Angeles and Santa Monica since last year cost $1 to rent and 15 cents per minute to ride. Riders use the companies' apps to find scooters nearby, and scan codes on the handlebars to unlock them.
Before customers can ride, they are required to confirm that they will not ride while under the influence of alcohol, drugs or medication.
California's laws against operating a vehicle while impaired are most commonly applied to drivers. But the restrictions also apply to motorcycles, bicycles and motorized scooters.
As the scooters have become more popular and migrated to more areas of the L.A. basin, police officers say they have anecdotally observed an uptick in collisions between scooter riders, drivers and pedestrians.
"They're becoming more frequent, certainly," said Det. Connie White of the Los Angeles Police Department's West Traffic Division. This month, she said, the LAPD created a code that will allow officers to track scooter collisions, similar to how bicycle crashes are tallied.
Earlier this month, a 25-year-old man rode a scooter into a LAPD drunk-driving checkpoint in West Los Angeles and failed a field sobriety test.
The TMZ write-up of the incident reminded riders that a scooter is a motorized vehicle, adding: "This concludes your Sunday Funday bummer."
For more transportation news, follow @laura_nelson on Twitter.
Sign up for Essential California for news, features and recommendations from the L.A. Times and beyond in your inbox six days a week.
You may occasionally receive promotional content from the Los Angeles Times.