Polar bear at SeaWorld San Diego dies after a brief, unexplained illness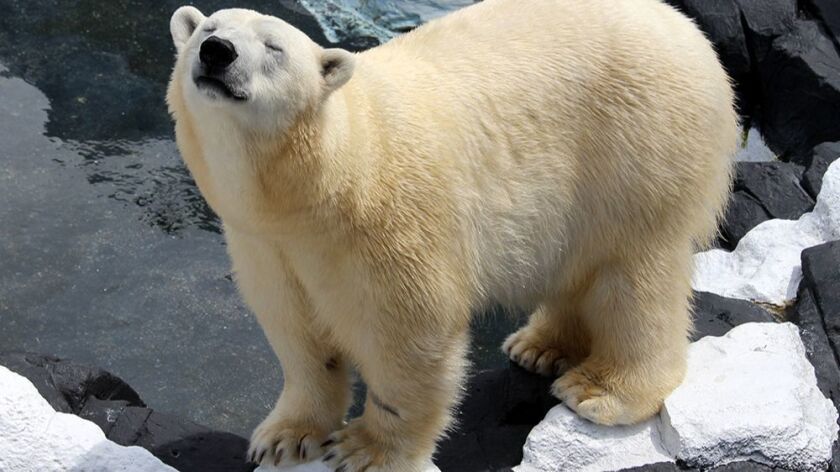 SeaWorld San Diego's 21-year-old female polar bear, Szenja, died unexpectedly Tuesday following a brief illness.
The bear had been showing signs of appetite and energy loss for about a week, but the exact nature of her illness and sudden death are still unexplained. SeaWorld will be conducting a necropsy to determine the cause of death, park officials said, but it will be several weeks before the results will be available.
"Szenja was a beloved member of our animal family, so this is a very difficult day for all of us," said Al Garver, SeaWorld San Diego's vice president of zoological operations.
"Szenja not only touched the hearts of those who have cared for her over the last two decades, but also the millions of guests who had the chance to see her in person," he said. "We're proud to have been a part of her life and to know that she inspired people from around the world to want to protect polar bears in the wild."
SeaWorld's only other polar bear, Snowflake, was shipped to the Pittsburgh Zoo & PPG Aquarium at the end of February for breeding, and there is no return date set, said SeaWorld San Diego spokesman David Koontz.
Born at the Wuppertal Zoo in Germany in October 1995, Szenja came to SeaWorld when the park opened its Wild Arctic exhibit two years later. Over the last week, Szenja's caregivers and veterinary staff had been monitoring her listless condition, but her passing was unexpected, the park said.
Citing Polar Bears International, SeaWorld said polar bears typically have a life expectancy of 15 to 18 years in the wild, although some can live as long as 30 years.
In a news release, SeaWorld said that Szenja served as an ambassador for arctic animals, raising awareness of polar bears among the nearly 50 million guests who have visited the Wild Arctic exhibit.
She also has participated in various studies related to polar bear hearing sensitivity, social habits, reproductive hormones and seasonal behavior patterns.
To read the article in Spanish, click here
Weisberg writes for the San Diego Union-Tribune.
---
The stories shaping California
Get up to speed with our Essential California newsletter, sent six days a week.
You may occasionally receive promotional content from the Los Angeles Times.