Raid on San Francisco reporter's home condemned as an attack on 1st Amendment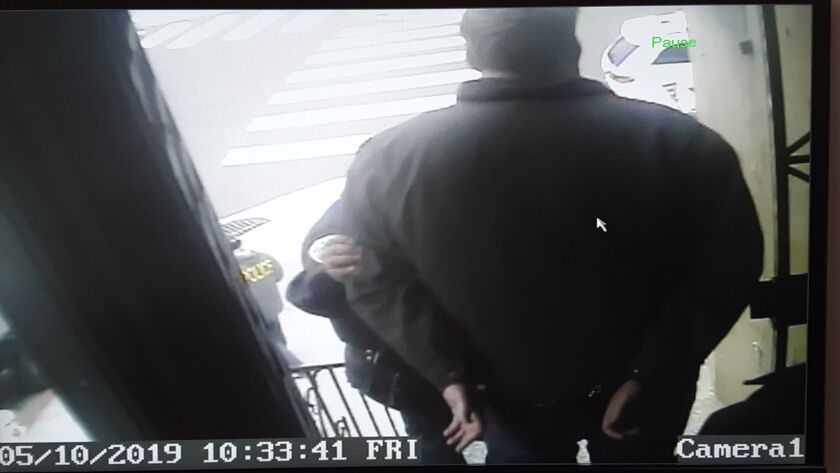 The San Francisco Police Department appears to have violated state and federal laws when its officers searched the San Francisco home of a journalist in an apparent bid to identify a confidential source, 1st Amendment experts said Sunday.
The officers carted away phones, computers, tablets and notebooks Friday after using a sledgehammer to try to break through Bryan Carmody's front gate. Officers also searched his independent news organization, North Bay News, and seized a thumb drive, CDs and a police report about the death of San Francisco Public Defender Jeff Adachi.
Carmody said he suspects the searches were carried out in a bid to identify the confidential source who provided him with the police report. Two investigators visited his home a few weeks ago and "politely" pressed him to disclose the name of his source, but he said he declined.
California has a shield law that protects journalists from being held in contempt for refusing to identify their sources, said David Snyder, a lawyer and executive director of the First Amendment Coalition.
"It's pretty plainly unlawful," said Snyder, who noted that the statute governing search warrants expressly forbids police from seizing items covered by the shield law.
"They are trying to root out the source, and that's the core of what California's journalist shield law protects," he said. "It's something you'd expect out of an authoritarian regime, not the city of San Francisco."
Carmody is not the only victim of the Police Department's questionable searches, according to the Society of Professional Journalists' branch in Northern California.
"An attack on the rights of one journalist is an attack on the rights of all journalists," the organization's freedom of information committee said in a statement. "San Francisco's wrongful actions against Carmody threaten fundamental journalistic freedoms which are vital to a functioning democracy."
A Police Department spokesman defended the searches as part of "a complete and thorough investigation into this leak" and said the raid was "a step in the process of investigating a potential case of obstruction of justice along with the illegal distribution of confidential police material."
The spokesman, David Stevenson, added that judges signed off on warrants to conduct both searches.
San Francisco Superior Court Judge Gail Dekreon approved the warrant to search Carmody's home on Thursday, and Judge Victor Hwang approved the warrant to seize materials from the office of North Bay News on Friday, according to records provided to The Times.
It's unclear what police told the judges to secure the warrants. The affidavits outlining probable cause for the warrants were sealed by the court.
A spokesman for the San Francisco district attorney's office said Sunday that their prosecutors were not involved in preparing or signing off on the warrants.
When a reporter would not betray his source, police came to his home with guns and a sledgehammer »
The investigation has made Carmody a cause celebre of 1st Amendment advocates and renewed concern about press freedoms in a time when freelancers, contractors and independent journalists work with multiple news outlets across a variety of platforms.
Carmody was part of a throng of journalists chasing details about the Feb. 22 death of Adachi, 59. He ultimately obtained an incident report that detailed the public defender's final moments.
The document, as reported by KGO-TV in San Francisco, said Adachi had dinner with a woman named Caterina, who was not his wife, then returned to an apartment he was using for the weekend. The woman called 911 for emergency medical help, and Adachi was rushed to the hospital.
Later that night, officers went to the apartment and found "alcohol, cannabis-infused gummies and syringes believed to have been used by the paramedics," the San Francisco Chronicle reported. The city medical examiner would later conclude that Adachi died of an accidental overdose of cocaine and alcohol.
Images of the apartment were circulated online by KTVU, a Fox affiliate in Oakland, as well as KGO-TV. Carmody told the Chronicle that he sold the package, which generally includes documents, video and other reporting material, to three TV stations.
Adachi's widow and city officials chastised San Francisco police for allowing the details of a confidential report to get into the media's hands.
John Hamasaki, a member of the city's Police Commission and a defense attorney, said an underlying concern was that the report's release "was done by Jeff Adachi's enemies within the Police Department to tarnish his legacy." As public defender, Adachi cast himself as a police watchdog and champion of civil rights.
Hamasaki, who described Adachi as a friend and mentor, said that although he did not appreciate the incident report's sordid content, he did support outlets like the Chronicle that published details it contained.
However, he claimed Carmody's situation was different. Carmody wasn't reporting on the document, "but trying to sell it to other news agencies," Hamasaki argued. "That's not journalism."
Lucy Dalglish, an attorney and the dean of the University of Maryland journalism school, compared Carmody to a small broadcast wire service, feeding local news organizations with original reporting.
She said the Police Department's actions turn on whether its investigators strongly believe Carmody broke into a police station or engaged in other illegal behavior in order to steal the report.
"But if all this guy did was receive a copy of a police report, then sorry, that's a bad search," Dalglish said. "Publishing something because someone handed you a document is not a violation of the law."
Dalglish, who previously served as director of the Reporters Committee for Freedom of the Press, pointed to the federal Privacy Protection Act, which prevents law enforcement from searching a newsroom and seizing journalists' equipment and work product. The statute was passed in 1980 in response to a Supreme Court ruling that dealt a blow to press freedoms. The court ruled that a 1971 search of the Stanford Daily student newspaper's offices by Palo Alto police was constitutional. Following the Supreme Court ruling, California voters enshrined the shield law's provisions in the state Constitution.
"If you want information from a journalist, what you are supposed to do is issue a subpoena," Dalglish said.
Carmody's attorney, Thomas Burke, said police have not told him or his client that he is suspected of a crime or that he could face charges. He added that "there's no dispute" about whether Carmody did anything wrong.
"These packages he does — video and the documents that support the video — it's done every day by freelancers," said Burke, a partner with the firm Davis Wright Tremaine who has previously represented the Los Angeles Times. "It's not anything unusual. It's how the news is done."
Twitter: @MattHjourno
---
The stories shaping California
Get up to speed with our Essential California newsletter, sent six days a week.
You may occasionally receive promotional content from the Los Angeles Times.