New S.F. police chief pledges to reform department amid scandals and shootings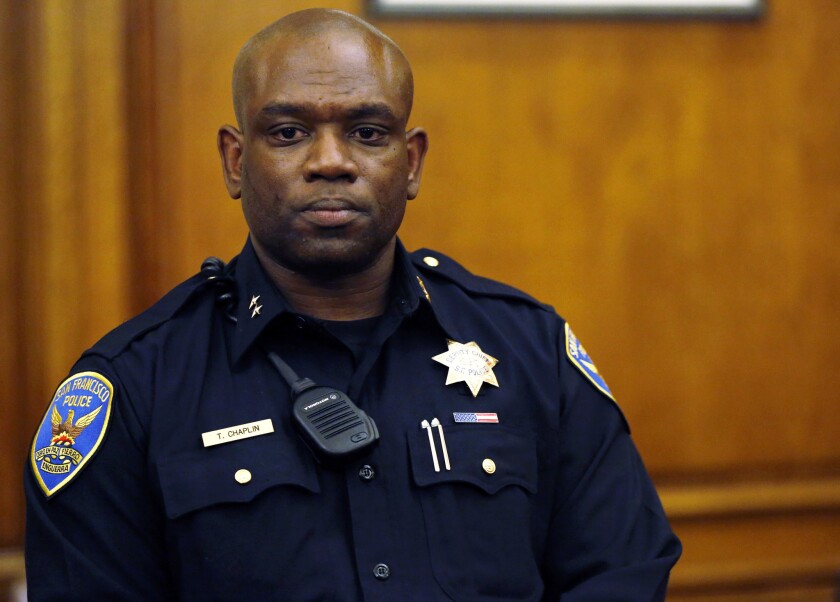 A day after San Francisco's mayor announced the departure of the city's beleaguered police chief, the department's new leader said Friday his top priority is instituting sweeping changes to the scandal-plagued organization.
"Reforms, reforms, reforms," interim SFPD Chief Toney Chaplin told reporters when asked where his focus would lay. "The department has to move forward and that's what I'm here to do. To steer this ship in a direction it was already headed in."
In an unexpected announcement Thursday afternoon, Mayor Ed Lee said at his request Greg Suhr had resigned as chief after the two met following an officer-involved shooting in which an unarmed black woman in a stolen car was killed.
Lee had previously expressed confidence in Suhr, praising the chief for understanding the need for reform, even as public calls had mounted for his ouster. But the mayor said progress has been too slow.
See the most-read stories this hour >>
"These officer-involved shootings, justified or not, have forced our city to open its eyes to questions of when and how police use lethal force," Lee said in a statement at City Hall on Thursday. "The progress we've made has been meaningful, but it hasn't been fast enough. Not for me, not for Greg. ... The men and women of SFPD put themselves in harm's way literally every day. We owe it to them to restore the community's trust in their work."
Suhr tendered his resignation hours after Thursday's shooting, Lee said. Chaplin, a 26-year department veteran who previously led the department's homicide division, was named acting police chief. He said Suhr was encouraged when they met after Suhr had stepped down.
"He told me to take the reins and get the department to where it needs to be," Chaplin said. "It sounds like a small amount of words but they carry a lot of weight and responsibility."
For more than a year, San Francisco police have been under scrutiny as several scandals unfolded, including officers accused of violating citizens' civil rights, exchanging racist text messages and an impeding criminal investigation.
Last year, a federal grand jury convicted an officer of violating a person's civil rights while conducting unlawful searches at a downtown hotel that serves the poor.
Public calls for reform escalated after cellphone video recorded five police officers shooting and killing Mario Woods, 26, in the same neighborhood where the woman was fatally shot Thursday by police.
The department said that shortly before 10 a.m., two officers spotted a suspected stolen car with a woman in the driver's seat, and after officers tried to make contact, the woman drove off. The woman eventually collided with a truck near the dead-end of a street and as officers tried to take her into custody, she moved the vehicle. At some point, one of the officers opened fire, striking her. She was later pronounced dead at a hospital, police said.
Civil rights activists demanded a federal investigation into the killing of Woods, a black man who was struck by more than 20 bullets. In February, the Department of Justice launched a two-year review of the Police Department, which Lee requested.
Anger over Woods' killing was compounded by a judge's decision that officers who exchanged racist and homophobic text messages could keep their jobs.
The racist text messages found on officers' cellphones embroiled more than a dozen officers and put more than 3,000 criminal cases in jeopardy, including several homicides.
In April, a second text-messaging scandal rocked the department, revealing that officers referred to minorities as "barbarians," "cockroaches" and other slurs. A former lieutenant was also charged with impeding the investigation of a fellow officer accused of rape.
After the discovery of the racist text messages last year, Suhr and city leaders had pledged to implement a host of reforms to add officer training against implicit bias and increase accountability for officers who don't report misconduct by their colleagues.
"Some of the reforms underway might have prevented or clarified today's incident," Lee said.
In a statement, the San Francisco Police Officers Assn. said Suhr's resignation was a "great disappointment."
"His retirement under pressure is an extreme loss to the department and the city," the statement said. "Chief Suhr, at the core, was and always will be a cop's cop and dedicated to the men and women who don the uniform every day to serve and protect."
ALSO
Man nearly beaten to death by mob in San Francisco police say
L.A. City Council president gets restraining order against man accused of racist threat
Once-sedate L.A. Police Commission meetings upended by protesters set on disrupting business as usual
Twitter: @JosephSerna
---
The perils of parenting through a pandemic
What's going on with school? What do kids need? Get 8 to 3, a newsletter dedicated to the questions that keep California families up at night.
You may occasionally receive promotional content from the Los Angeles Times.