L.A. County sheriff's deputy at fault — but not criminally negligent — in 2017 crash that killed 2 children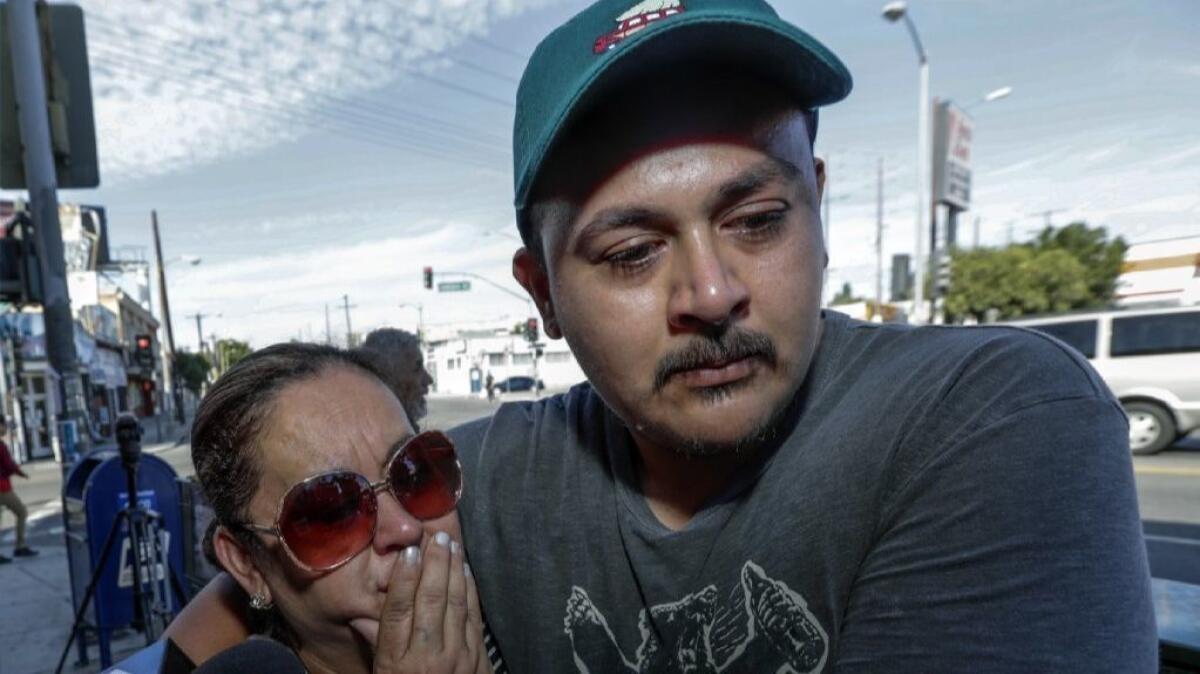 A Los Angeles County sheriff's deputy was found to be at fault in a crash that left two children dead in Boyle Heights last year, but she will not face criminal charges, court records show.
Carrie Esmeralda Robles-Placencia, a young deputy who was new to field work, was responding to a report of a shooting when her vehicle was involved in a chain-reaction crash near Whittier Boulevard and Indiana Street in November 2017 that left 7-year-old Jose Luis Hernandez and his 9-year-old brother, Marcos, dead.
She did not activate her siren as she pulled into the intersection against a red light. Robles-Placencia's cruiser was struck by another vehicle, and the crash launched the deputy's vehicle onto a sidewalk, where it struck the boys and their mother.
Both children died from their injuries a short time later. Their mother, Maria Veronica Solis Munoz, suffered a crushed pelvis and several broken bones, according to a memo released Monday by the district attorney's office.
Prosecutors said an investigation conducted by the Los Angeles Police Department showed the crash was caused by Robles-Placencia's decision to enter "the intersection on a red light without due regard for the safety of all persons." Several other pedestrians also were struck and injured.
But there was not enough evidence to charge Robles-Placencia with vehicular manslaughter, according to the memo, which was filed Nov. 16, one year after the deadly wreck.
Robles-Placencia and the training officer who was riding with her, Vincent Moran, remain employed and assigned to the East L.A. sheriff's station, according to Nicole Nishida, a sheriff's department spokeswoman.
She declined to comment further because of a pending wrongful death suit filed by Munoz. An attorney for the family did not respond to a request for comment.
Robles-Placencia, who had been with the Sheriff's Department for roughly three years, accelerated to about 60 mph after receiving a call about a shooting roughly two miles away, according to the filing.
She came to a "near or complete stop" when she approached the intersection of Whittier Boulevard and Indiana Street, then activated the vehicle's overhead lights before entering the intersection.
As she entered the intersection, the deputy collided with a Honda Accord, which spun and struck another vehicle traveling north on Indiana Street, according to the filing. Her vehicle was traveling only about 14 mph when the collision happened, but the force of the crash and the fact that Robles-Placencia may have accidentally stepped on the gas after her vehicle was struck caused it to speed up, the investigation found.
According to the filing, the collision caused the deputy's vehicle to swerve and nearly hit a pedestrian in the crosswalk, before slamming into the Hernandez brothers, their mother and a nearby Wells Fargo bank branch.
The wreck infuriated some in the neighborhood, who criticized the deputy's driving as needlessly reckless.
"You're supposed to turn on your lights, sirens and check before taking off," Hector Lopez, who was in the area and heard the wreck before running to the scene, said last year.
In the lawsuit filed last month, Munoz claimed Robles-Placencia failed to follow emergency procedures and Moran failed to properly train her.
"Given the neighborhood, traffic and road conditions existing at the time, an accident was almost surely to happen," the lawsuit read.
The crash was not the first time a deputy's poor driving led to a death.
In 2013, sheriff's Deputy Kamal Jannah failed to turn on his lights and sirens when answering a non-emergency call in Palmdale. Records show Jannah was traveling up to 83 mph when he barreled through an intersection and struck a vehicle, killing Sara Paynter and Robert Delgadillo, a recently engaged couple.
Jannah was not criminally charged, but he no longer is employed by the Sheriff's Department, which had to pay $4 million to settle a wrongful death suit last year.
Follow @JamesQueallyLAT for crime and police news in California.
Sign up for Essential California for news, features and recommendations from the L.A. Times and beyond in your inbox six days a week.
You may occasionally receive promotional content from the Los Angeles Times.