Sheriff's Lt. John Corina, who handled Natalie Wood and Suge Knight cases, dies at 58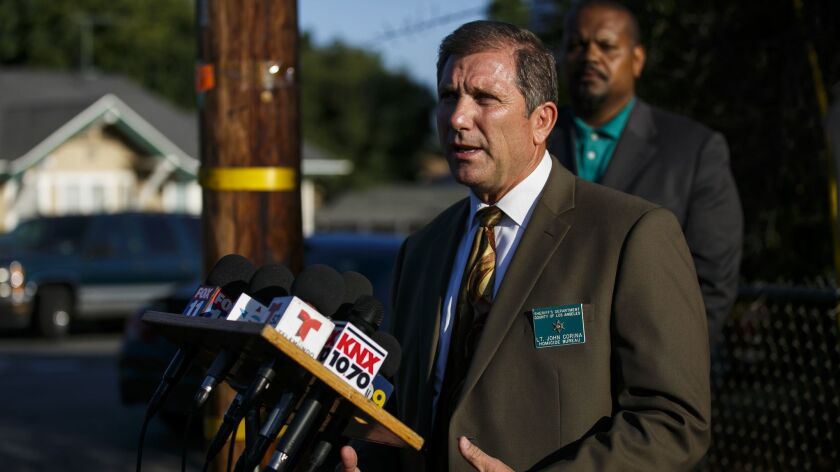 Whether it was the 2011 re-examination of Natalie Wood's death, a killing involving notorious rap mogul Marion "Suge" Knight or the loss of a police officer in the line of duty, Lt. John Corina would often be the one to step in front of the cameras to calmly explain the facts of the case.
For 15 years, Corina oversaw dozens of high-profile investigations for the Los Angeles County Sheriff's Department's Homicide Bureau, always bringing, as he would say, dignity to their victims and a voice to the voiceless — be it a child, a mother, or a fellow officer.
Corina was surrounded by family, friends and colleagues when he died Thursday after a short illness. He was 58. His death rattled the homicide squad known as the "Bulldogs," where Corina was known as the "bulldog of bulldogs."
"John Corina was a tenacious investigator, a tremendous supervisor and an icon at sheriff's homicide," Capt. Kent Wegener said Friday. "He was also a man of great character who led by example, a consummate professional.
"The bureau, the department and the entire community have suffered a great loss with his passing, as he touched many lives with his service. He will be sorely missed."
Sheriff Alex Villanueva said: "John was a credit to both the department and the profession he served for over 36 years. We lost a good man. Our thoughts and support are with the family during this difficult time."
As Corina's condition worsened in the last few days, colleagues who served alongside him visited, comforting the man who so often had to comfort the family members of those slain across Los Angeles County.
"He was an icon," said Nicole Nishida, a colleague and Sheriff's Department spokeswoman who was among those at Corina's bedside on his final day.
After 36 years with the Sheriff's Department, Corina had planned to step down this year before he became ill.
During his career, Corina always strove to resolve the circumstances of any mysterious death, and none more so than that of Wood, who died in 1981. The department reopened an investigation into the actress' death in 2011, with Corina at the helm.
Wood, the 43-year-old star of films including "West Side Story," "Splendor in the Grass" and "Gypsy," was boating off Catalina Island during Thanksgiving weekend 1981 with her husband, Robert Wagner, fellow actor Christopher Walken and others when she somehow went overboard and drowned. Wood couldn't swim. Corina reignited interest in the case last year when he revealed that Wagner was refusing to talk to investigators.
"He is a person of interest because he was the last one with Natalie Wood. And somehow she ends up in the water and drowns," Corina told reporters at the time. Wagner has denied any wrongdoing.
She was one of four people on a large boat when she went into the water, but detectives think Wagner was alone with her in one part of the vessel, Corina said.
"Some of the things we found that [Wagner] did afterward, or didn't do, in the boat, cause us to say, 'This doesn't make any sense,' " Corina said last February. "We're at the end of the investigation. We're at a standstill, so we thought we'd give it one more shot to the public."
Corina was often the one who informed the public when a deputy or police officer was gunned down on the job. Two years ago, a gang member who had been in and out of jail for repeatedly violating the terms of his release wrecked a car while fleeing police. Prosecutors said he fatally shot Keith Boyer when the Whittier officer responded to the crash.
"It seems like a simple traffic accident, and next thing they know they're in a gunfight," Corina told reporters in February 2017. Officers, tears in their eyes, surrounded the lieutenant. "You never know when you respond to a call what you are going to run into."
Rod Kusch, a former homicide captain, said he and Corina worked together at the Lynwood station in the 1980s and then later at the Homicide Bureau.
"He was very attuned to the needs of the victim's family," Kusch said. "He did a tremendous job overseeing the most complex investigations with ease and was a great communicator."
Kusch said he and Corina both had sons who played basketball, and they often bantered about the boys' games in between homicide discussions. The hours of a homicide supervisor are long, but that never stopped Corina from appreciating the good things in life, Kusch said.
"No one expected the notification he was in such dire shape," he said. "The department has lost a tremendous talent, but it is even a bigger loss for his family as a father and husband."
Kusch said it was Corina who ensured justice for the man whom hip-hop mogul Knight was accused of running down in his car. Corina's team of investigators put Knight in prison for up to 28 years last year after the Death Row Records co-founder pleaded no contest to voluntary manslaughter in the 2015 death of Terry Carter, who was fatally struck in the parking lot of a Tam's Burgers at Rosecrans and Central avenues.
"They got into some kind of verbal altercation and it escalated," Corina explained at the time. "Looks like he drove backward and struck the victims, and drove forward and struck them again."
Twitter: @lacrimes
---
The stories shaping California
Get up to speed with our Essential California newsletter, sent six days a week.
You may occasionally receive promotional content from the Los Angeles Times.