Detective's comments ignite new interest in Natalie Wood's mysterious drowning
The mysterious death of Natalie Wood off Catalina Island has sparked more than three decades of speculation about whether it was an accident or murder.
The 43-year-old star of "West Side Story," who couldn't swim, was boating off the island during Thanksgiving weekend 1981 with her husband, Robert Wagner, fellow actor Christopher Walken and others when she somehow went overboard and drowned. Officials at the time said her death was an accident, but speculation over whether there was more to the story has endured for more than three decades.
The Los Angeles County Sheriff's Department reopened its investigation in 2011 but no charges were ever filed, and officials said at the time they were not sure if a crime had occurred.
This week, one of the investigators on the case, John Corina, reignited interest with comments about Wagner and his wife's death.
"He is a person of interest, because he was the last one with Natalie Wood. And somehow she ends up in the water and drowns," said Corina, a lieutenant in the Sheriff's Department's Homicide Bureau.
Wagner, the lieutenant said, has refused to talk to investigators.
The original story that's been told — that Wood took a dinghy into town and fell into the water — doesn't add up, Corina said. There was a rainstorm and rough waters the night Wood disappeared. She was one of four people on a large boat when she went into the water, but detectives believe Wagner was alone with her in one part of the vessel, Corina said.
"Some of the things we found that [Wagner] did afterwards, or didn't do, in the boat, cause us to say, 'This doesn't make any sense,'" Corina said. "We're at the end of the investigation. We're at a standstill, so we thought we'd give it one more shot to the public."
Investigators received more than 100 tips since reopening the case, said Sheriff's Department spokeswoman Nicole Nishida. New witnesses told detectives they heard noises coming from the boat on the night of Wood's disappearance, she said.
One heard "yelling and crashing sounds" coming from the couple's stateroom aboard the vessel, Nishida said in a statement. Others reported hearing what sounded like the voices of Wood and Wagner arguing on the back of the boat, according to Nishida.
The witnesses provided a "new sequence of events" surrounding Wood's death that differs from the original version given by previous witnesses, Nishida said.
"Do we have enough to make an arrest at this moment? No. This remains a suspicious death investigation," Nishida said. "However, as [sheriff's] homicide detectives, we know that even the most difficult cases can be solved when witnesses come forward."
It's far from clear whether the new details reflect a significant change in the case. The department has long questioned aspects of Wagner's story.
The last official change in the case came in 2013, when the Los Angeles County coroner's office amended Wood's cause of death from "accidental drowning" to "drowning and other undetermined factors."
The coroner's report cited unexplained fresh bruising on the actress' right forearm, left wrist and right knee, along with a scratch on her neck and a superficial scrape on her forehead. Officials said the wounds open the possibility that she was assaulted before she drowned.
Corina's comments came as CBS' "48 Hours" is about to broadcast interviews with sheriff's detectives who note the autopsy findings and say they believe Wagner knows more about what happened than he's previously said.
"She looked like a victim of an assault," sheriff's Det. Ralph Hernandez told "48 Hours."
Investigators said during the interviews that they had been unable to figure out exactly what happened on the boat.
"We have not been able to prove this was a homicide. And we haven't been able to prove that this was an accident, either," Hernandez said. "The ultimate problem is we don't know how she ended up in the water."
Wagner gave three interviews to detectives during the original investigation three decades ago. Corina told The Times in 2013 that the actor "changed his story over the years, as has the caretaker of the vessel."
PHOTOS: Natalie Wood | 1938-1981 »
Natalie Wood, shown as a teenager in 1955, began her career at age 4, when director Irving Pichel gave her a small role in "Happy Land" (1943). By age 8 she was making $1,000 a week. In 1950, she was the queen of fan magazines and the second biggest actress after Elizabeth Taylor.
(AFP / Getty Images)
Natalie Wood was about the yacht Splendour with her husband Robert Wagner and others before she disappeared.
(Harrington / Associated Press)
Robert Wagner and Natalie Wood were grand marshalls of the Hollywood Christmas Parade in 1979. Wood starred as a child in the 1947 Christmas movie "Miracle on 34th Street."
(Hollywood Chamer of Commerce / Associated Press)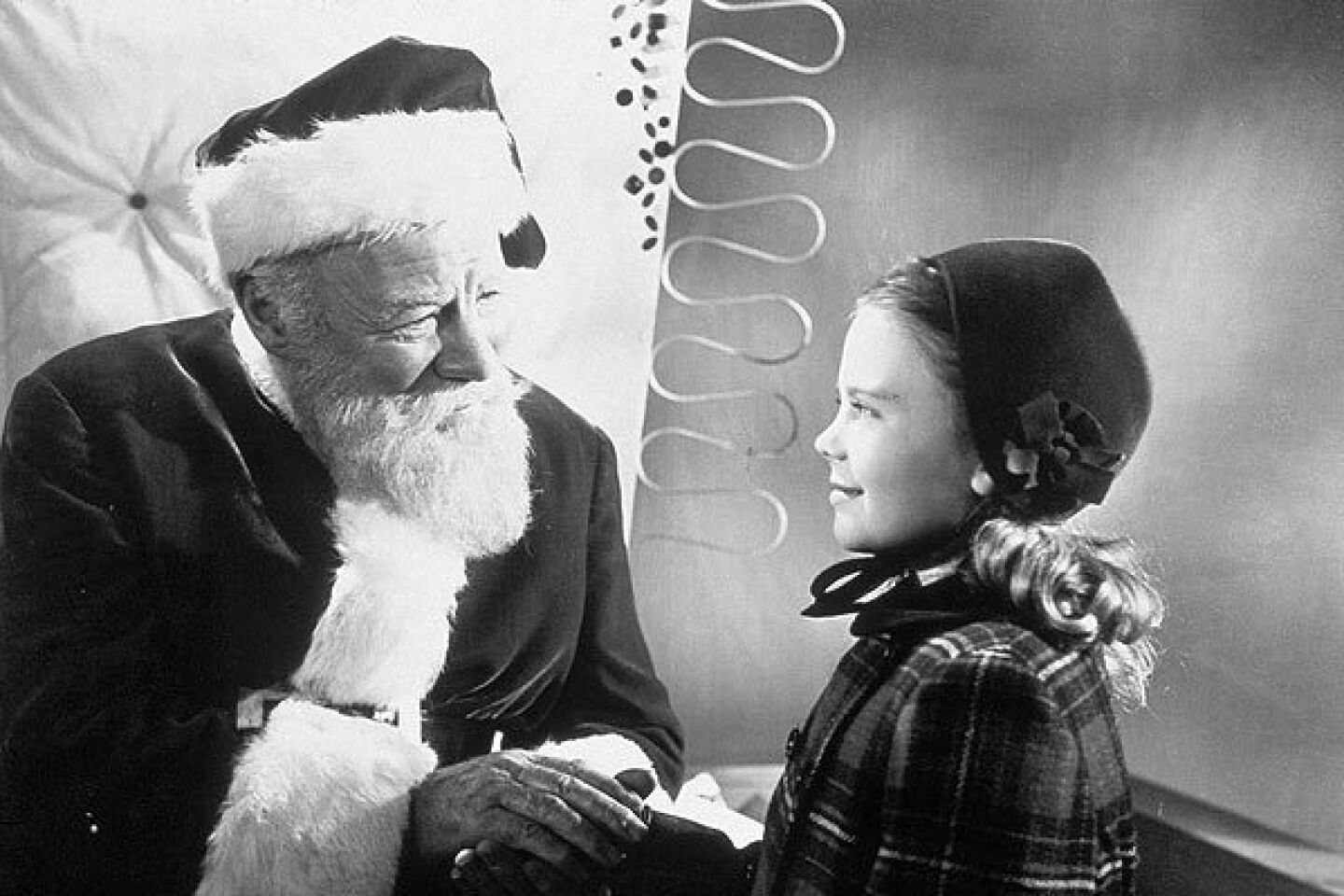 Edmund Gwenn, left, as Kris Kringle, greets Natalie Wood in a scene from the 1947 film "Miracle on 34th Street."
(Fox Home Entertainment / Associated Press)
Natalie Wood in Los Angeles in 1979.
(Wally Fong / Associated Press)
Los Angeles County sheriff's Lt. John Corina announces the reopening of the Natalie Wood death investigation on Nov. 18, 2011.
(Mark Boster / Los Angeles Times)
Wagner's attorney, Blair Berk, said in 2013 that Wagner had nothing to do with the death.
"After 30 years, neither Mr. Wagner nor his daughters have any new information to add to this latest investigation," she said in a statement. She blamed publicity seekers for trying to exploit the case.
Berk could not immediately be reached for comment Thursday. Alan Nierob, a spokesman for Wagner, declined to comment.
The 2013 coroner's report noted "conflicting statements" about when Wood disappeared and whether she had argued with Wagner, who — along with Walken, Wood's costar in the film "Brainstorm" — was aboard the 60-foot yacht where she was last seen alive Nov. 28, 1981.
Hours before her death, authorities said, the three actors had dined together at Doug's Harbor Reef Restaurant and then returned to the yacht, called the Splendour, where they drank and an argument ensued between Walken and Wagner.
According to the autopsy report, Wood went missing about midnight, and an analysis of her stomach contents placed her death around that time. The report said Wagner placed a radio call to report her missing at 1:30 a.m.
The original investigators believed Wood sustained her bruises after falling off the yacht and struggling to pull herself from the water into a rubber dinghy, whose starboard side bore scratch marks that seemed consistent with that theory.
But in his report, the coroner noted that investigators did not take fingernail clippings from Wood's body to determine whether she had made the scratch marks, and the dinghy was no longer available to be examined. The coroner believes Wood died soon after entering the water.
Times staff writer Shelby Grad contributed to this report
For more breaking law enforcement news in Southern California, follow us on Twitter: @mayalau and @lacrimes
---
UPDATES:
6:35 p.m.: This article was updated with details from the Sheriff's Department about new witness statements.
11:20 a.m.: This article was updated to say that a spokesman for Wagner declined to comment.
9 a.m.: This article was updated with comments from a sheriff's lieutenant to The Times and comments another investigator gave to CBS' "48 Hours."
This article was originally published at 8:05 a.m.
The stories shaping California
Get up to speed with our Essential California newsletter, sent six days a week.
You may occasionally receive promotional content from the Los Angeles Times.