L.A. County deputies union endorses Alex Villanueva for sheriff, boosting upset bid against Jim McDonnell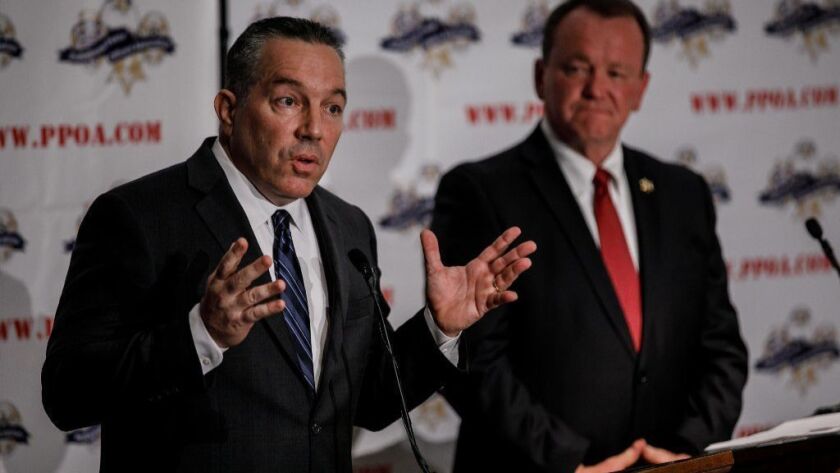 The union representing rank-and-file Los Angeles County sheriff's deputies announced its endorsement Wednesday of upstart candidate Alex Villanueva, boosting his bid to upset Sheriff Jim McDonnell in a November runoff election.
Runoffs are rare in sheriff's races, with incumbents usually enjoying sizable advantages in funding and name recognition. But Villanueva won 33% of the vote in the June primary while McDonnell fell short of the majority he needed to avoid a runoff in the nonpartisan race. McDonnell, a former high-ranking member of the Los Angeles Police Department and ex-Long Beach police chief, won 48% of the vote.

For the record:
3:25 p.m. Aug. 8, 2018A previous version of this article identified Villanueva's campaign manager as Paula Mitchell. She is Paula Ramirez.
In announcing its endorsement, the Assn. for Los Angeles Deputy Sheriffs said it believed Villanueva, a retired sheriff's lieutenant, connected with fellow deputies in a way that McDonnell could not.
"It is our firm belief that the Los Angeles County Sheriff's Department is in need of transformation, and that Villanueva is best suited to lead that change given his background, skills and character," the union's president, Ron Hernandez, said in a statement.
The son of a Puerto Rican father and a Polish American mother, Villanueva, 55, performed well in June in heavily Latino areas such as Southeast Los Angeles, the San Fernando Valley and Pomona, according to a Times analysis of the vote. A registered Democrat, he was also endorsed by the county's Democratic Party.
He retired in February after serving in the department for three decades, including many years on street patrol in East Los Angeles and, more recently, Pico Rivera. He has criticized McDonnell for low morale and campaigned on a plan to reorganize the department.
McDonnell, who outspent Villanueva 16-to-1, is a well-respected lawman who has the backing of regional power players including L.A. Mayor Eric Garcetti, L.A. County Dist. Atty. Jackie Lacey, County Supervisor Hilda Solis and the California Peace Officers Assn.
McDonnell had been a registered Republican in the past — something that could always prove problematic in deep-blue L.A. County — but says he is no longer affiliated with a political party.
McDonnell, 58, has touted a decrease in serious use-of-force incidents inside the county's vast jail system, which he oversees, and said his management experience is key to implementing further reforms.
Paula Ramirez, Villanueva's campaign manager, said the challenger is "extremely pleased" with the endorsement.
"I think this is really good news and it shows a lot of faith in Alex's ability to be sheriff," she said.
In a statement, McDonnell said the endorsement was not unexpected.
"By endorsing my opponent, ALADS has endorsed a candidate who has publicly opposed the reforms underway that have reduced jail violence and increased accountability. He would take the Department backwards to a time of chaos and corruption like it was under Baca and Tanaka," McDonnell said, referring to former Los Angeles County Sheriff Lee Baca and Undersheriff Paul Tanaka, who were both convicted on charges for their roles in a jail corruption scandal.
"I have come in and implemented accountability measures and the ALADS Board has taken issue with that, and I am not going to apologize for holding accountable those who tarnish the badge."
Times Staff Writer Maya Lau contributed to this report.
Follow @JamesQueallyLAT for crime and police news in California.
---
UPDATES:
5:05 p.m.: This article was updated with a statement from McDonnell.
2:50 p.m.: This article was updated with additional information about Villanueva and McDonnell.
This article was originally published at 1 p.m.
---
The stories shaping California
Get up to speed with our Essential California newsletter, sent six days a week.
You may occasionally receive promotional content from the Los Angeles Times.