Spate of shootings in L.A. County leaves at least seven dead and five wounded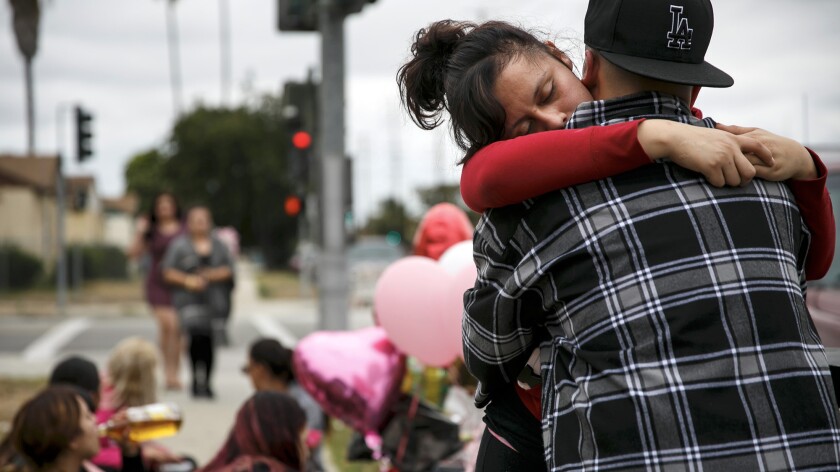 A spate of violence in Los Angeles County over a 24-hour period left at least seven people dead and at least five others injured, authorities said Saturday.
A series of shootings kept sheriff's detectives busy from Carson to the San Gabriel Valley until early Saturday, authorities said. One victim was shot as she walked down the street, another while he worked on a car and two others as they were leaving a party.
"It was a busy night," Deputy Grace Medrano said.
The violence began about 3:45 p.m. Friday when a gunman got out of a parked vehicle and fired several rounds at a man riding his bike in the 7500 block of Compton Avenue, authorities said. The victim was struck multiple times and later died; the suspect fled in the vehicle.
About six hours later, two other men were shot less than a mile away. The victims were standing in a driveway when two men rode up on bikes and one pulled out a handgun and opened fire before fleeing, authorities said.
The shooting left one man dead and another in the hospital in serious condition, officials said. Officials said the hospitalized man was expected to survive.
About 1 a.m. Saturday in the same neighborhood, a man was shot to death as he worked on a car in front of a house. That shooting occurred two blocks from the first homicide and about a mile from the second, the Sheriff's Department said.
No arrests have been made in any of the shootings. Crime analysts along with authorities from the Operation Safe Streets Bureau, the gang unit for the department, are looking into any gang ties between the three shootings in the Florence-Firestone area.
"We do not know if there's a correlation," Lt. Steve Jauch said.
Three other shootings took place around the county between midnight and 3 a.m. Saturday. In one instance, a woman was walking down a street in Carson when someone approached her from behind and shot her to death. In East Los Angeles, deputies found a man who had been fatally shot lying on the ground on Union Pacific Avenue.
And in the San Gabriel Valley, two men were shot as they left a house party. One died at the scene and the other was in critical condition at a hospital, authorities said.
Those shootings are not related to ones in the southern part of the county, Jauch said.
It was a particularly deadly weekend, but the reason for the spate of violence was not immediately clear, he said.
"I don't know, I don't have a causal factor," Jauch said. "That's something we're going to look at."
Los Angeles police also had their hands full Friday night after an office-involved shooting in Hyde Park prompted the department to issue a citywide tactical alert. Officer Rosario Herrera said police shot a man after they saw him reach for his handgun near the corner of Slauson and Brynhurst avenues.
The suspect's condition was not immediately available, but Herrera said no officers were injured.
Meanwhile, a 10-year-old girl was shot Friday in Boyle Heights in what may have been a gang attack targeting someone else, police said.
The shooting occurred about 6 p.m. near South Chicago Street and Rogers Avenue, when someone opened fire, apparently aiming for a person riding a bicycle, LAPD Officer Mike Lopez said.
The bicyclist was not hit, Lopez said. Instead, the 10-year-old girl was struck in the back of the head.
The girl was being treated at a hospital. The extent of her injuries was not known, but police said she was in critical condition.
"The girl was not the intended target," Lt. Kristin Hagerty said.
Los Angeles police also responded to a call about a fatal stabbing in Watts around noon Saturday, said Det. Dave Garrido. A 38-year-old man got into an argument with his half-brother over the care of their bedridden elderly mother, which resulted in a stabbing, Garrido said.
A suspect is in custody and a knife was recovered. The victim died at a hospital.
Sheriff's homicide detectives were also investigating a deputy-involved shooting in Maywood that occurred around 2:30 Saturday afternoon. The suspect's condition was not clear, but no deputies were injured, officials said.
ALSO
Gloomy weather expected to continue through the weekend
'I wish you hell,' mother tells child's killer in courtroom showdown
Hundreds of aftershocks from magnitude 5.2 Borrego Springs earthquake
---
UPDATES:
6:19 p.m.: This article was updated with additional information.
5:05 p.m.: This article was updated with new quotes and more information about the shootings.
4:30 p.m.: This article was updated with information about a deputy-involved shooting.
This article was originally published at 2:55 p.m.
---
The stories shaping California
Get up to speed with our Essential California newsletter, sent six days a week.
You may occasionally receive promotional content from the Los Angeles Times.