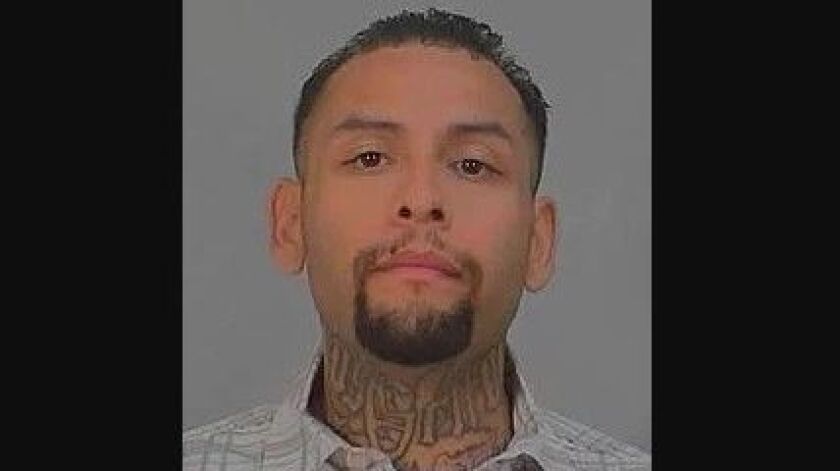 A 34-year-old man identified by police as a documented gang member was sentenced to 55 years to life in state prison Monday for a 2016 shootout with police that injured a Santa Ana gang detective.
An Orange County Superior Court jury in March found Carlos Michael Rodriguez guilty of attempted murder on an officer, assault with a semi-automatic rifle, possession of a firearm by a felon and possession of heroin and methamphetamine with an intent to sell, all felonies, according to Santa Ana police and court records.
"By way of this sentencing the message is clear," Santa Ana Police Chief David Valentin said in a prepared statement. "As a community we cannot tolerate continued violence against anyone, especially violent acts committed against our uniformed police officers."
Rodriguez had been released from prison shortly before the Feb. 17, 2016, shooting after serving an eight-year sentence for assaulting a police officer, authorities said.
Authorities said Rodriguez opened fire at gang detectives who had tried to stop him as they were on patrol in the 2700 block of West McFadden Avenue. At the time, the area was populated by several gangs who had been competing for territory, according to a district attorney report on the shooting.
A bullet grazed then-Det. Matthew Lemmon's head, police said. Lemmon has since been promoted to corporal.
"Right when I see him … he fires at me … shoots directly at my head," Lemmon told investigators at the time. Lemmon turned his head and ducked. He felt pressure on his head but wasn't sure whether he had been hit at the time, according to the report.
He fired back, telling investigators that he was "just trying to stay alive," the report states. Rodriguez was struck in the upper and lower torso. He was arrested and taken to a hospital for treatment.
Lemmon also was treated and released from a hospital, police said.
Twitter: @Hannahnfry
---