Shriver decision lifts spending limits in L.A. County supervisor race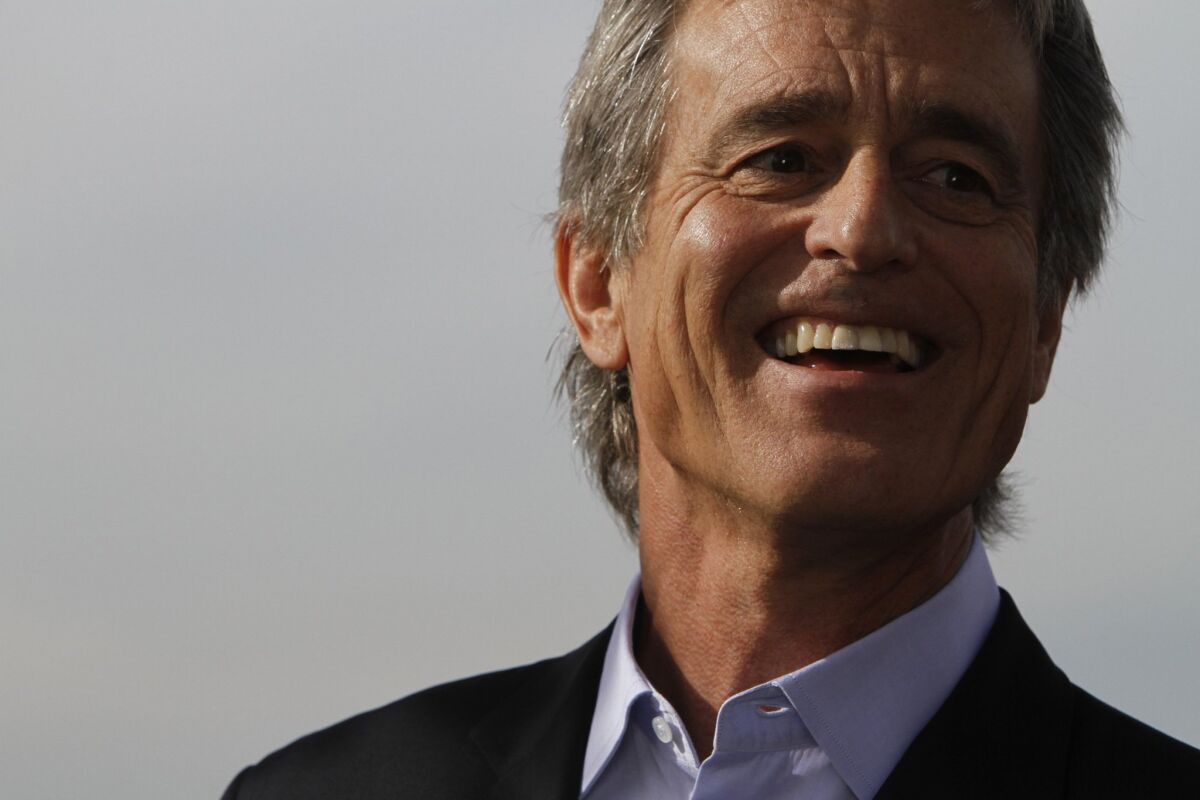 Los Angeles supervisorial candidate Bobby Shriver has rejected voluntary campaign spending limits and said he will at least partially self-fund his campaign to replace retiring Supervisor Zev Yaroslavsky in the June 3 primary.
In a declaration filed with the county's elections office, Shriver, a businessman and member of the Kennedy political family, indicated he would put at least $300,000 of his own money into his campaign.
Under the county's campaign finance law, candidates can accept up to $1,500 per contributor if they agree not to spend more than $1.4 million for the primary race. Friday's action by Shriver removes spending limits for all the candidates.
Shriver's chief strategist, Bill Carrick, said the former Santa Monica City Councilman hasn't decided how much of his personal wealth he will spend. But Carrick noted that the top two contestants in last year's mayoral contest, Mayor Eric Garcetti and former controller Wendy Greuel, each spent about $5 million in their primary race.
Yaroslavsky's district, stretching from Hollywood and the Westside to the western San Fernando Valley, takes in the same costly media market, Carrick said.
"It's very difficult to communicate with $1.4 million,'' he said. "This is the only vehicle we can use."
Shriver's action raises the specter of a costly, hard-fought campaign in the months ahead.
His chief rival, Sheila Kuehl, responded Monday by asking for contributions of up to $10,000 in an email to a select group of friends. Kuehl had previously abided by the county's $1,500-per-contributor limit.
"I can't get there at $1,500 a pop,'' Kuehl said Tuesday. "That's why the county rules change for those of use who don't have inherited wealth."
Kuehl said a funding pitch sent out Monday by Shriver's campaign was disingenuous. It criticized Kuehl for soliciting sums larger than Shriver's "self-imposed" $300 cap on donations from others.
But Shriver isn't allowed to accept more than $300 from contributors because he rejected voluntary spending limits, Kuehl said. "I just think it's a mischaracterization."
In the latest finance documents filed with the county through Dec. 31, Kuehl had reported raising $429,400. John Duran, a West Hollywood City Councilman, raised $54,000. Six other candidates, including Shriver, haven't yet been required to file a fundraising report.
ALSO:
Long Beach woman who set off Amber Alert faces criminal charges
Griffith Park body parts: Suspect faces extradition hearing in Texas
Southern California weather: Gusty winds prompt fire danger alert
Twitter: @csaillant2 | Google+
catherine.saillant@latimes.com
---
The stories shaping California
Get up to speed with our Essential California newsletter, sent six days a week.
You may occasionally receive promotional content from the Los Angeles Times.