Pacific storms continue to pile snow onto Sierra Nevada snowpack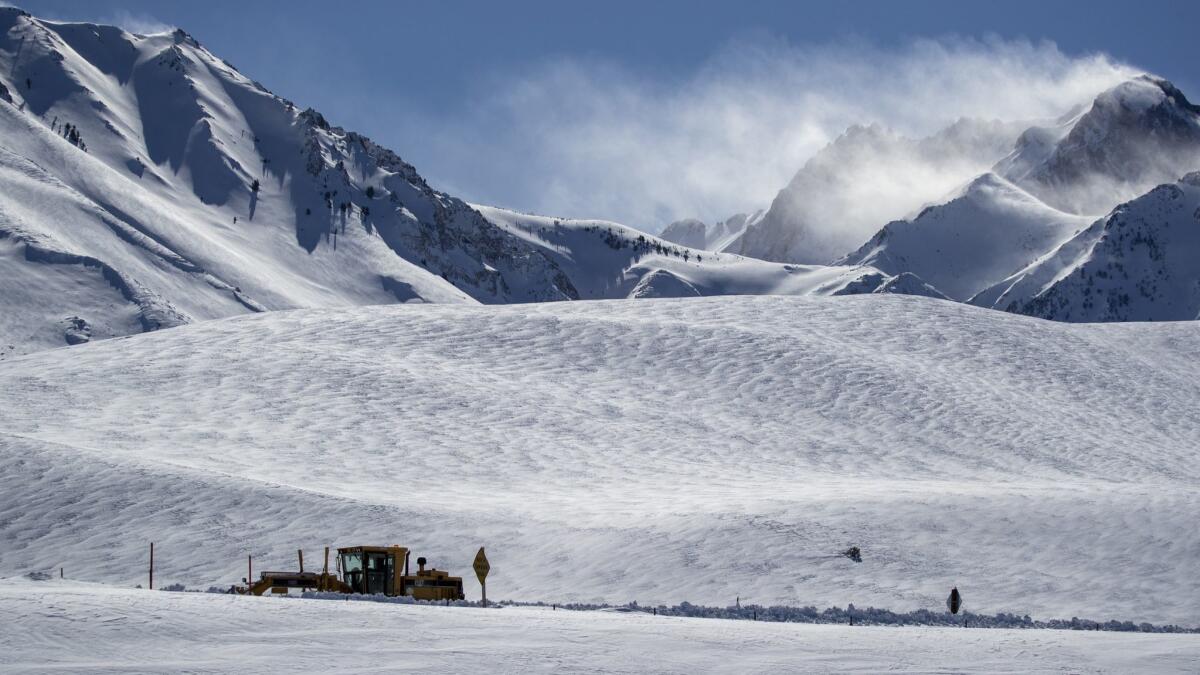 The snow piling onto the Sierra Nevada could be considered more of a snow pile-on at this point.
That's because several feet of white powder have accumulated across the range since the beginning of the month, adding to what has become one of the most bountiful winters California has enjoyed in a decade.
The entire Sierra snowpack sits at 141% of its seasonal average and is already above its April 1 benchmark, which is considered the end of California's rainy season and when plans for how to allocate the snowmelt to farmers through the summer kicks into high-gear.
Heavenly ski resort at Lake Tahoe received 15 inches of snow between Saturday and Sunday and more than 9 feet in the last week, the resort said on Twitter.
L.A. sunshine will be short-lived. Here come showers and snow, forecasters say »
"The unreal February continues and our awesome mountain crews are expecting to get you slashing pow on time this morning," the company wrote.
But it isn't all glowing news. Not only are several mountain passes across the mountains closed because of poor conditions or visibility or even avalanches, but even parked vehicles are at risk.
The Placer County Sheriff's Office published a video Sunday morning showing one of their SUVs crunched under a felled, snow-covered tree.
In Southern California, the California Highway Patrol was forced to pace vehicles traveling the Tejon Pass after this weekend's frosty storm dropped snow levels to 2,500 feet, enough to trigger black ice and snow concerns in the Grapevine.
Since Feb. 1, California has received roughly 18 trillion gallons of water, enough to fill up 45% of Lake Tahoe or 27 million Olympic-sized swimming pools, the National Weather Service said.
The winter has also helped keep much of the state out of drought conditions that plagued California for years. A third of the state (36%) was considered to be in normal conditions and more than half (52%) was considered only abnormally dry as of Thursday. None of the state is considered to be in extreme or exceptional drought, the worst conditions possible.
For perspective, at this point in 2015, only 0.16% of California was considered to be under normal conditions and more than 41% of the state was considered in exceptional drought, the worst conditions on the federal scale.
For breaking California news, follow @JosephSerna on Twitter.
Sign up for Essential California for news, features and recommendations from the L.A. Times and beyond in your inbox six days a week.
You may occasionally receive promotional content from the Los Angeles Times.