A Silver Lake historic treasure — or 'a junky old gas station'?
Some Angelenos hail it as a rare survivor from a bygone era, a slice of Silver Lake history.
Others deride it as a dilapidated gas station.
Now the city is weighing whether to make it a historic monument — a move that could complicate plans to build new apartments on Silver Lake Boulevard.
The debate over whether to preserve the Silver Lake Texaco Service Station is the latest and starkest example of the competing pressures to save the past and build for the future in Los Angeles. It has infuriated groups who urge the city to construct more housing, who question whether the cause of historic preservation is being abused.
"We need tons of new homes in L.A. This neighborhood would be a great place for that. And suddenly this mediocre-at-best property is up to be a monument?" said Mark Vallianatos, policy director for Abundant Housing L.A., dubbing the building "a junky old gas station."
When Los Angeles embarked on a sweeping survey of its neighborhoods to check for historic structures and sites, however, it deemed the old building an "excellent example of an automobile service station from the 1940s" — and one of the few that remained from its era.
The steel-frame structure, built in 1941 as a Texaco service station, has been operating as an automotive repair shop for decades. Old Volvos crowd the fenced lot around the long-standing building, which sits alongside a cafe and a sushi restaurant on a casually cool stretch of Silver Lake Boulevard.
Architect and owner William Hefner, who bought the site years before the historic survey, has submitted plans to redevelop the Silver Lake site with 14 apartments perched above ground-floor retail. Weeks after the owner sought a demolition permit, City Councilman Mitch O'Farrell asked the city to look into enshrining the old station as a monument.
At a June hearing, an O'Farrell aide said the councilman did not have a position on whether it should become a monument, but wanted to make sure that structures like it were properly assessed before demolition. Some Silver Lake residents have backed the idea of protecting it.
"You don't have many surviving examples like that in L.A.," said Carol Cetrone, president of the Silver Lake Heritage Trust, citing "the integrity of that steel building."
Silver Lake resident Toby Hemingway, who owns a menswear shop nearby, called it "a kind of building we don't see anymore."
"It's a nice example of the history of the neighborhood — and one of the last things left," Hemingway said.
Hefner and his representatives argued against the move, bringing forward an expert who called it an ordinary, utilitarian structure stripped of its old signage and gas pumps.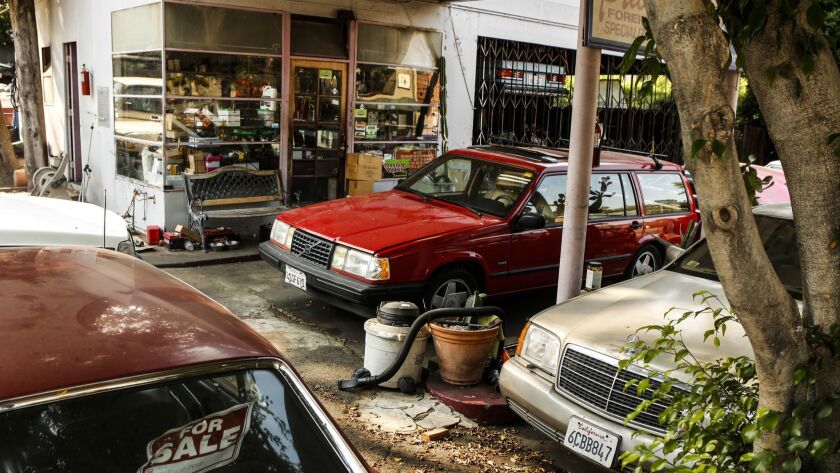 The Cultural Heritage Commission disagreed, deeming the building a prime example of its Streamline Moderne architectural style and a reflection of Southern California history, and voted 3 to 1 to recommend making it a historic monument. The final decision will be made by the City Council.
Historic buildings can still be altered or even torn down under Los Angeles city rules, said principal city planner Ken Bernstein, who heads its Office of Historic Resources. But the rules allow additional review before that happens, permitting "a public discussion and an airing of alternatives," Bernstein said.
Even if the building becomes a monument, Cetrone said, "they could build something around it or above it. They can do things that incorporate the building into their new construction."
But groups that advocate for more housing development have questioned whether trying to save the gas station is merely a pretext to thwart new construction. Vallianatos said that even if alterations or a tear-down are technically possible, delays can drive up costs and sink a project.
If the gas station was such a treasure, critics asked, why didn't anyone move to preserve it before someone had set out plans for new apartments?
For some, it only added insult to injury that the building was a gas station.
"Half of California is on fire because of climate change," said Victoria Fierce, co-executive director of the California Renters Legal Advocacy and Education Fund. "Our planet is literally burning down and you're proposing a monument to car culture — which got us here in the first place."
Her Bay Area-based group warned the city that enshrining the Silver Lake Texaco Service Station as a historic monument could have "legal consequences," pointing to a state law that restricts how local governments can turn down housing that meets zoning rules. That law was beefed up by a trio of state measures last year, making it easier for people to challenge such decisions.
If a proposed project fits the zoning, "there shouldn't be these surprises coming out of the woodwork," said Fierce, whose group has successfully prodded other cities to approve housing.
Paavo Monkkonen, a UCLA associate professor of urban planning and public policy, said clashes over historic preservation and development are nothing new, but groups that want cities to build more housing — broadly known as YIMBYs, for "yes in my backyard" — have become increasingly vocal when such disputes arise.
In the past, Monkkonen said, "a lot of this stuff happened without anyone questioning it."
Cetrone said she could understand suspicion of the timing of the Silver Lake Texaco Service Station nomination, but that the plan was truly about saving a piece of history.
Trudi G. Sandmeier, director of graduate programs in heritage conservation at the USC School of Architecture, said that in many cases, historic nominations come late because "we don't realize that there's a threat until the threat is happening." Part of the goal of the citywide survey that identified the Silver Lake site was to flag possible monuments before they were in jeopardy, but "it's probably unrealistic to expect that it will eliminate all eleventh-hour nominations," Bernstein said.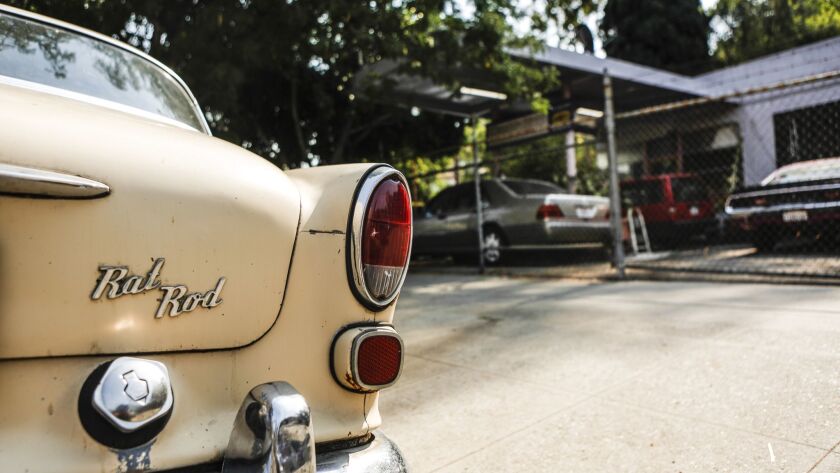 Los Angeles has already given the nod to old gas stations in Brentwood, Pacific Palisades and Hollywood, where a historic structure now houses a drive-through Starbucks. Sandmeier said she had not scrutinized the Silver Lake gas station, but in general, "just because it's a gas station doesn't mean it's less significant than any other piece of our built environment."
A council committee hearing that had been scheduled last week on the Silver Lake site was postponed. O'Farrell spokesman Tony Arranaga said they had sought more time to work with the owner on "solutions for the structure."
Although O'Farrell has not taken a position on making it a monument, Arranaga said the councilman would like to see the longtime structure preserved and reused there or at another location. Hefner, the owner, did not respond to messages seeking comment.
Twitter: @AlpertReyes
---
The stories shaping California
Get up to speed with our Essential California newsletter, sent six days a week.
You may occasionally receive promotional content from the Los Angeles Times.