Starbucks restores old Gilmore gas station for your refueling pleasure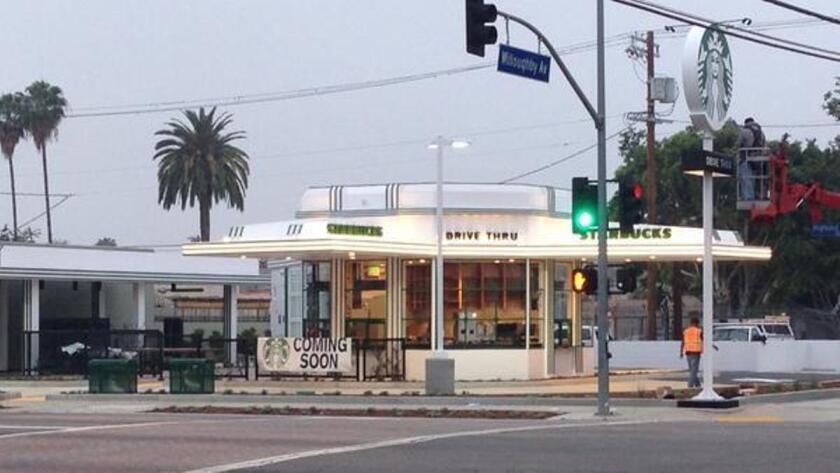 It could be argued that what gasoline was to the 1920s, caffeine is today – our most vital fuel. So how perfect is it that Starbucks has taken over one of the original Gilmore gas stations and restored it to something like its former glory?
The new station, located at the corner of Highland and Willoughby avenues in Hollywood, was snapped by our Home section staffer Lisa Boone in a tweeted photo that quickly rocketed around the Internet.
Though most Angelenos have probably forgotten, the Gilmore Oil Company was a giant business in 1920s Los Angeles, owning a string of oil properties and stations that helped fuel the boom in autos and Southern California expansion.
Those are long gone. Today, the A.F. Gilmore Company is best known as the founder and longtime owner of the Original Farmers Market at the corner of Fairfax Avenue and Third Street. The family's old adobe home still stands, tucked away behind the market, the Grove and CBS Television City.
According to the blog I Am Not a Stalker, the Highland-Willoughby gas station was designed by architect R.J. Kadow in 1935 — about the same time the Gilmores were opening the Farmers Market. The gas station was declared a Los Angeles Historic Cultural Monument in 1992, but had fallen into disrepair.
Starbucks announced its plans for a renovation last year and now it's back to something like its original aluminum and wood state, albeit dispensing Frappuccinos and grande lattes through a drive-thru window. It's expected to open by early summer.
---
Get our weekly Tasting Notes newsletter for reviews, news and more.
You may occasionally receive promotional content from the Los Angeles Times.