'A crazy high school reunion': Chance brings five friends together to save homes in Thomas fire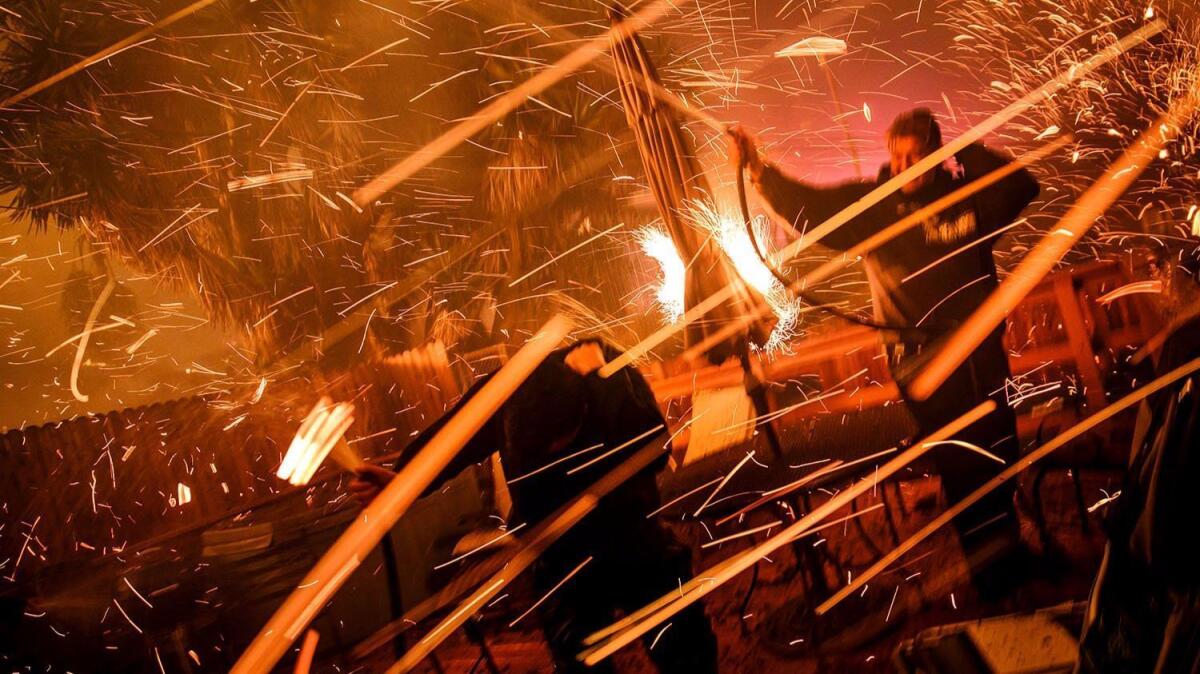 Prescott McKenzie and Brandon Baker started their Monday evening with a trip to the Home Depot in Camarillo. It ended with an unlikely high school reunion, surrounded by hot embers and flames.
The two 23-year-olds saw a smoke cloud with an orange tint in the distance on their way home from picking up supplies, and without much thought, drove in its direction to help.
They wrapped shirts around their faces and began using garden hoses to water down homes and trees on North Fir Street in Ventura, keeping the fire from spreading as people were still evacuating — or refusing to evacuate. On the other side of the street, firefighters were preoccupied putting out a home already engulfed in flames as the Thomas fire roared on.
In the midst of the smoke, Baker saw a man run up the stairs of a home, and for a moment, the cloth covering his face slipped.
"Brylle, is that you?" Baker said, pausing.
"What are you doing here?" Baker asked after they embraced. Same as you, Brylle San Juan Wilson said: Helping. Then he headed off to a neighbor's yard for more hoses.
The two men had attended Camarillo High School but hadn't talked in at least three years. San Juan Wilson was accompanied by John Bain and Matthew Serna, also once high school friends who were now joined by a shared sense of purpose to help homeowners they had never met in a neighborhood they had never been to.
"It was raining embers ... on our faces," Bain said. "Firefighters were telling us on loud speakers, 'You shouldn't be here, you're too close to the flames.' "
The friends continued to work, loading buckets of water and hosing down a palm tree that was on fire, pieces of it falling occasionally and threatening to scorch nearby homes. When firefighters saw that the men weren't leaving, they began giving tips.
Keep the plants wet, put out the embers, keep yourself wet, the firemen told them, McKenzie said. One off-duty firefighter even hooked up a fire hose to a hydrant for the men.
McKenzie said he didn't expect to head to a fire that day, much less encounter longtime friends in the chaos completely by chance. But there was a reassurance in seeing familiar faces.
"That fire was so overwhelming and there was so much going on," he said. "To turn around and see someone you know and have them look at you and say, 'Hey man, what can I do?' gives you a sense of relief that we can do this."
"For us, this is our community," Bain said. "I consider this our home. When something like this happens … you can sit around for things to get better or you can try to go out there and do something."
Bain, Serna and San Juan Wilson returned Tuesday to the homes on North Fir street and found they had suffered minimal damage. Bain said he doesn't think the homes would still be standing if it weren't for the friends, and several strangers, coming together to help firefighters.
"Everything happens for a reason," Baker said. "You're meant to be somewhere when you are."
alejandra.reyesvelarde@latimes.com
Sign up for Essential California for news, features and recommendations from the L.A. Times and beyond in your inbox six days a week.
You may occasionally receive promotional content from the Los Angeles Times.