Stabbing of popular student devastates South El Monte High School; teen suspected in slaying
The body of Jeremy Sanchez, 17, was found along the San Gabriel River Trail.
When administrators at South El Monte High School called Jeremy Sanchez's parents to say he never showed up for class Wednesday, his father began to worry.
It was unusual for the 17-year-old junior to miss school, so his father filed a missing person's report and assembled two people, Jeremy's close friend and another teen with whom he was romantically involved, to look for the popular student-athlete.
Their search took them to a scenic stretch of the San Gabriel River Trail, where the 16-year-old Jeremy was involved with said he had made a tragic discovery: Among the bushes in the riverbed near Thienes Avenue and Parkway Drive was Jeremy's body, punctured with stab wounds, according to Lt. John Corina of the Los Angeles County Sheriff's Department.
On Thursday, authorities arrested that 16-year-old boy on suspicion of murder. The Sheriff's Department first identified him as Jeremy's friend but later said the two teens were in a romantic relationship. Investigators are looking into whether that played a role in the stabbing.
The teen was booked at Los Padrinos Juvenile Hall, where he is awaiting arraignment. His name was not released because he is a minor.
News of the death has devastated South El Monte High School, where grief counselors were summoned to help students cope.
"There are understandably a lot of questions surrounding the death of our South El Monte High School student," said district Supt. Edward Zuniga. "Right now, we are focused on supporting our students who are grieving, while also working closely with law enforcement in their investigation."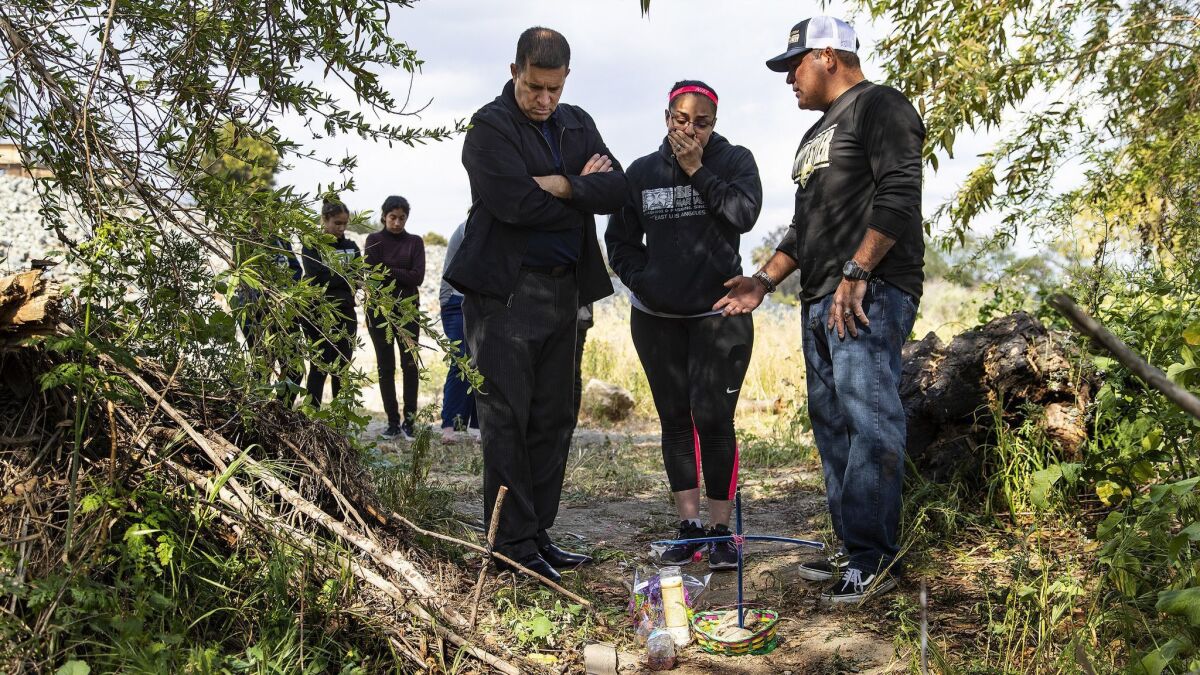 Investigators are still trying to confirm a motive for the slaying, the Sheriff's Department said.
"That's something we're following up on — if there was some kind of problem or some problem with their relationship or some kind of discrepancy ... or argument," Corina said. "What made one kid want to kill the other kid since they were close friends?"
Interviews with family and friends led investigators to believe the 16-year-old was involved in Jeremy's death. Corina would not confirm whether the young man confessed, but said the boy made statements that prompted investigators to obtain a search warrant for his home. There, they found "substantial" evidence that led to his arrest, Corina said.
Investigators have not recovered a weapon, though investigators think Jeremy was killed with a knife, Corina said. They think that Jeremy was killed where he was found and that nobody else was involved in his death, although the investigation is ongoing.
As news of Jeremy's death spread Thursday, friends and instructors described him as a popular student who played football and wrestled. They struggled to understand why anybody would want to hurt him.
"When things were low, he could always make you laugh," said a classmate who declined to give his name.
On the varsity football team, Jeremy was known as a "free-loving young man" who wore a grin that turned easily into a full-toothed smile or laugh.
"He was a little guy," said Frank Gallardo, South El Monte High's varsity football coach. Gallardo said Jeremy stood at maybe 5-feet-6 or 5-feet-7 and weighed little more than 130 pounds. But he had athleticism and a deep knowledge of the sports he played.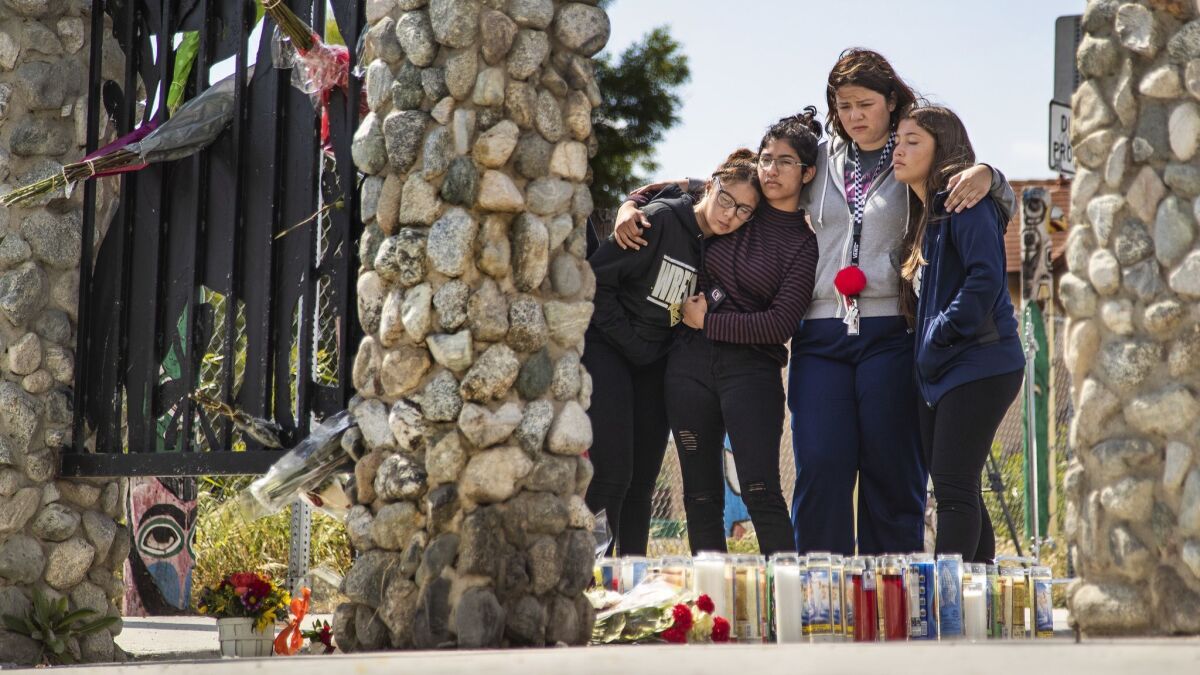 One close friend who declined to give her name said that Jeremy was bullied at school and often alone, and that he was popular in that he was well-known.
His friends have been sharing memories of Jeremy since they learned of his death, Gallardo said. He was quick to make people laugh — in one video the teammates showed Gallardo, his friends rolled him down a hill in a tire. At the bottom, Jeremy emerged dizzy, but laughing.
"There's a big sadness in school. You can see it," Gallardo said.
Anyone with information is asked to contact the Sheriff's Department homicide bureau at (310) 890-5500.
Times staff writer Alene Tchekmedyian contributed to this report.
Sonali.Kohli@latimes.com | Twitter: @Sonali_Kohli
angel.jennings@latimes.com | Twitter: @AngelJennings
---
UPDATES:
8:55 p.m.: This article was updated to reflect that the victim and the teen suspected in his killing were in a romantic relationship.
2:25 p.m.: This article was updated with comments from district Supt. Zuniga.
1:40 p.m.: This article was updated with additional comments from authorities.
11:55 a.m.: This article was updated with comments from football coach Frank Gallardo.
12:50 p.m.: This article was updated with information from Lt. John Corina.
This article was originally published at 10:40 a.m.
---
The stories shaping California
Get up to speed with our Essential California newsletter, sent six days a week.
You may occasionally receive promotional content from the Los Angeles Times.