South L.A. residents protest noise, odors from drilling site near USC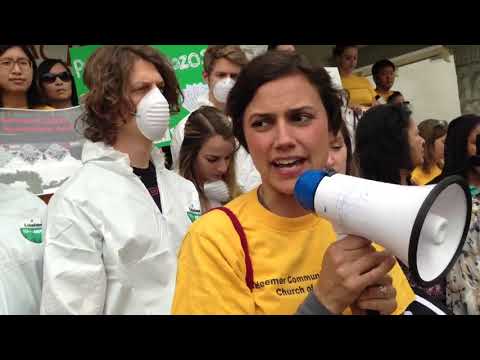 <p>South Los Angeles residents marched and rallied Thursday to protest noise, odors and other day-to-day irritants from an oil drilling site west of the University of Southern California.</p>
South Los Angeles residents marched and rallied Thursday to protest noise, odors and other day-to-day irritants from an oil drilling site west of the University of Southern California campus.
"No one should have to endure this in their neighborhood," said Eddie Ko, who said he lives a few blocks away from the drilling site with his wife and 5-month-old child.
The Jefferson Boulevard wells border several homes, and the company that owns the site, Freeport-McMoRan, had notified air quality officials that it planned to start "maintenance acidizing" at the site Thursday. It later said the work had been canceled for that day.
"The work is designed to remove calcium deposits from building up inside the well bore," company spokesman Eric Kinneberg said in an email, calling it "routine and conventional well maintenance work." Kinneberg said the work had been postponed because of scheduling conflicts and would be rescheduled for a later date.
Neighbors have been suspicious of the use of acid and other chemicals at the site, pressing the city to conduct an environmental review of how drilling activities there affect residents.
"If you're going to be bringing in these kinds of chemicals, with large tankers, into a residential area, you've got to convince me that this is OK," said Nathan Pacillas Smith, who lives opposite the site near where Thursday's march ended.
Earlier this year, Freeport-McMoRan withdrew an application to drill and redrill wells at the Jefferson site after community activists objected to the plan, arguing the city should scrutinize fumes, noise and chemicals at the site before allowing the company to move forward.
Richard Parks, president of the nonprofit Redeemer Community Partnership, said the city should hold the company accountable and protect residents, whether new work moves ahead on the drilling site or not.
"What's missing right now is the political will to move this forward," Parks said.
Los Angeles lawmakers pressed last year for a citywide moratorium on acidizing and other controversial methods of stimulating oil and gas wells. But the city planning department cast doubt on the proposal, saying that it lacked employees who were experts in petroleum engineering and that there was "legal uncertainty" about how much cities could regulate such practices.
Oil and gas companies have defended well stimulation technologies as safe and proven. The Western States Petroleum Assn. has threatened to sue if the city pursues such regulations, according to a letter to the L.A. City Council from Deputy City Atty. Saro Balian.
Despite such obstacles, the moratorium plan is "absolutely still proceeding," with Councilman Mike Bonin and other lawmakers proposing that the city hire or retain an expert in petroleum and natural gas engineering to assist, Bonin spokesman David Graham-Caso said Thursday.
"We have to get this done right because it's an absolute priority for protecting neighborhoods," Graham-Caso said.
Follow @latimesemily for what's happening at Los Angeles City Hall
Sign up for Essential California for news, features and recommendations from the L.A. Times and beyond in your inbox six days a week.
You may occasionally receive promotional content from the Los Angeles Times.