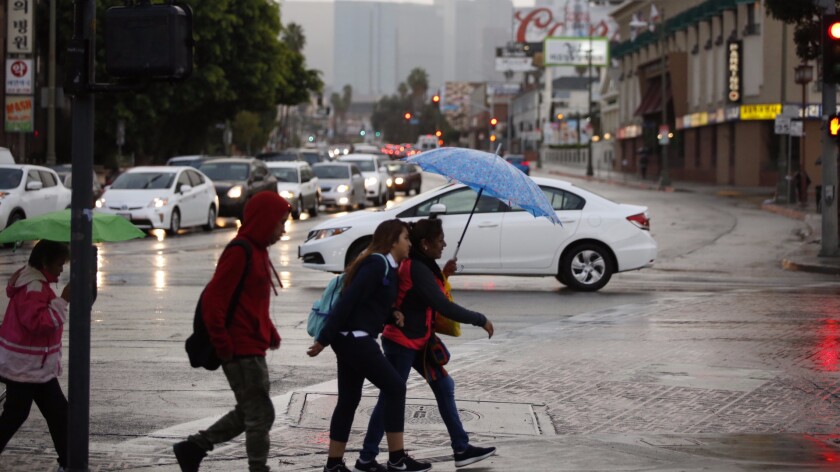 A storm that swept through Southern California on Monday brought nearly 2 inches of rain to the San Bernardino mountains and more than 4,000 lightning flashes, striking at least one teen.
The National Weather Service recorded 4,063 lightning flashes in Orange, Riverside, San Bernardino and San Diego counties.
In San Diego, a 14-year-old high school football player was hospitalized after he was struck by lightning.
Dennis Tuatagaloa told KGTV-TV he was walking off the football field at Grossmont High School when he felt the jolt. The teen said the pain felt like a football tackle, and his muscles cramped up.
"It was one of the worst pains in my life," he told the TV station. "I was just smelling all different types of smells."
More than 1,500 flashes of lightning lit the skies of San Diego County on Monday. Another 2,580 strikes touched the ground, briefly triggering some beach closures.
The powerful storm also brought plenty of rain.
In the San Bernardino Mountain, 1.80 inches of rain soaked Crestline.
In other significant rain totals, Big Bear City received 1.41 inches; Riverside got 1.1 inches; San Bernardino received 1.02 inches and 0.05 inches of rain fell in Los Angeles. Mt. Baldy received 0.69 inches of rain.
Forecasters say Monday's storm was just a preview of what's to come later this week.
By Thursday, a cold front will move into southwest California and bring moderate to heavy rain. Thunderstorms are also possible late Thursday and early Friday. According to the weather service, up to an inch of rain could drench Los Angeles and Ventura counties.
The storm could produce flash flooding and mud flows in areas recently scorched by wildfire. The latest storms renewed flood warnings, with officials urging residents to "turn around, don't drown" in the event of rising waters.
For breaking news in California, follow @VeronicaRochaLA on Twitter.
ALSO
Hospital agrees to pay $450,000 to L.A. to settle homeless patient dumping lawsuit
Speeding car slams into 3 Bay Area police cruisers at shooting scene, killing 1 passenger
---