Evacuation orders lifted in Santa Barbara County as crews tame massive Thomas fire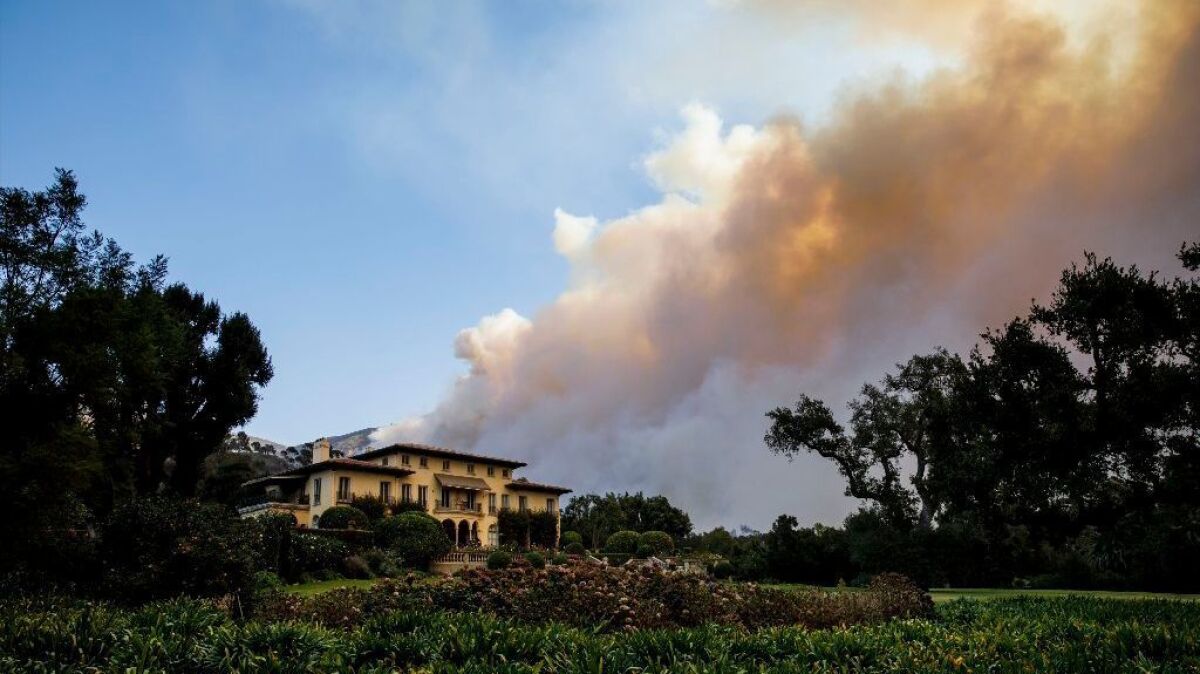 Authorities lifted all evacuation orders in Santa Barbara County on Thursday morning as fire crews continued to slow the spread of the massive Thomas fire.
Gusty winds continued to wash over Southern California but had little effect on firefighters' effort to contain the blaze in Ventura and Santa Barbara counties.
The fire, which grew 400 acres during the day Thursday, now covers 272,600 acres and is 65% contained, fire officials said.
"Today is one of those days where our firefighters had to work hard to find smoke" and hot spots, Mark Brown, an operations section chief for the California Department of Forestry and Fire Protection, said Thursday evening.
Firefighters are still working on the hot spots they find — cooling them off, putting water on them, using their hand tools to stir them up — "to ensure those hot spots are gone, once and for all," Brown said.
There was "no significant increase in fire activity" in Santa Barbara County, Cal Fire spokesman Bill Murphy said.
"Things are looking very good," he said.
The Santa Barbara County Sheriff's Office is asking returning homeowners to check their property for fire damage and hot embers as well as trees and utility poles that may have been weakened by the fire.
"Hot embers may be seen in rain gutters, on the roof and under overhangs, under decks and in crawl spaces," the office said. "Check for embers in the attic which may have entered through vents."
Firefighters are focusing on the north side of the blaze near the Highway 33 corridor near Hartman Ranch and the Bear Haven area.
Depending on wind and weather conditions, firefighters plan to start a controlled burn near the highway with hopes that winds from the north will push the flames away from the highway and south toward the main body of the fire.
The burn operation could scorch up to 20,000 acres before it connects with the larger blaze, officials said Thursday.
The backfiring operation began this week on the south side of Potrero Seco Road west of Highway 33 and is slowly crawling up hill and deeper into wilderness and toward the bigger Thomas fire footprint to the south, said Brandon Vaccaro, a spokesman for Cal Fire.
Crews prefer to burn a barrier into the forest to stop the Thomas fire's spread so they don't have to march in with boots and motor in with trucks and bulldozers that would create unnatural barriers for future plant growth, he said.
"In the wilderness we try to do as little of that as possible," he said. The fire will "get some of that older vegetation and we'll have a healthier environment. The fire is doing it naturally at our pace," he said.
Up to 300 firefighters are trudging along the edge of the fire as it moves southeast along a creek toward the larger blaze.
Meanwhile, a red flag warning was in effect Thursday afternoon in Los Angeles and Ventura counties, with northerly winds that could reach up to 60 mph in the mountains and foothills.
Winds in the Hollywood Hills were 15 to 20 mph Thursday morning, with gusts up to 40 mph, said National Weather Service meteorologist David Sweet.
Sweet said that there should not be another wind event for the next week and that the high in Los Angeles is set for 75 degrees on Christmas Day.
"I think Santa Claus will have to arrive by surfboard," he said.
---
UPDATES:
8:10 p.m.: This article was updated with new acreage burned and containment figures.
10:55 a.m.: This post was updated with comments from Cal Fire spokesman Brandon Vaccaro.
This article was originally posted at 10:10 a.m.
---
The stories shaping California
Get up to speed with our Essential California newsletter, sent six days a week.
You may occasionally receive promotional content from the Los Angeles Times.