State issues toughest-in-the-nation fracking rules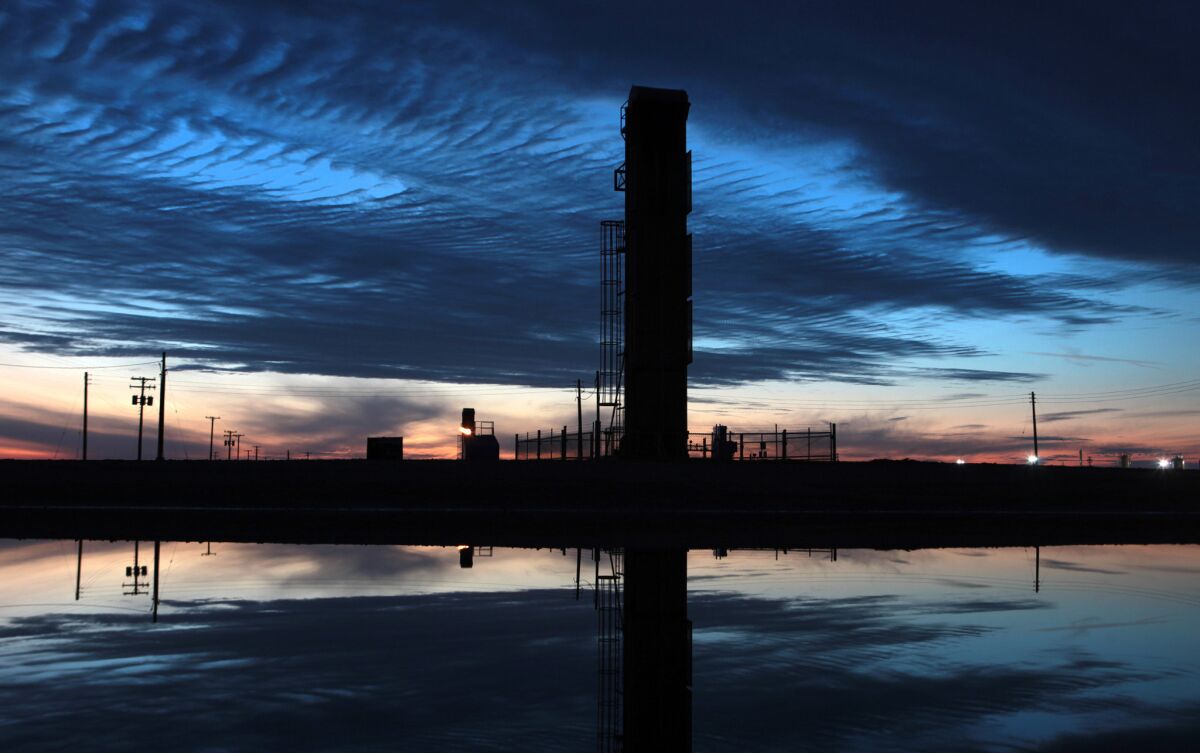 State officials on Wednesday formally adopted new rules governing hydraulic fracturing in California, setting in motion some of the toughest guidelines in the nation for the controversial oil extraction practice. The oil and gas agency also released its environmental impact report that concluded fracking could have "significant and unavoidable impacts" on a number of fronts, including air quality, greenhouse gas emissions and public safety.
The regulations, which lawmakers approved in 2013, require oil companies to expand monitoring and reporting of water use and water quality, conduct broad analysis of potential engineering and seismic impacts of their operations, and comprehensively disclose chemicals used during fracking and other operations.
The full implementation of the law comes as the Division of Oil, Gas, and Geothermal Resources -- the agency charged with enforcing the rules -- faces increasing criticism from lawmakers over its failure to adequately oversee oil and gas operations.
The fracking regulations are the product of SB 4, authored by Fran Pavley (D-Agoura Hills). The landmark legislation greatly expands the volume of information about oil operations that will be publicly available. Implementation of the new law has also exposed impacts of oil production operations on air and water, drawing the attention of the state agency charged with protecting those resources.
It has particularly shed light on the intersection of California's extensive oil industry and the state's dwindling water supplies. Oil production generates large volumes of wastewater that contains oil and other chemicals and has been routinely injected into protected aquifers.
The new rules were released by DOGGR along with its environmental impact report, which may provide ammunition to drilling opponents. The three-volume report concluded that fracking could, in a worst-case scenario, "generate greenhouse gas emissions that may have a significant impact on the environment." The operations could also increase pollutants "to levels that violate an air quality standard or contribute substantially to an existing or projected air quality violation," the report said. Transporting crude from fracking could also expose the public to potential oil spills and accidents.
Mitigation efforts could reduce the hazards in some cases, the report said.
"It is concluded that the public remains severely divided on the subject of whether well stimulation treatments should be entirely prohibited at a statewide level, or if they should remain legal practices," the report said.
Critics, including lawmakers in Sacramento, question whether the state's scandal-plagued oil regulator is up to the task of implementing the wide-ranging new rules. The agency has admittedly fallen behind in monitoring oil field wastewater injections into federally protected aquifers. It has failed to obtain required data from oil operators and has missed deadlines imposed by legislators.
"Regulations are only as good as their enforcement," said Andrew Grinberg, California oil and gas manager for the environmental group Clean Water Action. "Unfortunately, DOGGR has already shown that they are unable to enforce existing laws."
The agency is working to "strengthen compliance and enforcement," said state oil and gas supervisor Steve Bohlen.
"With these strong regulations, we are confident that well stimulation can continue in California without the kind of environmental problems that have plagued other states with lesser levels of environmental protection," Bohlen said in a written statement.
Also on Wednesday, the California Council on Science and Technology announced that its independent report on fracking risks was made available to state officials but will not be published until July 9. The multi-volume report has been kept under close wraps by those working on it and is said to take a hard look at how fracking may threaten the state's water supplies.
"Oil regulators can't protect us from oil industry pollution if they won't wait for experts to explain the dangers," said Hollin Kretzmann of the Center for Biological Diversity. "The state's weak fracking rules focus on notification and do almost nothing to safeguard California's air, water or public health."
Pavley said she was concerned that the state issued its environmental analysis before the science report. But she said the California Resources Agency assured her "that all pertinent findings in the scientific study will be taken into account."
Twitter: @julie_cart
---
The stories shaping California
Get up to speed with our Essential California newsletter, sent six days a week.
You may occasionally receive promotional content from the Los Angeles Times.