State worker videotaped throwing coffee on Muslim man is charged with hate crime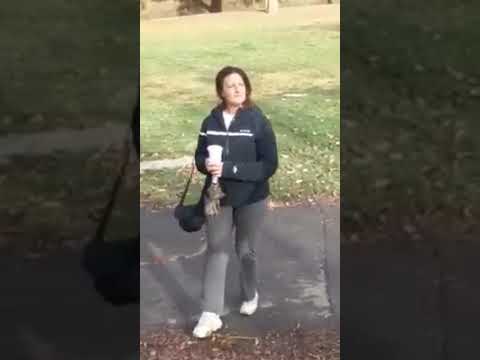 Rasheed Albeshari posted this video of a woman striking him while he was praying in a park. 
Alameda County prosecutors filed hate crime charges against a California Department of Corrections and Rehabilitation employee who was filmed ridiculing a Bay Area Muslim man and throwing coffee at him.
Denise Slader, a program technician with the department's Adult Parole Operations, was charged Wednesday with misdemeanor counts of battery and committing a hate crime and is due in court next month, according to the criminal complaint.
About 3 p.m. Dec. 6, Slader was filmed interrupting a prayer service at Lake Chabot in Castro Valley, officials said.
Rasheed Albeshari, 31, and his friends were playing volleyball and praying at the park — a Sunday ritual for the three friends.
Slader approached them and began "talking ... trash," mostly about religion, Albeshari said. That's when Albeshari said he decided to take out his cellphone and record the encounter with Slader. He later posted the video on Facebook.
Slader was recorded saying, "The people you tortured are going to be in eternity and heaven. You are very deceived by Satan. Your mind has been taken over, brainwashed and you have nothing but hate."
See more of our top stories on Facebook >>
The video shows an East Bay Regional Park District ranger approaching Slader and telling her she was acting inappropriately. As Slader and Albeshari exchanged words over the cellphone camera, she reached over and struck him, district spokesman Carolyn Jones said.
After hitting him, Slader threw coffee on him, Jones said. Albeshari is listed as the victim in the complaint.
A park official got between the pair to stop the situation from escalating, Jones said. Slader was not arrested or cited, but a report was taken and sent to the Alameda County district attorney's office, Jones said.
This kind of intolerance is totally unacceptable. It's just appalling on 50 different levels.
— Carolyn Jones, district spokesman
"This kind of intolerance is totally unacceptable," Jones said. "It's just appalling on 50 different levels."
Calling the episode unusual, she said East Bay residents use the district's 120,000 acres of park space daily for prayer, peace and solace, "especially in this day and age."
In the days after the incident, Slader was still employed with the Department of Corrections, but her actions were under review, department spokesman Luis Patino said.
"We expect all of our employees to treat everyone with dignity and respect both on and off the job," he said in a statement.
NEWSLETTER: Get the day's top headlines from Times Editor Davan Maharaj >>
Corrections officials did not have an immediate update on the investigation.
Albeshari was born in Tennessee and moved to Yemen with his family as a child. He returned to the U.S. several years ago at the request of his father, who said "Son, go back to your country; that's where you can find your future," according to Albeshari.
Albeshari flew to North Carolina before moving to San Francisco.
Albeshari said he had never encountered any form of racism, including based on his his religion, before this month's incident.
He believes Slader's actions may have been fueled by the shooting rampage in San Bernardino and billionaire businessman and presidential candidate Donald Trump's comments about Muslims.
Soon after Albeshari posted his video on Facebook, he said he was surprised to see an outpouring of support from strangers.
"It's just overwhelming," he said. "I think that's what makes this nation great: tolerance and acceptance."
For breaking California news, follow @JosephSerna.
ALSO
Woman arrested in children's death had been investigated earlier for neglect
Armed suspect taken into custody after holing up in Westlake apartment
Long Beach schools remain open after emailed threat called 'non-credible'
Sign up for Essential California for news, features and recommendations from the L.A. Times and beyond in your inbox six days a week.
You may occasionally receive promotional content from the Los Angeles Times.