2 indicted in violent Stockton bank robbery that left hostage dead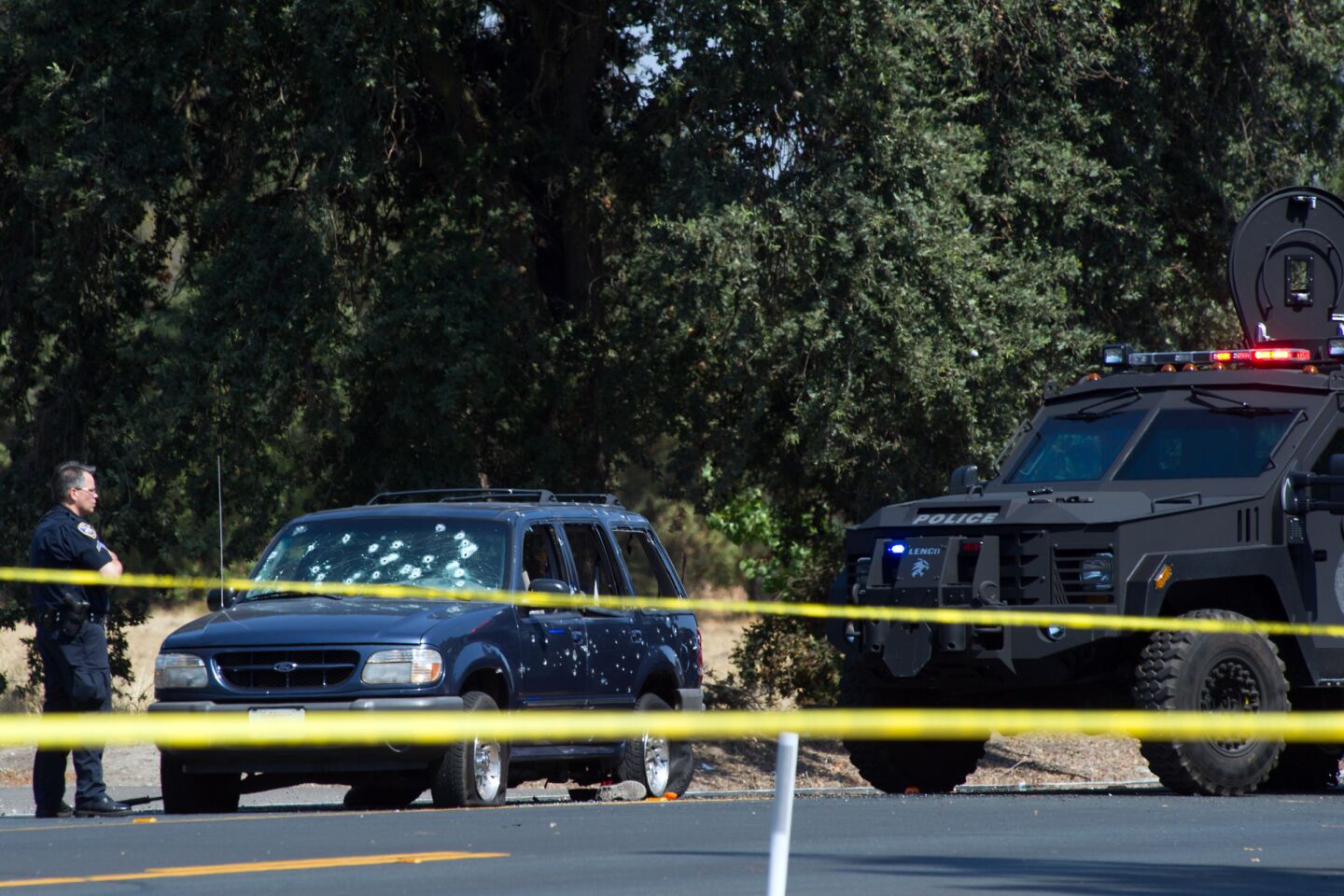 A Stockton police officer investigates the scene after a vehicle involved in a suspected bank robbery was stopped in the Northern California city. Three women were taken hostage by the alleged robbers; two were shot and thrown or leaped from the getaway vehicle, the other was killed.
(Craig Sanders / Associated Press)
Jaime Ramos, the suspect arrested in the deadly hostage shooting in Stockton, appears for an arraignment at the San Joaquin County Courthouse on July 21.
(Craig Sanders / Associated Press)
People hold up candles during a vigil for Misty Holt-Singh in downtown Stockton on July 19.
(Clifford Otto / Associated Press)
Gregory Jon Martinez, left, speaks to an unidentified TV reporter July 18 about his son, Alex Gregory Martinez, who was one of two bank robbery suspects killed in a gun battle with police in Stockton on July 16.
(Fenit Nirappil / Associated Press)
Stockton Police Chief Eric Jones, left, speaks at a news conference Thursday about the investigation into a bank robbery and ensuing shootout in Stockton.
(Craig Sanders / Associated Press)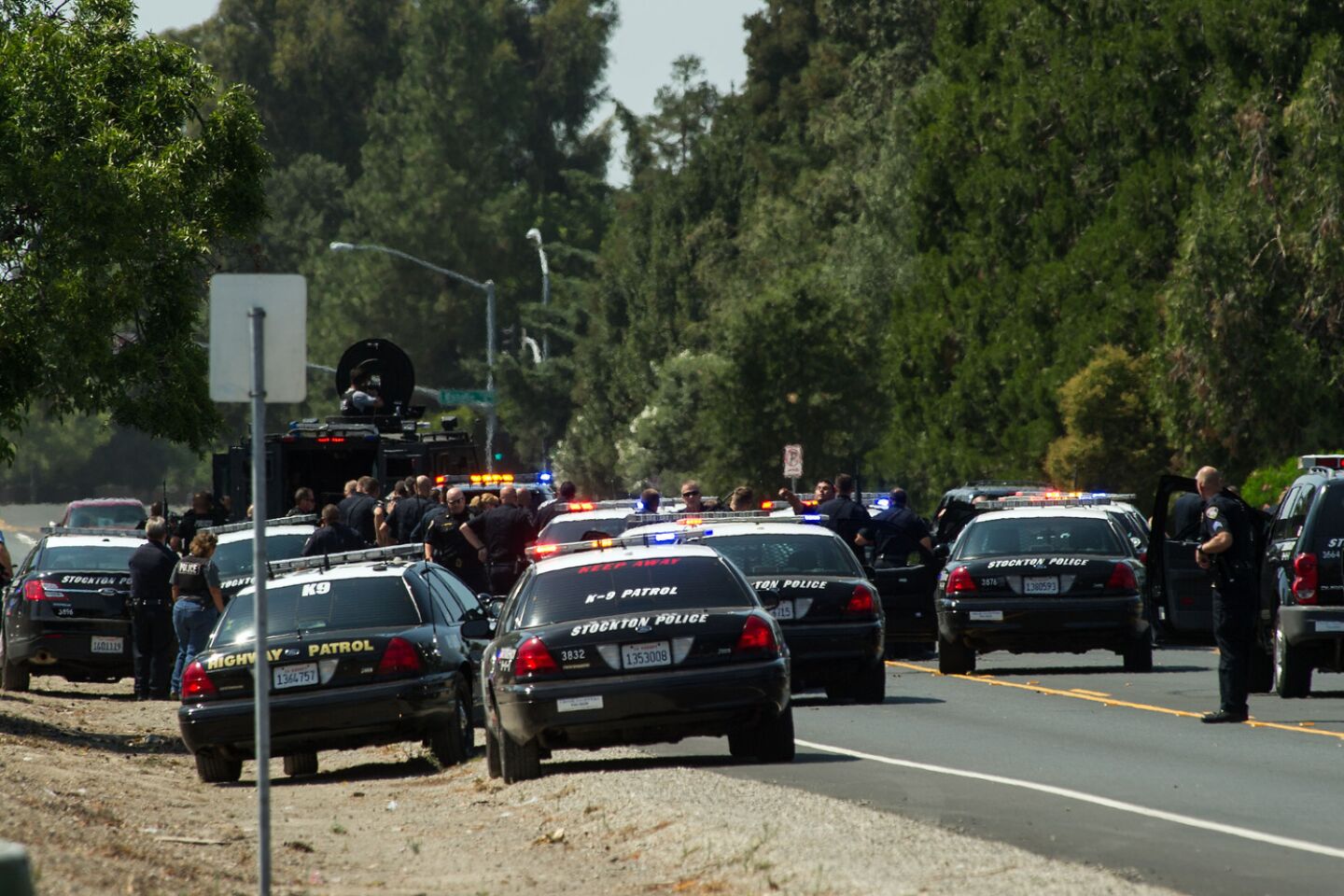 Police officers investigate the scene after a vehicle involved in a suspected bank robbery was stopped on Wednesday in Stockton, Calif.
(Craig Sanders / Associated Press)
A Northern California grand jury has indicted two men accused of being involved in a dramatic bank robbery and subsequent police chase that left two suspects and a hostage dead in Stockton earlier this year, authorities said Monday.
In a 47-count indictment unsealed Monday, the San Joaquin County district attorney charged Jaime Ramos, 20, and Pablo Ruvalcaba, 21, with three counts of murder, robbery, multiple counts of kidnapping and more than 30 counts of attempted murder on a peace officer.
Though both men are eligible for the death penalty, only Ramos is accused of actually participating in the robbery and deadly pursuit that followed.
Ruvalcaba, who was arrested Friday, is alleged to have been the driver who dropped Ramos and two other men off at the Bank of the West on July 16.
Ramos and two accomplices robbed the bank, took three hostages, including a 42-year-old mother named Misty Holt-Singh, and fled in one of the captive's vehicles, police said.
Two of the hostages were wounded and ejected from the car during the chase but survived.
Police fatally shot two of the robbers and Holt-Singh during a shootout. Authorities contend that the suspects used the woman as a human shield.
"We'll never forget the pain … and we never will," Police Chief Eric Jones said of the incident at Monday's news conference.
Prosecutors have not decided if they will seek the death penalty against either defendant. Both men are due in court Jan. 5. Ramos and Ruvalcaba are also accused of committing the crime for the benefit of the Norteno street gang.
The chase was one of the most violent incidents in Stockton's history, Jones said. It spanned three counties and involved at least 35 officers. More than 20 officers discharged their weapons and 14 squad cars were hit with gunfire, officials said.
For breaking California news, follow @JosephSerna.
The stories shaping California
Get up to speed with our Essential California newsletter, sent six days a week.
You may occasionally receive promotional content from the Los Angeles Times.