Dog that went missing in L.A. found three years later in Florida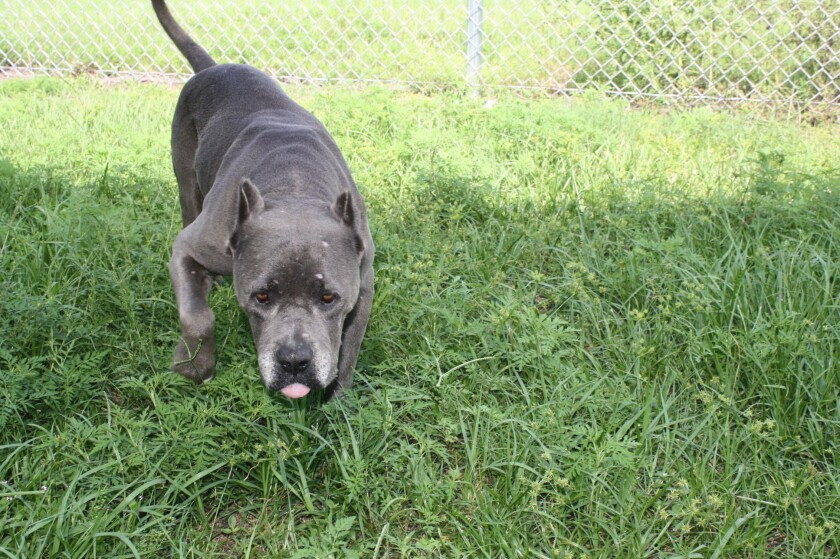 Days after Eric Hough adopted a pit bull, he took him to Yosemite, unhooked his leash and walked about 50 yards away. Then he turned toward his pet and asked him a question: did he want to go off on his own or stay with him?
"He just got a huge smile on his face and started running toward me," recalled Hough, 30, a professional BMX rider who lives in Huntington Beach.
So it was a little hard to believe that Bayou, whom Hough affectionately also called "Big Boy," would run away from home. But four months later, Hough's dog disappeared.
Hough lived in a house in Echo Park with four roommates at the time; he said his pit bull went missing when one roommate was asked to move out. He believes she took the dog with her.
Hough contacted police and attempted to confront the ex-roommate but never learned where his pet had gone. Three years passed without news.
Now, a Florida animal shelter has sent Bayou on the long journey home.
On June 5, police officers in Cocoa, Fla., delivered a stray dog to a shelter in Brevard County, said Tracey Breen, the rescue coordinator for Brevard Animal Services.
Shelter staff scanned the pit bull for a microchip, a small device that can be implanted into a pet with information about it owner. The dog's chip, Breen said, flashed back a name: Eric Hough.
And so the search began. First, staff called two phone numbers listed on the chip, but neither connected, Breen said.
Next Breen referred the case to a woman in the county who runs a website that aims to reunite people with their lost pets.
"With the distance being so great, she was getting small bits of information but still hitting brick walls," Breen said.
A self-proclaimed "pet detective," Ryan Gamache, joined the effort.
"I thought I'd try it out," said Gamache, who saw a post about the dog on Facebook. "I love these impossible cases, so I spent a lot of time, a lot of emails, a lot of phone calls, trying to track down this person."
Gamache, who volunteers with Missing Pet Partnership, said he tried to contact every Eric Hough in California.
Just when Gamache said he was getting "discouraged" -- many calls and messages went unanswered -- he finally reached a potential owner through Facebook.
Gamache presented Hough with two addresses he had on file and a note that the dog was reported stolen in 2010.
Hough replied: "My pit bull???"
Gamache asked him to describe the missing pet. Hough obliged.
Hough originally got Bayou at an animal shelter, after having visited five or six times looking for the perfect dog. When he saw the pit bull, named Smoke by previous owners, he knew he had found the right one, Hough said.
"He looked really tough and at the same time he was really mellow," Hough said.
His dog's journey home began June 27. He left the shelter in Titusville at 7 a.m., traveling for four days through 30 different legs of the journey planned by Heather McNally, a transport coordinator for a nonprofit called Kindred Hearts.
Kindred Hearts, which operated informally for about six months before officially forming last July, recruits volunteers throughout the country to help transport animals free of charge. In all, their chief operating officer estimated the organization has helped to relocate about 2,400 animals, said spokeswoman Cherie Rexroad.
Almost every leg of the trip will be between 40 minutes and 90 minutes, allowing volunteers to drive the dog to and from destinations in a reasonable amount of time, McNally said.
Some spots remain to be filled, but Hough's dog is otherwise expected home Sunday evening.
"Now that he's been located, I can't lose him again," Hough said.
ALSO:
Blast rocks former home of 'Beverly Hillbillies' star Buddy Ebsen
50 Cent allegedly smashed door, chandeliers, TV at woman's home
Oakland crafts $1.1 million settlement for injured Occupy protesters
Twitter: @emfoxhall

emily.foxhall@latimes.com
---
The stories shaping California
Get up to speed with our Essential California newsletter, sent six days a week.
You may occasionally receive promotional content from the Los Angeles Times.