Federal judge delays ruling in Stormy Daniels lawsuit against Trump and his personal lawyer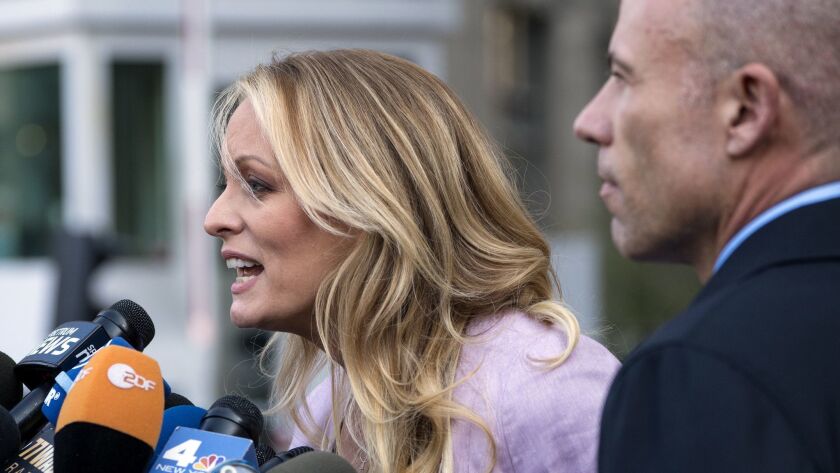 A federal judge in California postponed a ruling on a request by President Trump and his personal lawyer, Michael Cohen, who is now the subject of a federal investigation, for a 90-day delay of a lawsuit filed against them by porn star Stormy Daniels.
U.S. District Judge S. James Otero took the request under submission Friday, saying that the FBI's recent raids on Cohen's New York office, home and hotel room suggest he may be facing a criminal indictment.
"It is substantially likely there is going to be criminal action to follow," Otero said, given that the warrant was approved by a federal judge. Cohen's lawyers were clearly correct to advise him of his rights to avoid self-incrimination, he added.
The judge said he would look at potentially severing a defamation complaint by Daniels against Cohen — a move that would allow him to hear a motion by Cohen's lawyers to dismiss that part of the lawsuit.
Otero, however, said there were "gaping holes" in Cohen's lawyer's request for a delay, including a lack of an affidavit from him. The judge gave Cohen until Wednesday to file a declaration stating he plans to assert his 5th Amendment rights in the Daniels case. A final decision will follow.
Lawyers for the president and Cohen argued that the raids on Cohen's home and offices are part of a criminal investigation that overlaps Daniels' suit, which seeks to void a contract that bars her from talking publicly about what she says was a 2006 sexual encounter with Trump. Federal authorities have not publicly revealed the focus of their investigation.
Brent Blakely, Cohen's attorney, appeared to acknowledge the possibility that his client might be charged and said the $130,000 payment to Daniels was mentioned in the FBI's search warrant.
"Things are moving fast," he added.
Blakely said he was seeking a "brief pause in the case." If Cohen is deposed in the lawsuit, he will exercise his 5th Amendment rights to almost every question because he does not know the details of the criminal inquiry against him, Blakely told the judge.
Daniels' attorney, Michael Avenatti, however, called for the suit to move forward without delay, arguing that Cohen can invoke his right against self-incrimination. He told the judge that Cohen had offered no proof that the raids were connected to Daniels' contract.
Avenatti said Daniels continues to be under threat of legal action that limits her ability to describe her sexual encounter with Trump.
"Your client has been on '60 Minutes' [and] 'The View'?" Otero replied, drawing chuckles from people in the courtroom's audience. "She doesn't appear to be deterred."
Daniels has said she had sex with Trump after they met at a Lake Tahoe golf tournament in 2006, shortly after his wife, Melania, gave birth to their son, Barron. Karen McDougal, Playboy's 1998 Playmate of the Year, has said that she, too, had a tryst with Trump at the event.
A few weeks before the 2016 presidential election, Daniels — whose real name is Stephanie Clifford — sought to go public about her affair with Trump, but he and Cohen "aggressively sought to silence Clifford as part of an effort to avoid her telling the truth, thus helping to ensure he won," she alleged in court papers. As part of the agreement, Cohen paid her $130,000.
Common Cause and other groups have questioned whether the payment amounted to an illegal campaign contribution.
Cohen has said that he used personal funds to settle with Daniels and that none of the money came from Trump, his companies or his campaign. Cohen's lawyers are seeking to resolve the case by arbitration.
Daniels wants the judge to invalidate her confidentiality agreement, in part because Trump did not sign it.
Lawyers for Trump say she already has broken the deal and could owe the president as much as $20 million in damages. The confidentiality pact requires Daniels to pay the president $1 million each time she violates its terms.
Twitter: @lacrimes
---
UPDATES:
1:45 p.m.: This article was updated with additional details from the court hearing.
This article was originally published at 12:00 p.m.
---
The stories shaping California
Get up to speed with our Essential California newsletter, sent six days a week.
You may occasionally receive promotional content from the Los Angeles Times.