On 'Stormy Daniels Day,' West Hollywood honors porn star with key to the city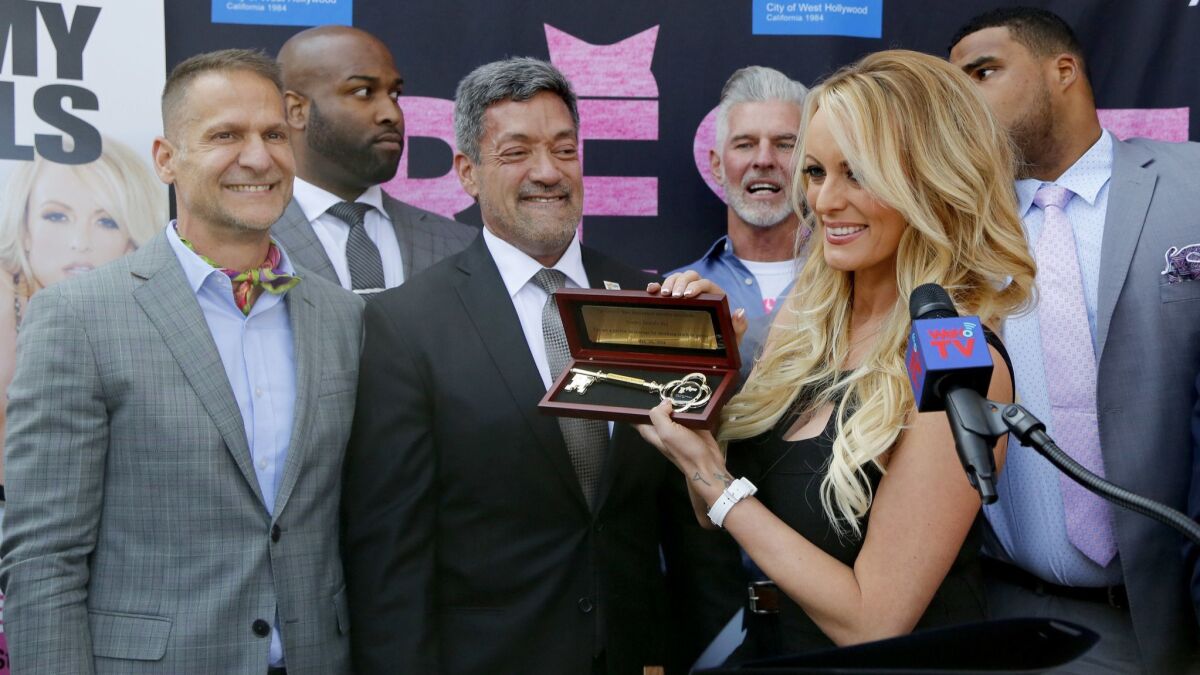 The porn star walked out of the hot-pink sex-toy shop and, enveloped by security guards, waded into a sea of camera operators so thick she could hardly move.
"Stormy, to your left!" they shouted. "Your right! Stormy! Stormy!"
It was Stormy Daniels Day in West Hollywood — and the adult-film actress had an event with city leaders.
In front of a black backdrop with the city logo and #RESIST spelled in hot pink, Mayor Pro Tem John D'Amico held a large gold key in a dark wood box. He presented it to Daniels.
"What did the gay mayor pro tem say to the porn star?" D'Amico asked, pausing for suspense.
"Congratulations!" he said, handing her the key to the city.
"I'm not really sure what the key opens," Daniels said. "I hope it's the wine cellar."
The presentation drew a phalanx of national news crews to Chi Chi LaRue's, a Santa Monica Boulevard sex shop named after the drag queen and director of gay pornography.
People drinking margaritas on the bar patios next door and passersby shouted thanks to Daniels and her attorney, Michael Avenatti. A man in the crowd tried to make eye contact with Avenatti, saying the lawyer was cute.
West Hollywood Mayor John J. Duran gave Stormy Daniels the key to the city outside Chi Chi LaRue's on Santa Monica Boulevard in recognition of her work in the #RESIST Movement.
Daniels stood next to a mannequin that was wearing chains and a leather harness around his groin, and a poster of herself in black lingerie. In her less than two minutes of remarks, she said that as a woman with "two wonderful gay dads," she felt especially welcome in West Hollywood.
"I am elated and honored," she said to cheers. "Thank you to everyone."
Then she was quickly shuttled back into Chi Chi LaRue's. A Britney Spears song started blaring from the gay bar next door.
The whole ceremony lasted about 10 minutes.
While the atmosphere was festive, Lisa Belsanti, a city spokeswoman, said West Hollywood was "serious as a heart attack" about its recognition of Daniels.
"If it takes someone like Stormy Daniels to bring this corrupt, morally bankrupt [Trump] administration down, then she really is a hero," Belsanti said.
City officials had no qualms about honoring a porn star, she said.
"We're a sex-positive community," Belsanti said. "The fact that Ms. Daniels has a career in adult films? We're not ashamed of it."
Mayor John Duran said in an interview that West Hollywood — with its longtime embrace of LGBTQ people, women and other oppressed people — has "been a focal point of resistance for a hundred years, and in this latest chapter of U.S. history, we're being called into action once again to be the voice of the resistance."
Duran said he was inspired by Daniels, whom he called a "modern-day Lady Godiva." The porn star was paid hush money to stay silent about a sexual tryst she says she had with President Trump.
"She is protesting, standing up to the most powerful man on the planet," he said. "She's not backing down.… She's being very brave and very courageous."
Duran said that while most of the feedback from community members had been positive, city officials have been "getting a lot of hate mail, mostly from Bible Belters" this week and that "Fox News is having a heyday with us."
A drag queen named Sham Ibrahim, wearing gold high-heeled boots and a sequined blue dress, held up a sign reading "Stormy for President" and gave an enthusiastic interview to a Breitbart reporter.
The city has been outspoken in its disdain for Trump.
"Outlandishness, from Marilyn Monroe to Bugsy Siegel to Jim Morrison and the Doors to Hugh Hefner and the Playboy bunnies, all of that is West Hollywood," Duran said. "Our values have been under threat by the Trump administration for the last year and a half."
Avenatti called Daniels "one of the most intelligent, self-aware, courageous people you will ever come to know in your lifetime."
During Trump's 2016 presidential campaign, Councilwoman Lindsey Horvath, who was then mayor, drew national attention when she declared that Trump and his "campaign of violence and intimidation" were not welcome in the city.
In a letter to the Trump campaign, Horvath wrote that the "people of West Hollywood have seen the devastation and destruction that hatred and hate speech can bring. We are home to Jewish immigrants who escaped Nazi occupation in Soviet Russia, to LGBTQ people of all ages including survivors of the AIDS crisis, and to many other diverse constituencies, of which we are most proud."
In June 2017, the City Council approved a resolution calling on the U.S. House of Representatives to initiate impeachment proceedings, citing concerns over Trump's business dealings, the "possibility of collusion between the Trump campaign and the Russian government," the firing of former FBI Director James B. Comey and other issues.
The city even has an official "resistance" website featuring a sketch of a person in one of the pink "pussy hats" that were ubiquitous at the 2017 women's marches that drew millions of participants the day after Trump's inauguration.
"Following the election of President Trump, the West Hollywood City Council affirmed the City of West Hollywood's commitment as a Sanctuary City and reaffirmed the City's commitment to its core values, which includes Respect and Support for People," the site reads.
Daniels, whose real name is Stephanie Clifford, is seeking to invalidate a nondisclosure agreement that bars her from talking publicly about a sexual encounter she says she had with Trump in 2006 in Lake Tahoe.
Earlier this year, Trump's personal attorney, Michael Cohen, whose business dealings are being scrutinized by federal prosecutors, acknowledged paying Daniels $130,000 in hush money just before the 2016 election.
Times staff writer Alene Tchekmedyian contributed to this report.
Twitter: @haileybranson
---
UPDATES:
9:35 p.m.: This article was updated with details from the ceremony.
This article was originally published at 9:15 a.m.
---
The stories shaping California
Get up to speed with our Essential California newsletter, sent six days a week.
You may occasionally receive promotional content from the Los Angeles Times.