Must Reads: Suge Knight's image as thug and feared enforcer crumbled in court
Judge Ronald S. Coen detailed the plea agreement Thursday afternoon.
Suge Knight was almost always cheery in court.
Whenever the judge overseeing his murder case cracked a sarcastic aside, the former rap impresario belly laughed so hard his broad shoulders bounced for several seconds. Where he could, he slipped compliments to Judge Ronald S. Coen.
"I trust you," Knight told him during a pretrial hearing. "You've been my judge and my advisor…You're my only friend now."
Coen smiled.
As the kowtowing played out in court hearings over the past three years, it became hard to reconcile the man with a graying beard seated at the defense table with his longtime image as one of the most powerful and intimidating men in music.
In the burgeoning West Coast rap scene he helped popularize, chronicling gang life, drugs and police brutality, Knight was an imposing figure — a swaggering record producer with a cigar in his mouth and a diamond-studded "MOB" ring on his pinky finger.
The Death Row Records co-founder long swore he'd acted in self-defense on the murder rap and deserved to be set free. But on Thursday, four days before his trial was scheduled to start, he struck a deal with prosecutors, capping his cinematic legal saga with an anti-climactic coda.
Knight pleaded no contest to voluntary manslaughter for ramming his truck into two men in the driveway of a Compton burger restaurant on Jan. 29, 2015, following an argument on the set of a commercial for the N.W.A biopic "Straight Outta Compton." One of the men — Terry Carter, a 55-year-old businessman known for his boundless generosity — was fatally injured.
The deal, under which Knight, 53, could serve up to 28 years in prison, perplexed some onlookers, but defense experts said eleventh-hour moves aren't uncommon and often pay off. In the weeks leading up to a trial, prosecutors must give the defense a list of people they plan to call as witnesses, said criminal defense attorney Peter Johnson, who lectures at UCLA Law School.
"You can pretty much predict the testimony and how damaging that will be and you weigh the risks of conviction," Johnson said.
If convicted at trial, Knight faced life in prison. The former record producer's court-appointed attorney, Albert DeBlanc Jr., declined to comment after the deal, but it's likely that video evidence played into his client's calculus. Prosecutors had surveillance footage from Tam's Burgers capturing the moment Knight's Ford F-150 pickup barreled over the men before fleeing the scene.
Knight, who turned himself into authorities a day after the hit-and-run, has said there were people with guns at the scene and that he hit the men while fleeing for his life. In court papers filed last year, Knight claimed that his former business partner Dr. Dre paid $20,000 to have him murdered, adding that a hit man was at the burger stand that day. (An attorney for Dr. Dre dismissed the accusations as "absurd.")
Suge Knight's legal troubles: A timeline »
Los Angeles criminal defense attorney R.J. Manuelian said he's confident that Knight's lawyer didn't have a solid witness to corroborate the gun theory — "a real big weakness in the case," he said.
"The only way they'd win is if the jury believed Suge Knight, which is a tall order," said Manuelian, who followed the case since the 2015 arrest and planned to offer television commentary throughout the trial.
Born Marion Hugh Knight Jr., the Compton native was a standout athlete. He played football in college and, for a split second in 1987, joined the Los Angeles Rams as a replacement player during the strike. Standing 6-foot-4, Knight's size led to his next gig as a bodyguard for celebrities, including R&B singer Bobby Brown.
In the early 1990s, Knight and Dr. Dre formed Death Row Records and as the seminal label exploded into a $100-million-a-year enterprise, Knight built an infamous reputation. Some compared him to notorious mobster John Gotti and newspapers almost universally described him with a trio of adjectives — feared, imposing, intimidating.
Through the years, he built a lengthy rap sheet, including a 1992 arrest, in which authorities accused him of ordering two aspiring rappers to their knees in a Hollywood studio and pistol-whipping one of the men in an argument over use of a company phone.
Late in the summer in 1996, Knight was driving a BMW just off the Las Vegas Strip when an unknown gunman fatally shot his passenger, rapper Tupac Shakur. A few months later, a judge sentenced Knight to nine years in prison for violating his probation in the assault case by getting in a fight at a Las Vegas hotel hours before the fatal shooting.
A Los Angeles County sheriff's deputy walks past part of the Tam's Burgers parking lot, where the hit-and-run occurred.
(Bob Chamberlin / Los Angeles Times)
Marion Suge Knight continues to talk while being led out of Los Angeles County Superior Court on Monday. During the hearing, he described his medical ailments and continued to speak over the judge, drawing a sharp rebuke.
(Mark Boster / Los Angeles Times)
Judge Ronald S. Coen accepts a plea from Marion "Suge" Knight of no contest to voluntary manslaughter in a downtown Los Angeles courtroom.
(Gary Coronado / Los Angeles Times)
Former rap mogul Marion "Suge" Knight, left, with his defense attorney Albert DeBlanc, listens to the terms of his plea of no contest to voluntary manslaughter Thursday in a downtown Los Angeles courtroom.
(Gary Coronado / Los Angeles Times)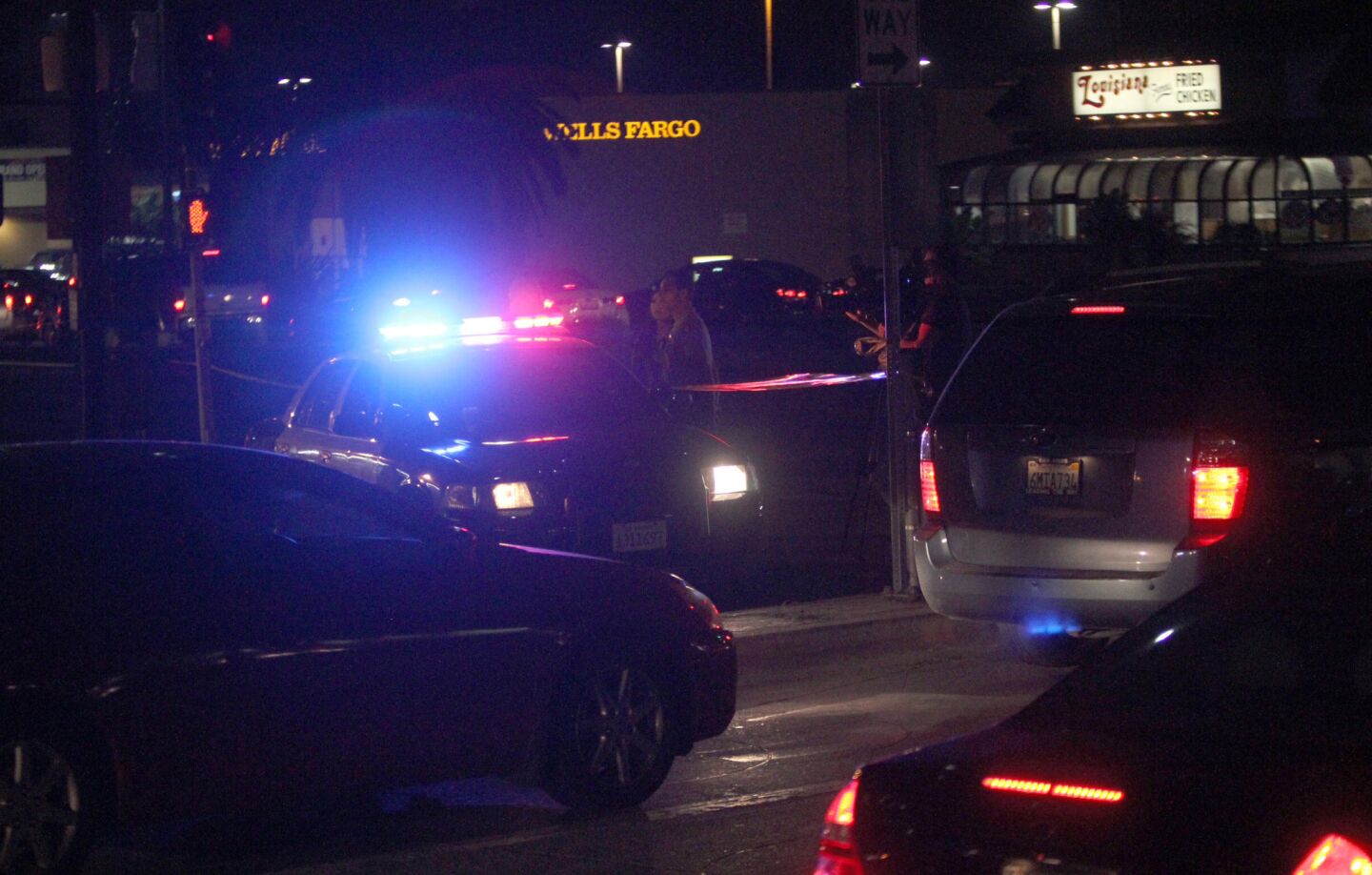 A Los Angeles County sheriff's patrol car blocks Central and East Rosecrans avenues in Compton, where a fatal hit-and-run occurred Thursday.
(Bob Chamberlin / Los Angeles Times)
Los Angeles County sheriff's officials at the site of a hit-and-run in Compton involving music mogul Suge Knight.
(Michael Robinson Chavez / Los Angeles Times)
An officer at the scene of the hit-and-run, a restaurant parking lot.
(Michael Robinson Chavez / Los Angeles Times)
Jose Salgado, 9, watches from Central Avenue as Los Angeles County sheriff's officials investigate the scene in a Tam's Burgers parking lot, where two men were struck in a hit-and-run involving music mogul Suge Knight.
(Bob Chamberlin / Los Angeles Times)
A family photo of Terry Carter and his wife Lillian Carter. Terry Carter was killed by Marion "Suge" Knight in 2015
(Genaro Molina / Los Angeles Times)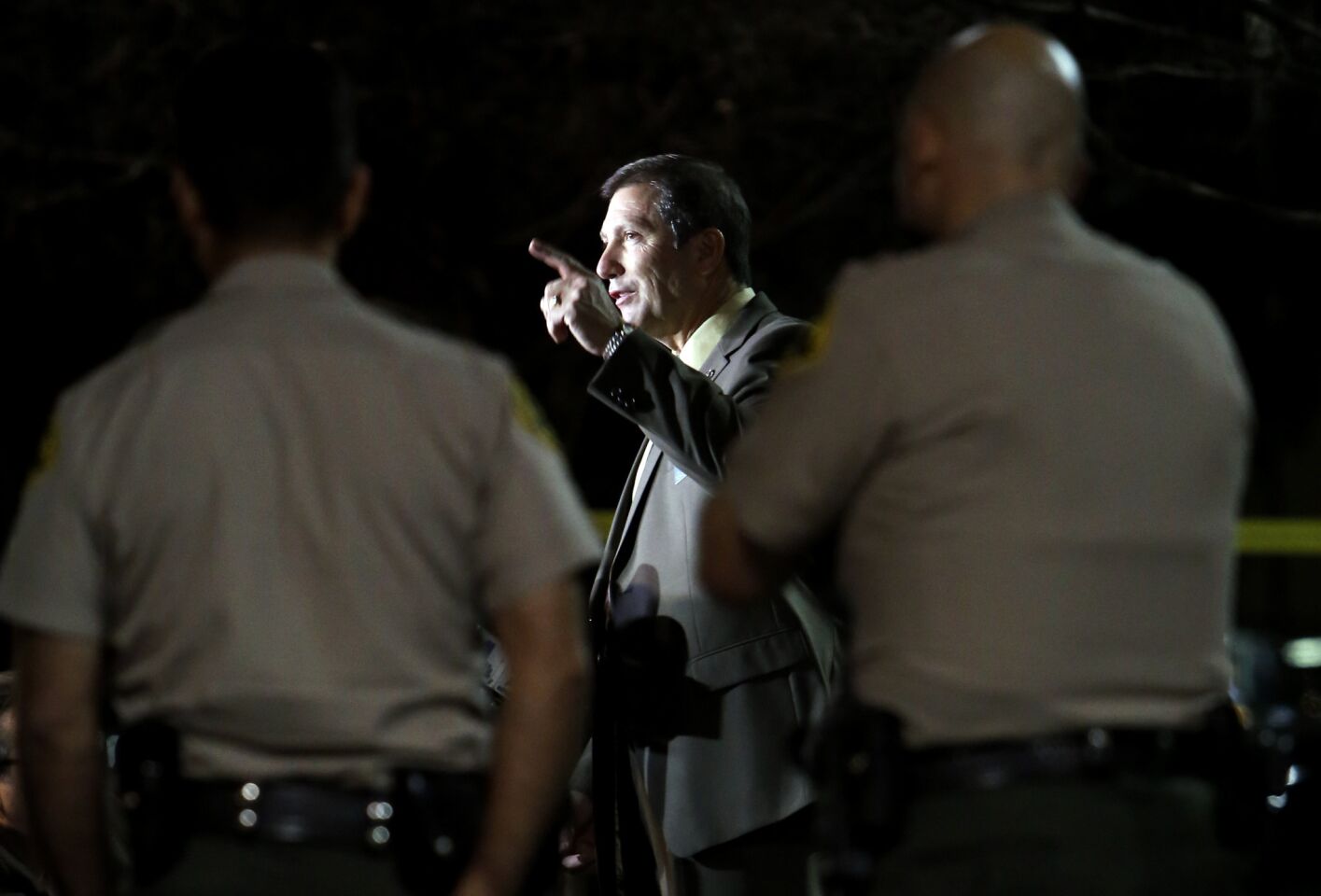 Lt. John Corina of the L.A. County Sheriff's Department at a news conference Thursday night on the hit-and-run involving music mogul Suge Knight. Investigators are treating it as a homicide.
(Michael Robinson Chavez / Los Angeles Times Times)
Rapper Tupac Shakur, left, and Marion "Suge" Knight attend an Aug. 15, 1996, voter registration event in South Central Los Angeles.
(Frank Wiese / Associated Press)
In "Straight Outta Compton," Knight is a depicted as a menacing and cruel enforcer who pistol-whips a man for taking his parking spot and watches with a smirk as henchmen beat N.W.A founder Eazy-E. Outraged by his portrayal, as well as the fact he didn't get paid for the use of his likeness, authorities say Knight sent a threatening text message to the movie's director, F. Gary Gray. In 2017, grand jurors indicted Knight of criminally threatening the director.
That case, as well as a robbery charge stemming from a 2014 incident, in which prosecutors say Knight and comedian Micah "Katt" Williams snatched a woman's camera, will be dismissed under the plea agreement.
The courtroom conclusion this week could well mean the last public chapter in the life of a one-time icon who authorities say had a habit of threatening anyone who crossed him.
Many of the former producer's family and friends say his tough-guy image was never the full story.
He's always had a fun spirit and a soft side, Knight's sister, Karen Anderson, said. That's how he got his childhood nickname — a shortened version of Sugar Bear. In recent years, when family gathered at their mother's home, Anderson said, her brother sat in a circle with the children playing "duck, duck goose."
"I'm not sugarcoating anything. I'm not saying he's an angel," Anderson said. "But he's not the person everyone's portraying him to be either."
To criminal defense attorney David Chesnoff, who represented Knight in two assault cases and a federal investigation years ago, Knight's courtroom joviality is no surprise.
"He understands that a judge is a judge," Chesnoff said. "He's a much more sophisticated person than given credit for."
His former client, Chesnoff said, has always been a complex person — a big tough guy, sure, but also a charismatic businessman who understood industry expectations at the height of Death Row's power.
"The artists he represented also had the same kind of image as part of the scene that they were in, but many of them have become like household names," Chesnoff said. "Snoop [Dogg] does TV shows with my other client, Martha Stewart. Who would have thought?"
Since Knight's arrest three years ago, the murder case took one bizarre turn after another.
"I'm not saying he's an angel. But he's not the person everyone's portraying him to be either."
— Karen Anderson, Marion "Suge" Knight's sister
During one court hearing, bailiffs rushed a trash can to Knight who said he might vomit and at the end of another hearing — when a judge set his bail at $25 million — paramedics swooped in with a gurney after Knight collapsed.
"Just, bam," recounted defense attorney Matthew Fletcher, who represented Knight at the time. There was the time the former mogul complained about having lost 67 pounds behinds bars and another time he told the judge he was having problems with swelling in his hands.
The judge offered a bit of reassurance: "I've got to tell you, Mr. Knight, you're looking good." The former impresario let out a high-pitched laugh, thanking the judge.
Earlier that day, when Coen mentioned a proposed trial date several months in the future, Knight quipped that he was hoping for an earlier time: "I was thinking next week."
Coen threw his head back, chuckling and Knight nodded, as if pleased the joke had landed.
Another morning in court, while rambling about his heavily restricted phone, mail and visitation privileges at Men's Central Jail, Knight dropped another one-liner. He mentioned the famous insurance commercial, where a person in distress says a jingle and someone materializes to help them. In his cell, as he longed for meaningful interaction, Knight told the judge, he sometimes thought of the jingle: "Like a good neighbor, State Farm is there."
"Nobody pops up," Knight added.
20 years later, Notorious B.I.G.'s killing remains one of L.A.'s biggest unsolved homicides »
Often Knight came to court with the same request: I want a new attorney. He hired and fired more than a dozen, including two men — Fletcher and Thaddeus Culpepper — now facing criminal charges of their own. Both attorneys have pleaded not guilty to conspiracy charges stemming from what prosecutors say was an attempt to bribe witnesses in exchange for helpful testimony in the aging mogul's case. Knight — who filed for bankruptcy in 2006 — ultimately faced the most serious criminal charge of his life with a court-appointed attorney.
Knight's fiancee, Toi-Lin Kelly, is serving three years in jail for violating the conditions of her probation after prosecutors say that she, Knight, Fletcher and one of Knight's business partners, Mark Blankenship, hatched a plan to sell the surveillance video from Tam's Burgers to the celebrity news website TMZ for $55,000. (Coen had specifically ordered that the video not be released to the media.)
During Knight's preliminary hearing, the crowd squeezed into Coen's courtroom got a glimpse of the defendant's power to inspire fear. While on the stand, the surviving victim of the 2015 hit-and-run, Cle "Bone" Sloan, broke down in tears.
"I'm no snitch," he said. "I will not be used to send Suge Knight to prison."
Coen ruled there was enough evidence for Knight to stand trial — but not enough, he said, to justify Knight's $25-million bail.
After the bail was lowered to $10 million, Fletcher — not yet involved in his own legal proceedings — told reporters that Knight had a famous friend ready to help. If Floyd Mayweather Jr. won his upcoming boxing match, Fletcher said, he planned to bail Knight out of jail.
Mayweather won, but the money never came.
In court Thursday, Knight — reportedly frustrated to take a deal in front of so many reporters — looked worn down, subdued. When Coen asked if he wanted to take the deal, the mogul responded simply, "Yes."
The judge explained that, although it may not apply to Knight, he had a duty to inform him that if a defendant is not a citizen, a conviction can lead to deportation.
"So ICE is coming to get me?" Knight asked.
The judge closed his eyes and laughed.
For more news from the Los Angeles County courts, follow me on Twitter: @marisagerber
---
Life is stressful. Our weekly mental wellness newsletter can help.
You may occasionally receive promotional content from the Los Angeles Times.