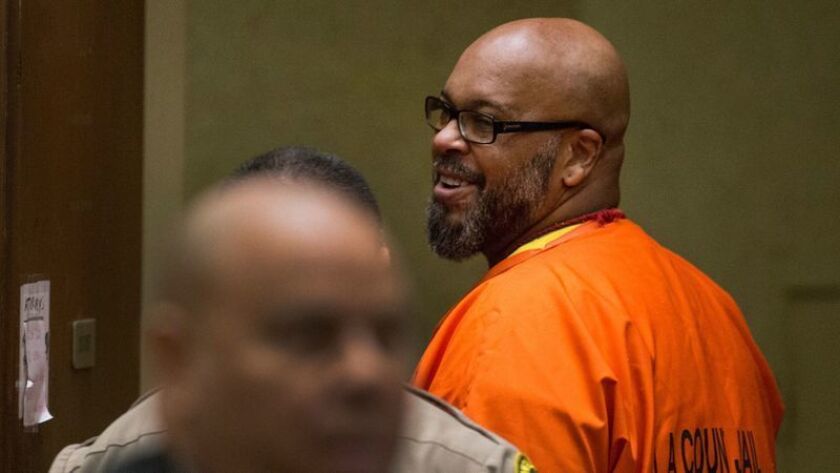 A business partner of Marion "Suge" Knight pleaded no contest Wednesday to a charge that he sold sealed video evidence of the rap mogul plowing his red truck into two men outside Tam's Burgers to celebrity website TMZ, officials said.
Mark Blankenship, 58, entered the plea to one felony count of conspiracy to obstruct justice and was sentenced to five years of probation, the Los Angeles County district attorney's office said. He was also ordered to pay $55,000 in restitution to the burger shop.
Knight's fiancee, Toi-Lin Kelly, 38, previously pleaded no contest to one count of conspiracy to violate a court order for her role in orchestrating the sale. She was put on formal probation for five years, ordered to perform 100 hours of community service and to also pay the same amount in restitution.
The pair arranged the sale of the grainy surveillance video about two weeks after the 2015 incident. Terry Carter, 55, was killed and the other man was injured in the hit-and-run, which occurred after an argument on the set of a commercial for the N.W.A biopic "Straight Outta Compton."
A judge had prohibited the release of any evidence in Knight's murder case.
Prosecutors said Kelly and Knight communicated in code about a plan to sell the video for as much as $150,000.
In March of that year, prosecutors said, the TMZ correspondent and Kelly agreed on a price: $55,000.
Days later, TMZ posted the two-minute video on its site.
Knight was sentenced last year to 28 years in state prison after pleading no contest to one count of voluntary manslaughter.
Kelly was also sentenced last year to three years in jail for violating the terms of her probation after she was accused of helping Knight arrange jailhouse phone calls.
alene.tchekmedyian@latimes.com
Twitter: @AleneTchek
---