Suge Knight's fiancee and business partner sold TMZ sealed videos related to murder trial, prosecutors charge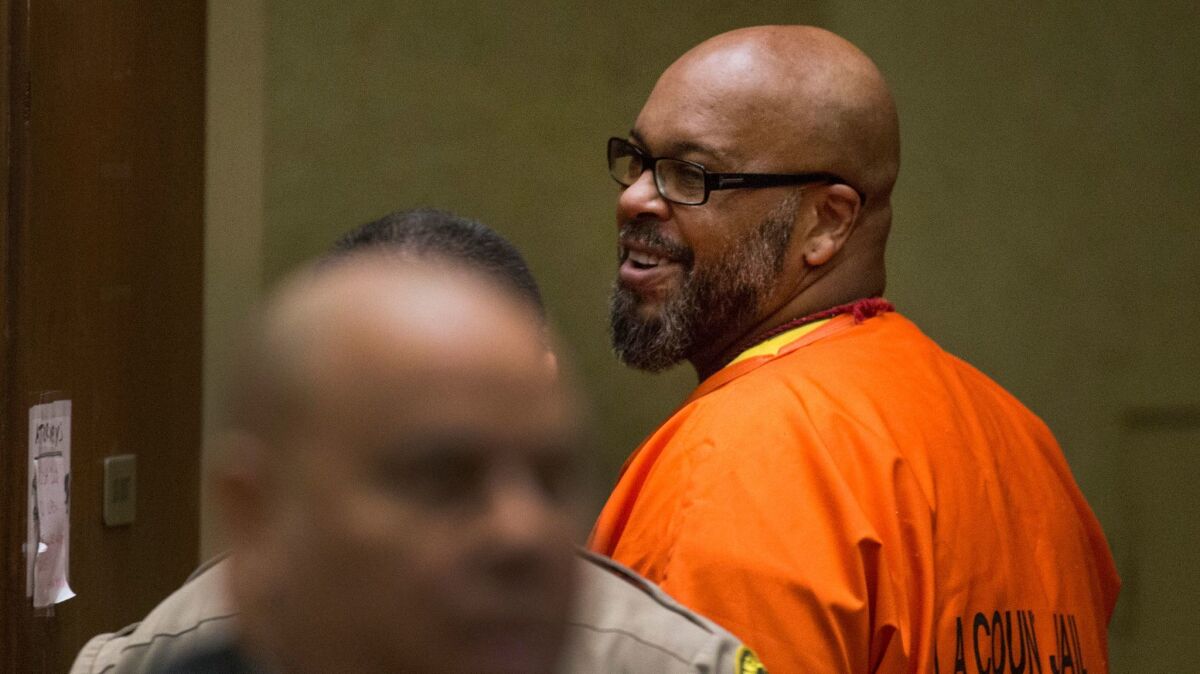 Former rap mogul Marion "Suge" Knight's fiancee and business partner were each charged with violating a court order by selling sealed evidence related to his murder trial — a grainy surveillance video of Knight plowing his red truck into two men — to TMZ, officials said.
A grand jury in July indicted Toi-Lin Kelly, 36, and Mark Blankenship, 57, on one felony count each of conspiracy to violate a court order, conspiracy to obstruct justice and conspiracy to commit grand theft, according to the Los Angeles County district attorney's office. The indictment was unsealed Wednesday.
Kelly has pleaded not guilty; Blankenship has not been arraigned.
The charges mark the latest twist in Knight's bizarre legal saga, which has dragged on for more than two years as prosecutors continue to raise new allegations against the former impresario and his associates.
The case has grown to involve accusations that Knight, 52, criminally threatened the man who directed the movie "Straight Outta Compton" and possibly discussed with his defense attorney bribing witnesses to fabricate testimony.
Just this week, Knight brought on a new criminal defense attorney to represent him in the threats case after prosecutors said they'd gathered evidence that the previous one, Matthew Fletcher, was involved in possible witness tampering, bribery and obstruction of justice.
Fletcher has denied wrongdoing, telling The Times that prosecutors had taken his words out of context.
Knight is accused of barreling his red truck into two men in the parking lot of a Compton burger stand in late January 2015 after an argument on the set of a commercial for "Straight Outta Compton." One of the men, 55-year-old Terry Carter, died from his injuries.
Knight, who fled the scene but later turned himself in, has pleaded not guilty to murder and says he acted in self-defense. He is also charged in a separate robbery case.
Two weeks after the fatal hit-and-run, prosecutors said, Kelly and Blankenship began arranging the sale of the security video to TMZ.
Kelly was arrested Monday and is being held on $2-million bail. Attorneys representing her said the charges stem from conduct that occurred 2 ½ years ago and at the direction of lawyers involved in Knight's case.
"At this point we believe the evidence will show that she's going to be exonerated by a jury," said Dmitry Gorin, one of her attorneys.
A bail review hearing is set for next week. Gorin called the $2-million bail "excessive and unconstitutional."
Blankenship could not be reached for comment. It was unclear if he had hired an attorney.
In the indictment, prosecutors listed a series of communications — text messages, calls from jail and in-person meetings — related to the video sale that involved Kelly, Blankenship, Knight and two attorneys involved in the case.
Sheriff's detectives got a warrant to search Kelly's cellphone, and prosecutors said they found messages between her and a TMZ correspondent negotiating a price for the video.
Prosecutors said the pair spent nearly a month brokering the sale with the celebrity news website, despite being aware the video was under a protective order.
"I can't wait to get this video to you," Kelly texted the TMZ correspondent on Feb. 12, 2015, according to the indictment.
At first, Blankenship opposed releasing the video because of the protective order, but he later texted his business partners saying, "New attny says ok to release it," according to the indictment. "It's a huge move if we can get it out immediately."
A filing by prosecutors said Kelly and Knight communicated in code about a plan to sell the video for as much as $150,000.
On March 5, 2015, prosecutors said, the TMZ correspondent and Kelly agreed on a price: $55,000.
Days later, TMZ posted the two-minute video on its site.
Greg Risling, a spokesman for the district attorney's office, declined to comment Wednesday on whether the attorneys involved in the conversations will be charged.
If convicted, Kelly and Blankenship each face a maximum of three years in state prison.
Times staff writers Marisa Gerber and James Queally contributed to this report.
alene.tchekmedyian@latimes.com
Twitter: @AleneTchek
---
UPDATES:
9:30 p.m.: This article was updated with details from the indictment, as well as a statement from Toi-Lin Kelly's attorney.
This article was originally published at 4:20 p.m.
---
The stories shaping California
Get up to speed with our Essential California newsletter, sent six days a week.
You may occasionally receive promotional content from the Los Angeles Times.