L.A.'s favorite doughnut gets a Rams golden glaze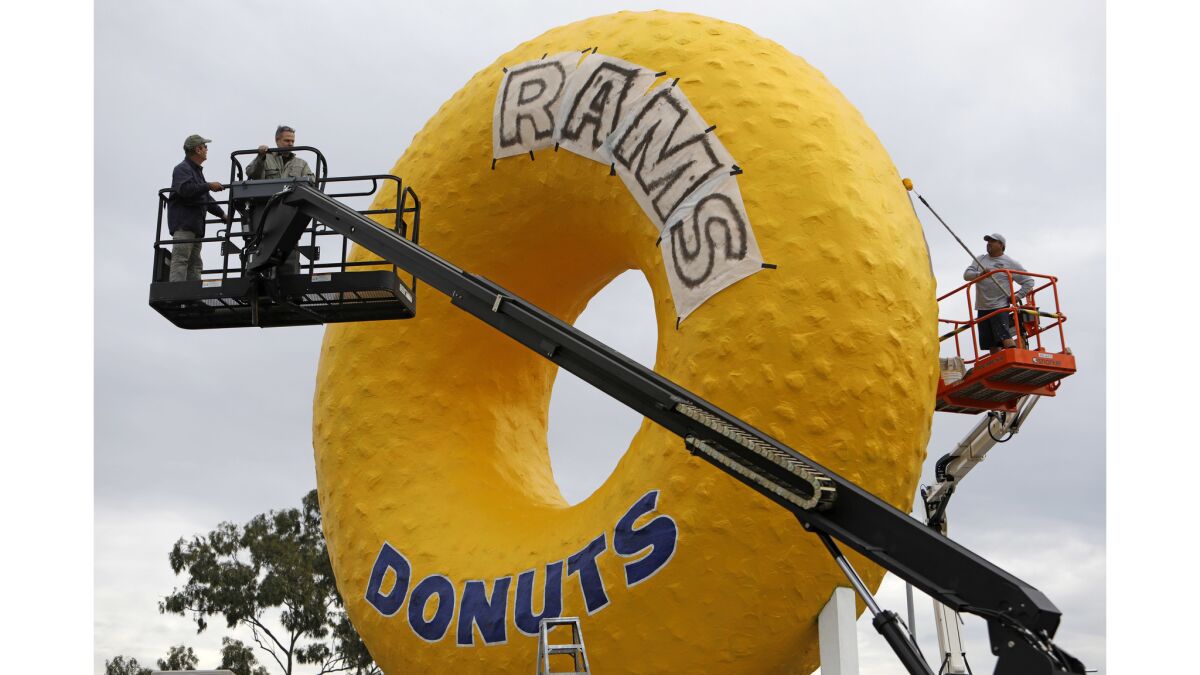 If L.A. has a bellwether, it may well be the huge doughnut that towers over the 405 Freeway and has come to embody so much of what people love and love to hate about the city.
So it should not be a surprise that Los Angeles' first Super Bowl bid in decades would be celebrated here.
Randy's iconic giant doughnut has been painted gold for the Super Bowl game between the Los Angeles Rams and the New England Patriots.
Drivers on La Cienega and West Manchester boulevards in Inglewood saw the large sign's transformation over the weekend, when workers on lifts painted the brown doughnut bright yellow and inked "Rams Donuts" in blue letters on the side. The makeover is part of a partnership between Randy's, Nike and the Rams.
To complete the color theme, the building was painted bright blue. On Sunday, workers could be seen adding finishing touches behind yellow caution tape as customers lined up.
The huge doughnut atop Randy's has been covered in vinyl wrap in partnership with other brands before, but this is the first time since the shop's founding in the 1950s that it has been painted over — and the first time the building itself has experienced a full makeover — said Brad Tennesen, senior product manager for Gallagher, a marketing agency whose clients include Randy's, the Rams and Nike.
Tennesen said a collaboration between the three groups was inevitable and that the upcoming game Sunday made for the perfect opportunity to shine a light on Inglewood.
"All being big supporters of the city of Inglewood … it was an instant conversation that needed to happen," he said.
Tennesen hinted that Wednesday would be a fun day and indicated that representatives for the Rams and Nike would stop by the pastry shop, but said he could not elaborate.
"If you like the Rams, you like Nike and you like some doughnuts … it'll be an unofficial special day," he said.
Tennesen said Randy's will remain in its colorful state for the time being but added that "fans of simple Randy's Donuts will have their landmark back before they know it."
Rams and Randy's fans didn't seem to mind.
"I drove by Randy's Donuts today!! Check out the new colors and logo Ramily !! Go Rams," one Twitter user wrote.
alejandra.reyesvelarde@latimes.com
Twitter: @r_valejandra
---
The stories shaping California
Get up to speed with our Essential California newsletter, sent six days a week.
You may occasionally receive promotional content from the Los Angeles Times.