Mental competency cases are surging in L.A. County and supervisors want to know why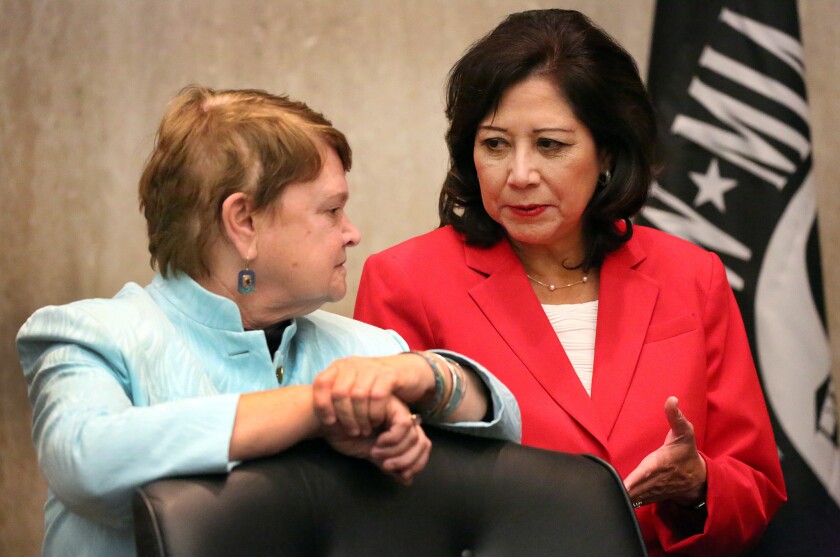 Following a Times report on the sharp, unexplained rise in mental competency cases in Los Angeles Superior Court over the past five years, county supervisors are calling for an analysis of the causes behind the increase.
Mental competency cases heard in mental health court to determine whether defendants are fit to stand trial more than tripled from 2010 to 2015, growing from 944 to 3,528. From 2014 to 2015, the caseload jumped by nearly 50%.
The court does not compile or analyze detailed data on the types of criminal cases that end up in the mental health court. Court officials, attorneys and mental health professionals told The Times they could only guess at the reasons behind the increase.
"We need to go beyond guessing when it comes to why this is happening," Supervisor Hilda Solis said in a statement Thursday, after she and Supervisor Sheila Kuehl proposed commissioning an analysis of the issue. "The good news is that it seems that the system is recognizing mental illness and taking it seriously. What we need now is more and better information, so that we can treat this population with compassion."
Some have suggested the growth is a sign of greater awareness of mental health issues among defense attorneys, prosecutors and judges, leading to more cases being flagged.
Other reasons suggested for the increase are the state criminal justice reforms under 2014's Proposition 47 that have reduced the prison population, the growing number of people who are homeless in Los Angeles and a shortage of treatment facilities.
Solis and Kuehl said they want county law enforcement and mental health officials to pinpoint the reasons for the increase and propose ways to respond to it.
"As the number of people with mental illness continues to grow in our criminal justice system, there are many challenges that the county is facing," the supervisors wrote.
They asked for a report in 60 days by the county's chief executive officer, district attorney, public defender and alternate public defender, mental health department and office of diversion and re-entry, and from the mental health court.
The report would include a "root cause" analysis of the increase in competency cases, resources needed to deal with the increase, and recommendations on how to best serve residents who are mentally incompetent to stand trial.
Kuehl said in an interview Thursday that she was interested not only in the reasons behind the increase but in how to handle the growing numbers, given that there is a limited number of slots in state hospitals and other facilities.
Most felony defendants found incompetent go to state hospitals for treatment, with a smaller number undergoing treatment via a private contractor at a jail in San Bernardino County. Misdemeanor defendants are treated either in the jail or through a new program that sends them to community treatment facilities.
"There really are not sufficient places for this increased population," Kuehl said.
The shortage of treatment facilities has repeatedly come up as an issue as county officials have begun looking for ways to divert mentally ill people from the jail system.
"It's an interesting thing when you shift your approach to more of a protection of constitutional rights, healing and restoration model, because it takes a lot more work than just locking people up and letting them out and locking them up and letting them out," Kuehl said.
The board is slated to vote on the proposed analysis Tuesday, at its next weekly meeting.
Twitter: @sewella
ALSO
Rodney King's daughter remembers a human being, not a symbol
3 men are charged with hate crimes in an attack on Latinos at an L.A. County park
Facebook comments about Donald Trump could mean deportation for Egyptian student
---
Get breaking news, investigations, analysis and more signature journalism from the Los Angeles Times in your inbox.
You may occasionally receive promotional content from the Los Angeles Times.