L.A. County supervisors move ahead with $2-billion jails plan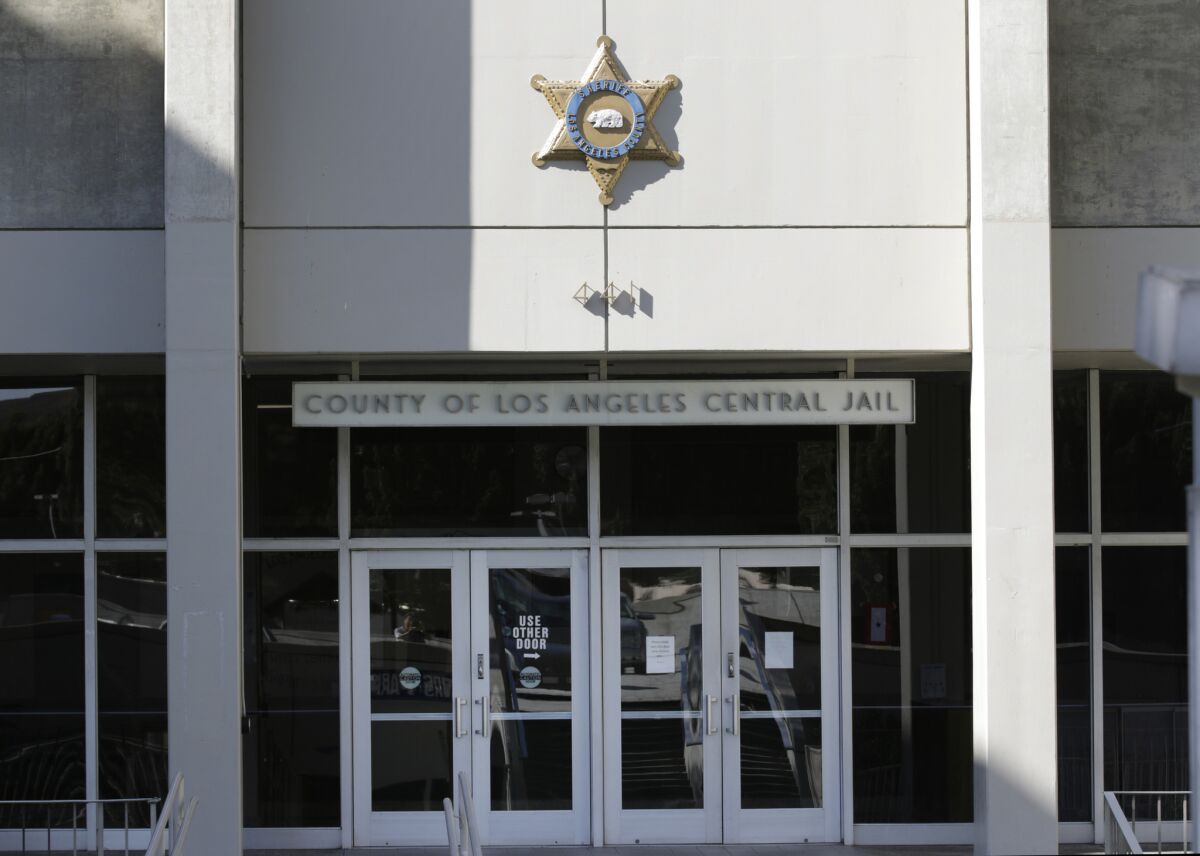 Los Angeles County supervisors have reaffirmed their backing of a contentious $2-billion plan to build a 3,885-bed replacement for the downtown Men's Central Jail and a new women's jail in Lancaster.
The vote mirrored one taken last month and came after Dist. Atty. Jackie Lacey accused board members of violating the state's open-meetings law by failing to give proper public notice of the earlier decision.
Last month's vote on the jail plan hadn't been listed on the agenda posted before the meeting. Rather, it was conducted unexpectedly in connection with an item involving creation of a multimillion-dollar program to divert mentally ill arrestees from the jail system. The diversion program was widely supported by advocates who oppose jail construction and want to see the jail system downsized.
On Tuesday, dozens of speakers again tried unsuccessfully to persuade the board to change course.
"If our county has $2 billion to spend, we want that $2 billion to go toward the kind of work to make our communities functional and livable places for people to live so they don't end up in the prison system," said Kwazi Nkrumah, a community activist and president of the Echo Park Neighborhood Council.
However, Sheriff Jim McDonnell argued that even a 3,885-bed men's jail could prove "grossly insufficient," leading to worsened overcrowding and early release of prisoners.
McDonnell told the board that "only time will tell how effective diversion will be," and urged the board to provide his agency the flexibility to accommodate 3,900 to 4,900 beds.
Former Dist. Atty. Steve Cooley, who is working as a consultant for developers planning to build a new jail in the San Bernardino County desert city of Adelanto, urged the supervisors to downsize the downtown Los Angeles jail and rent beds in the Adelanto facility.
In the end, the board opted for the 3,885-bed facility focused on psychiatric treatment, a smaller jail plan than that recommended by two consultants. Board members said they expected to divert at least 1,000 mentally ill arrestees from jail to treatment programs, reducing the need for lockup beds.
Members also approved a plan to renovate the now-vacant Mira Loma Detention Center in Lancaster into a 1,600-bed women's facility. It will replace an aging and overcrowded women's jail in Lynwood.
As in last month's vote on the jail plans, Supervisor Don Knabe was opposed and Supervisor Hilda Solis abstained. Solis argued for a smaller central facility and Knabe said he wanted the option of a larger jail in case the plan to divert mentally ill arrestees isn't successful.
The supervisors also voted to reaffirm their plan to create a new Office of Diversion and Reentry intended to shift mentally ill offenders into treatment and housing programs, using $30 million in county money and potentially tens of millions more in state funds.
"I believe that diversion is the right thing to do, and it puts taxpayers' money to much better use than incarceration," said Supervisor Mark Ridley-Thomas, who proposed the diversion plan along with Supervisor Sheila Kuehl.
The board also agreed to establish a "gender-responsive advisory board" to consider issues associated with the planned women's jail, including how to ease hardships for family members traveling to visit inmates in the north county facility.
Follow Abby Sewell on Twitter at @sewella for more county news.
ALSO:
L.A. trash agency ordered to clear backlog of illegal dumping complaints
Garcetti says housing all homeless vets won't happen this year
L.A. County prosecutors probe L.A. Unified's food services for possible violations
---
The stories shaping California
Get up to speed with our Essential California newsletter, sent six days a week.
You may occasionally receive promotional content from the Los Angeles Times.