How a Newport Beach doctor fell from reality TV star to suspected serial rapist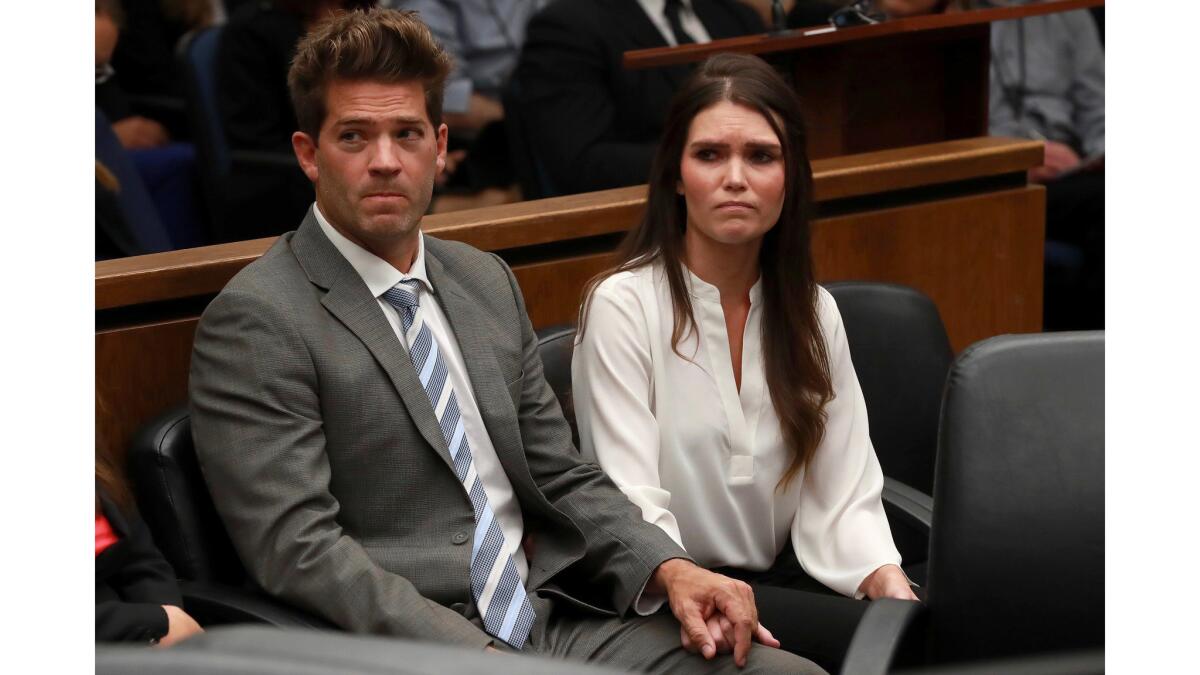 Authorities continue to seek potential victims after additional charges were filed this week against a prominent Newport Beach doctor, who now is accused of attacking at least seven women.
Dr. Grant Robicheaux, 38, once dubbed Orange County's most eligible bachelor, and his girlfriend, Cerissa Riley, 31, are accused of rape by drugs, kidnapping, oral copulation by anesthesia, assault with intent to commit sexual offenses and other crimes.
Susan Kang Schroeder, the chief of staff for the Orange County district attorney, said that prosecutors expect more victims will come forward now that additional charges have been filed against the doctor and that still more charges could be filed against him and his girlfriend.
The pair pleaded not guilty Wednesday to the additional charges.
"We unequivocally deny all allegations of nonconsensual sex and absolutely deny any allegations that we have ever secretly drugged anyone for the purpose of having sex with them," Robicheaux and Riley said in a statement through their attorneys.
Here is a timeline of the alleged assaults, as described in court records filed by the district attorney's office, plus events in Robicheaux's life.
2009
A woman in her mid-20s told authorities she began dating Robicheaux after they met at a bar in Newport Beach that September. Prosecutors say the doctor raped her at his home after she told him she didn't want to have sex. She told authorities that she knew Robicheaux had weapons and she was afraid of him.
2013
The doctor was named "Orange County's Most Eligible Bachelor" by Orange Coast magazine.
2014
Robicheaux appeared on the Bravo show "Online Dating Rituals of the American Male," which followed him as he looked for a girlfriend. In talking to a female friend about the kind of woman he wanted to meet, Robicheaux said in a voice-over: "I am not looking for a party girl. I am looking for a wife to raise a family with." The story notes he beat out nine other finalists for the title of the county's most eligible bachelor. "I am trying to find that amazing beautiful woman," he said.
2016
Two women told Newport Beach police they were taken separately to Robicheaux's house on 44th Street and assaulted. One woman described Robicheaux and Riley as a "Bonnie and Clyde" team who drugged her and forced her to engage in sex acts, according to court documents.
A woman who said she met Robicheaux and Riley through a mutual acquaintance at a Halloween party in Newport Beach says the pair drugged her drink with GHB and raped her after she passed out. She awoke during the assault, prosecutors said.
2017
A woman said she had dinner with Robicheaux in Newport Beach in April after they met through a dating app. She told authorities that Riley showed up during the date and pretended to be Robicheaux's friend, not a love interest. The woman said she went to a bar with them, where they plied her with alcohol and then took her to their home and sexually assaulted her while she was unconscious. The woman awoke during the attack and locked herself in a bathroom for the night.
Another woman in her early 20s met the couple at a Fourth of July party last year, and she partied and drank with them on a boat a few days later. She told authorities the couple invited her to Robicheaux's house, where the doctor raped her.
2018
As part of an investigation into last year's alleged attacks, police searched Robicheaux's home in January and found a video of at least one of the women being assaulted, authorities said.
Sign up for Essential California for news, features and recommendations from the L.A. Times and beyond in your inbox six days a week.
You may occasionally receive promotional content from the Los Angeles Times.