More than a dozen women and a man among those accusing Orange County surgeon of sexual assault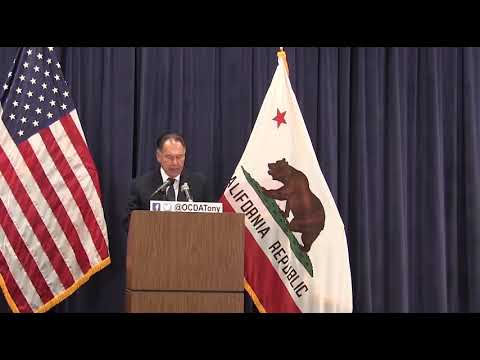 More women have come forward with allegations that they were sexually assaulted by an Orange County surgeon and his girlfriend. according to Orange County Dist. Atty. Tony Rackauckas.
The list of accusers alleging sexual assault by a Newport Beach surgeon has grown to more than a dozen, prosecutors said Friday.
More than 12 women and one man have claimed they were attacked by Dr. Grant Robicheaux, who has already been charged with drugging and raping two women, Orange County prosecutors said. One of the new allegations dates back two decades.
Several of the new accusers also alleged that the surgeon's girlfriend, Cerissa Laura Riley, participated in the assaults, prosecutors said.
Robicheaux, 38, and Riley, 31, are facing charges of rape by drugs, oral copulation by anesthesia, assault with intent to commit sexual offenses and other crimes. They were arrested last week and released on $100,000 bail each.
Orange County Dist. Atty. Tony Rackauckas said at a news conference Friday that prosecutors are considering additional charges and urged others who might have encountered the pair to contact authorities.
"Even if you made a conscious decision to party with this couple, or with anybody else for that matter, no one gets a pass to have their way with you when you're unconscious or past the point of consent," Rackauckas said.
Susan Kang Schroeder, the district attorney's chief of staff, said one accuser is from Louisiana and reported an incident that occurred about 20 years ago.
Attorneys for Robicheaux and Riley said this week that their clients deny allegations of nonconsensual sex.
At a separate news conference Friday, the couple's attorneys disputed the district attorney's suggestion that there were numerous victims and videos, noting that investigators seized evidence from Robicheaux's home in January.
"The investigation began many, many months before that.... Despite that time, there is no allegation, there has been no information released, regarding thousands of victims or hundreds of rapes," said attorney Philip Cohen. "The fact is, after nine months … Grant and Cerissa have been charged with two counts of sexual assault."
He said the couple knew of the investigation but did not try to flee.
"Grant even left the country on two occasions prior to his arrest," Cohen said.
The charges announced this week stem from complaints by two women who separately told police they were brought to Robicheaux's house on 44th Street and assaulted. One woman described the couple as a "Bonnie and Clyde" team who drugged her and forced her to engage in sex acts, according to court documents.
One of the women told police she met Robicheaux in April 2016 at China Palace, a Newport Beach restaurant and bar. They exchanged phone numbers and about a week later she accepted an invitation to a boat ride in Newport Harbor with Robicheaux, Riley and several others, according to court documents.
The woman told police that after the ride, she was "very tired and very intoxicated" and rode by golf cart with Robicheaux and Riley back to the doctor's home, where she had to be helped inside. The couple carried her upstairs to a bed, she said, where the doctor gave her two pills and she "immediately felt lethargic."
The woman told police that Robicheaux had unprotected sex with her while Riley recorded it with an iPhone. She told police that Riley performed oral sex on her.
"The victim felt paralyzed by the apparent drugs and did not feel as though she could physically resist Robicheaux and Riley while they were having sex with her," police said in court documents.
A toxicology report showed that the woman had cocaine, ecstasy and MDA, a stimulant known as the "love drug," in her system.
The second woman told police she lost consciousness while drinking with the couple at a Newport Beach bar in 2016. The woman reported that she was taken to Robicheaux's house, where the couple began "sexually assaulting her with the intent to commit rape." The woman screamed for help and a neighbor called police, according to court documents.
No arrests were made immediately after either incident, but detectives continued to work the case for two years.
As part of that investigation, police searched Robicheaux's home in January and found video of at least one of the accusers allegedly being assaulted, authorities said. They also discovered numerous videos and photographs of other potential victims on the couple's phones, some of which were taken at festivals including Burning Man and Splash House in Palm Springs, prosecutors said.
"There are a substantial number of videos. I cannot tell you if it is tens or hundreds; it is certainly more than tens," Rackauckas told reporters Tuesday in announcing the initial charges. "It appears [the women] are highly intoxicated beyond the ability to consent or resist; they are barely responsive to the defendants' sexual advances."
The search turned up large quantities of illegal drugs, including GHB, MDMA and cocaine, along with two illegal, unregistered assault rifles, four other firearms and several large-capacity magazines, prosecutors said.
Public records and a Hoag Hospital profile identify Robicheaux as an orthopedic surgeon who received his medical degree from Louisiana State University in 2007 and did his residency at UC Irvine Medical Center. He is board certified and says he repairs sponsored athletes.
Riley has been a substitute teacher in Fullerton, according to a video in which she appeared that Rackauckas played at the news conference. She has held substitute teaching permits since 2014. She received a teaching credential in 2017, but the California Commission on Teacher Credentialing suspended it Thursday for "misconduct," according the agency's website.
In 2014, Robicheaux appeared on the Bravo show "Online Dating Rituals of the American Male," which followed his search for a girlfriend. He was declared Orange County's most eligible bachelor by Orange Coast magazine in 2013 and used the online dating name InGoodHands.
On the Bravo show, Robicheaux described the kind of woman he wanted to meet.
"I am not looking for a party girl. I am looking for a wife to raise a family with," he said in a voice-over. "I just won the title of Orange County's most eligible bachelor," he says as an image appears of the Orange Coast magazine story, which notes he beat out nine other finalists. "I am trying to find that amazing, beautiful woman."
Robicheaux said he was the son of a single parent, that his parents were divorced and he wanted to be married only once. He is then seen driving a sports car to his first online date at an upscale restaurant.
"I know how many kids I want. I want to have twins," he told his date.
The woman told the interviewer later, "He seems a little too perfect. There might be some dark skeletons in that closet."
Twitter: @Hannahnfry
---
UPDATES:
6:55 p.m.: This article was updated throughout with additional editing and background information.
This article was originally published at 12:35 p.m.
Sign up for Essential California for news, features and recommendations from the L.A. Times and beyond in your inbox six days a week.
You may occasionally receive promotional content from the Los Angeles Times.