Man arrested on hate crime and arson charges in fire at Coachella Valley mosque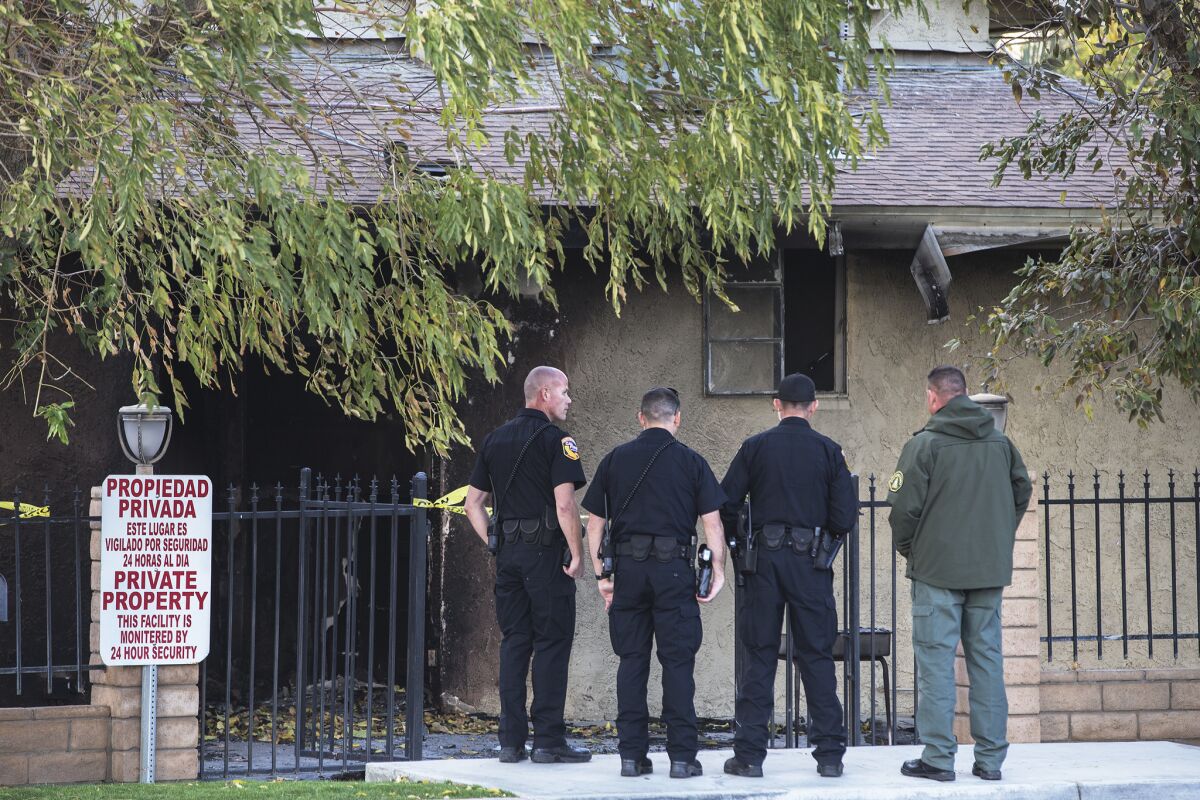 A 23-year-old man has been arrested on suspicion of a hate crime and arson related to a fire Friday afternoon at a Coachella Valley mosque.
Carl Dial was arrested about 9 p.m. Friday and booked on five felony charges, including commission of a hate crime, arson, maliciously setting a fire and second-degree burglary, according to law enforcement sources and Riverside County Sheriff's Department booking records.
The fire at the Islamic Society of the Coachella Valley mosque is one of several incidents over the past week that officials are investigating as possible backlashes from the San Bernardino terrorist shootings. Authorities believe the shooters were self-radicalized Islamic extremists.
Riverside County Supervisor John Benoit, who visited the mosque Friday night, said he was alarmed that it may have been targeted.
NEWSLETTER: Get the day's top headlines from Times Editor Davan Maharaj >>
"It's horribly lamentable that we would paint any group as undesirables based on the actions of an extremely small number of radical folks that don't represent the religion in any way," he said.
"If in fact it was done with the mosque as a target ... it's reprehensible, and the people who perpetrated that act should be treated the way we would any other terrorist."
Last year, a shot was fired into the same mosque; no one was hurt. That incident was investigated as a possible hate crime.
Friday's fire was reported about 12:10 p.m. inside the mosque in the 84600 block of Avenue 49 in Coachella, said Jennifer Fuhrman, a spokeswoman for the Riverside County Fire Department.
The Sheriff's Department "believes this is an intentional act, and we are using all available resources to follow up on any leads that are brought to our attention," Deputy Armando Munoz, a department spokesman, said in a statement Friday evening. "Cal Fire and the Bureau of Alcohol, Tobacco, Firearms and Explosives are assisting us with this investigation."
The fire started about 15 minutes before an afternoon prayer service. Salahaldeen Alwishah, 27, of Indio said several worshipers were inside the mosque when firetrucks and sheriff's vehicles swarmed the building.
In a telephone interview, Alwishah said he believed "it was the will of God" that more people weren't inside when the flames erupted.
"We were just here trying to be free and practice our religion, just like everybody else," he said.
The mosque's congregation is a diverse group, made up of people from several countries and economic backgrounds, said Alwishah, who added that worshipers had a "feeling of devastation" after the incident.
Firefighters were able to contain the blaze to the lobby, but smoke caused damage throughout the 1,800-square-foot mosque. No one was injured.
On Friday evening, several sheriff's deputies and other law enforcement officials were gathered near the charred frame of the mosque's entryway. A window also appeared to have been blown out.
Details about the cause of the fire were not immediately available. Ojaala Ahmad, communications coordinator for the Council on American-Islamic Relations in Los Angeles, said the group has been in touch with the FBI.
Ahmad said the mere thought of a blaze at a mosque is cause for concern after a spate of anti-Islamic incidents in California and elsewhere following the San Bernardino shootings. In that attack, authorities say a couple who had pledged allegiance to Islamic State terror figures opened fire Dec. 2 at a holiday party, killing 14.
Hussam Ayloush, executive director of the greater Los Angeles area's office of the Council on American-Islamic Relations, said it was a "relief" to know someone was arrested in connection with the attack.
"The community was in fear," Ayloush said. "Thankfully, this happened before the main congregational prayer."
Ayloush said he hopes such an attack "doesn't repeat anywhere else."
"We hope it serves as a reminder that, unfortunately, hate speech has consequences. Hate incidents do not occur in a vacuum," he said. "They are the natural result of a climate fueled by hatred, by fear-mongering."
Ayloush said he does not want to rush to conclusions about whether the attack was a reprisal following the San Bernardino shootings, but he wouldn't be surprised if it was a misguided response to the violence.
"It's important for us to stand together in unity against those who engage in terrorism, in violence or bigotry," he said.
CAIR's offices in Santa Clara and Washington, D.C., were evacuated Thursday after both buildings received threatening letters containing a powdery substance, Ahmad said. While it was later determined that the substances were not dangerous, the FBI is investigating both incidents, CAIR said in a statement. A caretaker at a Philadelphia mosque found a pig's head on the doorstep of the building earlier this week, also sparking a police investigation.
A vandal scrawled the word "ISIS" on a truck outside an Orange County Sikh temple just days after the shootings. The Sikh community is sometimes targeted in anti-Islamic attacks because people mistake members' dress and grooming for that of Muslims.
Buena Park police arrested Brodie Durazo, 20, on suspicion of vandalism at a place of worship. Prosecutors will determine whether to file hate crime charges against him.
"Obviously, it's really upsetting, and it's very unfortunate. In this case, in Coachella, we don't know the motive behind it yet," Ahmad said. "It just comes to show how real Islamaphobia is, how scary and how threatening it can become and how dangerous Islamaphobia is to our nation and fellow Americans."
Dial, who was booked into the Indio jail, is scheduled to appear in court at the Indio Larson Justice Center on Dec. 16.
ALSO
Since shootings, area Muslims fear unfounded suspicions and reprisals
San Bernardino may change minds on police use of surplus military equipment
Rep. Loretta Sanchez responds to criticism over comment on Muslims
---
The stories shaping California
Get up to speed with our Essential California newsletter, sent six days a week.
You may occasionally receive promotional content from the Los Angeles Times.