L.A. man among 3 charged in online gaming dispute that led to deadly 'swatting' incident in Kansas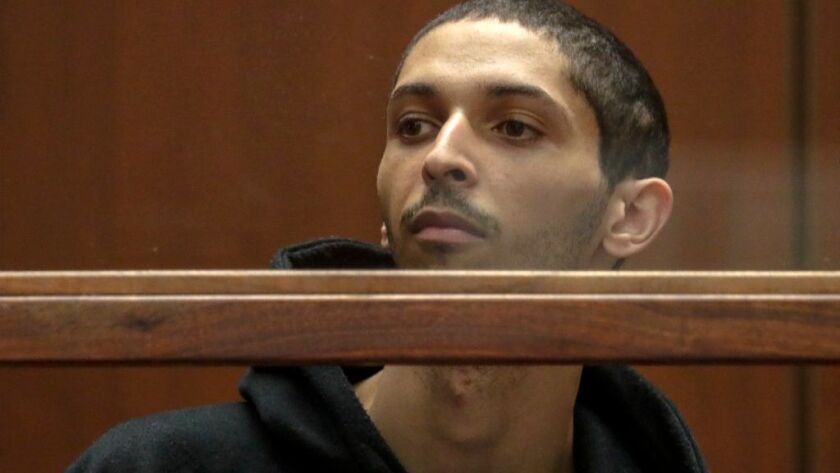 Three men will face federal criminal charges in connection with a "swatting" incident that sparked a deadly police shooting in Kansas, federal prosecutors announced Wednesday.
Tyler Barriss — who is accused of placing a hoax phone call from Los Angeles that sent police racing to a Wichita address — and two teenage gamers playing "Call of Duty" online face wire fraud and other charges in connection with the Dec. 28, 2017, shooting, according to indictments unsealed Wednesday.
Barriss is already awaiting trial on involuntary manslaughter charges in Wichita, but on Wednesday, federal prosecutors also charged Casey Viner, 18, of North College Hill, Ohio, and Shane Gaskill, 19, of Wichita, for their roles in the incident that led a police officer to shoot and kill 28-year-old Andrew Finch.
Cybersecurity experts believe the shooting marks the first time an incident of swatting, in which someone makes a false report of an emergency to provoke a massive police response, has led to a death in the U.S.
According to the indictment, Viner and Gaskill were teammates in a "Call of Duty" matchup when they became embroiled in an argument. Gaskill posted an address to a home online and challenged Viner to "try some [expletive]," according to court records. The address on West McCormick Street in Wichita was one where Gaskill had previously lived, according to the indictment, but Viner did not know that.
Viner then asked Barriss to swat Gaskill. Barriss, who was in Los Angeles, made a call to authorities in Wichita, falsely claiming he had just shot his father and was holding his relatives at gunpoint at the West McCormick Street address.
When police arrived, they shot and killed Finch, who was unarmed, after he exited the residence. Finch was not the intended target, and police quickly discovered no one had been injured or held at gunpoint at the home.
Last month, Sedgwick County Dist. Atty. Marc Bennett announced that the officer who opened fire would not face criminal charges. An internal review of the shooting is still ongoing, a Wichita police spokesman said.
Bariss was charged Wednesday with making false reports to emergency services, cyberstalking, making threats to harm, six counts of wire fraud and conspiracy to make a false report. Barriss is also facing involuntary manslaughter charges in Sedgwick County, Kan., where a judge ordered him held for trial Tuesday.
Gaskill and Viner were charged with wire fraud, obstruction of justice and conspiracy to obstruct justice. Viner was also charged with one count of conspiracy to make false reports.
The indictment also alleges all three men attempted to delete their communications once they realized Finch had been killed. Viner wiped and reset his iPhone, prosecutors said.
Barriss could face up to life in prison for the cyberstalking and hoax phone call charges, prosecutors said. Viner and Gaskill could face up to 20 years in prison on the obstruction of justice counts.
Bariss has confessed to making the phone call that sparked the deadly incident, according to testimony given by an LAPD detective during a court hearing in Wichita on Tuesday. The 25-year-old was known to law enforcement in Southern California, where he had previously been arrested for making hoax phone calls to elementary schools and a television station.
Police in Calgary, Canada, also issued warrants for Barriss' arrest in connection with hoax phone calls targeting a woman he contacted online just days before Finch's death.
The Los Angeles Police Department was investigating Barriss and preparing to present a case against him to federal prosecutors in L.A. at the time of the Wichita shooting. Neither the FBI nor the U.S. attorney's office in Los Angeles have commented on what, if any, additional charges Barriss could face.
Viner was also considered a suspect in several swatting incidents in Cincinnati, Ohio, according to the court documents unsealed this year connected to Barriss' manslaughter trial.
An attorney representing Barriss did not respond to requests for comment. It was not immediately clear if Viner or Gaskill had retained attorneys, and previous attempts to contact them were unsuccessful.
Follow @JamesQueallyLAT for crime and police news in California.
---
For reporting and exclusive analysis from bureau chief John Myers, get our California Politics newsletter.
You may occasionally receive promotional content from the Los Angeles Times.