'That terror is seared into my memory': George Takei on Japanese internment, amid concerns about potential discriminatory policies targeting Muslims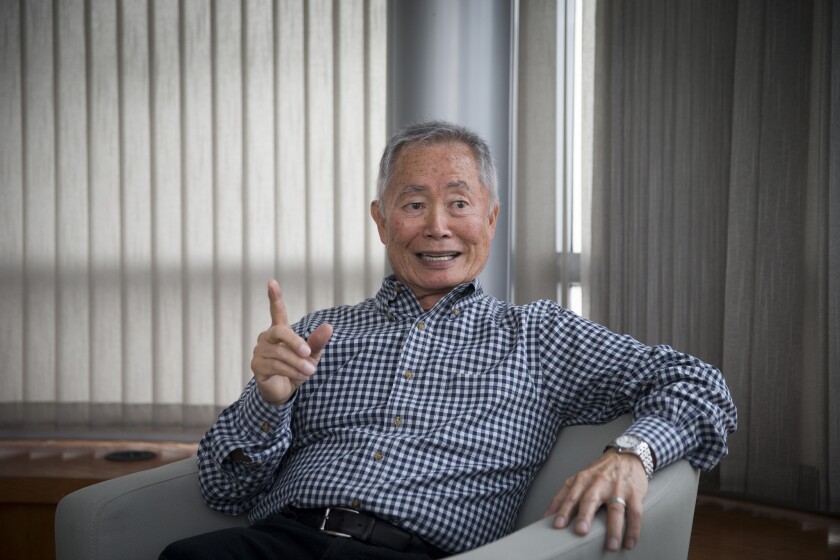 Early one morning, a few weeks after his fifth birthday, George Takei's parents woke him. They were hurried, packing quickly, and Takei gazed out the window.
He saw two soldiers marching up his East Los Angeles driveway, carrying rifles with shiny bayonets. The soldiers stomped up the front porch and banged on the door until Takei's father answered, and the family was ordered out of their home at gunpoint.
Takei's mother was the last to leave.
"When she came out, she had our baby sister in one arm and a huge, heavy-looking duffel bag in the other, and tears were streaming down her face," Takei said Friday, more than seven decades later.
"And that terror," he said, "is seared into my memory."
Many know Takei as the actor who famously played Mr. Sulu in "Star Trek." But Takei has also leveraged his fame into social-media stardom, placing himself at the forefront of Asian American activism with a Facebook following rapidly approaching 10 million.
So it should come as no surprise that Takei spoke out this week after Carl Higbie, a supporter of President-elect Donald Trump, defended the idea of creating a registry "for immigrants of Muslim countries" on Fox News.
"It is legal. They say it'll hold constitutional muster. I know the [American Civil Liberties Union] is going to challenge it, but I think it'll pass," Higbie said. "We've done it with Iran back a while ago. We did it during World War II with Japanese, which, you know, call it what you will, maybe —"
Host Megyn Kelly then interjected: "Come on. You're not — you're not proposing we go back to the days of internment camps, I hope?"
"No, no, no. I'm not proposing that at all, Megyn, but what I am saying is we need to protect America first," Higbie said.
Higbie later returned to Fox News and said he was making a reference "strictly to the scrutiny on immigration and the stopping of immigration" and "it had nothing to do with internment camps whatsoever."
He blamed Kelly for using the words "internment camps" and said the "left-wing media took this by the horns because they are not a fan of Donald Trump."
A spokesman for Trump's transition team issued a statement saying that the president-elect "has never advocated for any registry or system that tracks individuals based on their religion, and to imply otherwise is completely false."
In November 2015, according to the fact-checking website PolitiFact, Trump made a number of contradictory and confusing statements in response to questions about whether he supported a database of all Muslims. Eventually, Trump told ABC News' George Stephanopoulos that he wants a database for Syrian refugees, but he did not rule out a database for all Muslims.
Still, Higbie's exchange with Kelly sent chills through much of Los Angeles' Japanese American community and continued to spark strong rebukes on Thursday and Friday.
"This ignoramus doesn't have any idea what he's talking about," Takei said of Higbie in an interview Friday night as he returned home to Los Angeles after a week spent speaking about internment at locations across the country.
President Reagan apologized for the internment, Takei continued, adding that discriminating against "innocent people, because of their faith," is "outrageous" and "un-American."
The advocacy group Asian Americans Advancing Justice condemned Higbie's remarks and said it was "outraged that anyone, including political leaders in the U.S., would find inspiration in the racially motivated imprisonment of nearly 120,000 individuals."
"We stand ready to fight any effort to revive such inherently discriminatory policies to the fullest extent of the law," the group said in a statement.
Ann Burroughs, interim president and CEO of the Japanese American National Museum, called Higbie's comments "very alarming" and worried about the children who come to the museum each day to learn.
"One of the messages they hear is that the Constitution failed Americans in the Second World War, but it will never happen again," Burroughs said. "And now, what kind of assurance can we give them?"
Takei, who is a trustee and chairman emeritus of the museum, said part of the problem is that "we don't know our history."
As a part of the last generation of Japanese Americans to have experienced internment, Takei said he feels he has "a special responsibility to make sure this story is not forgotten."
"It's vitally important for a democracy to learn from those chapters where we failed," he said. "This is a part of our history — and we need to learn."
Twitter: @ByMattStevens
Times staff writer Rong-Gong Lin II contributed to this report.
ALSO
Firefighters battle blaze at historic Union Station
Florida man dies fulfilling dream to surf off Huntington Beach
Missing Los Angeles couple drank their own urine while lost in the desert
---
The perils of parenting through a pandemic
What's going on with school? What do kids need? Get 8 to 3, a newsletter dedicated to the questions that keep California families up at night.
You may occasionally receive promotional content from the Los Angeles Times.