After Tule River swallows teen, experts warn of cold snowmelt and swift waters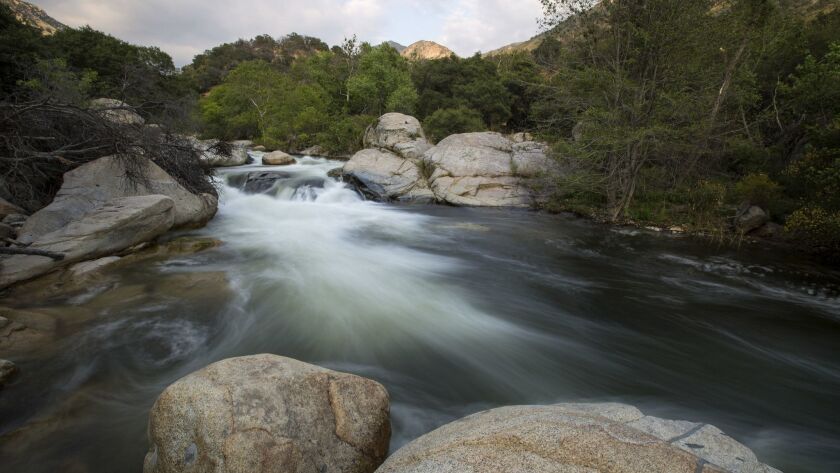 Search teams were deployed Sunday night after a teenager was swallowed by the cold, fast-moving waters of the Tule River.
A 16-year-old boy went under the water about 6:45 p.m., according to the Tulare County Sheriff's Office. Divers searched the waters, and deputies used a drone to get a bird's-eye view of the area.
The teen, whom officials did not identify, was last seen in an area known as the Stairs between Springville and Camp Nelson, just above the Coffee Camp Campground in the Central Valley.
"Because of the conditions of the water, we are treating it as a recovery search at this time," said Ashley Ritchie, a spokesperson for the Sheriff's Office.
Tulare County sheriff's officials warned people to stay away from the dangerous waters, particularly this time of year.
"Sheriff [Mike] Boudreaux wants to remind everyone that the local waterways are very dangerous right now," the department said. "The water is extremely cold and moving incredibly fast."
Rivers may seem especially appealing as the weather becomes warmer in the spring and summer, but experts and local officials warn that the waters may not be as welcoming as they seem.
The snowpack that accumulated during a wet and cold winter is beginning to melt into rivers, making for extremely cold water and fast currents.
"It's a very dangerous combination," said Chris Orrock, a spokesman for the state's Department of Water Resources.
While rivers can be dangerous any time of year, the extreme cold stunts potential recovery time for someone who falls in, he said.
A person's first reaction when coming into contact with cold water is to gasp, increasing the chance he or she would inhale water and drown. There's also the risk of hypothermia, which can cause difficulty breathing and freeze muscles that slow a person's reaction time.
The danger is compounded in areas where river channels are usually narrow and shallow, such as in Tulare County, Orrock said.
In 2017, one of the best snowpack years in California's recorded history, officials closed a 15-mile stretch of the Tule River after at least five people drowned while visiting parks in Tulare County.
As of Monday morning, there was no news from the Tulare County Sheriff's Office about its search for the missing teen.
alejandra.reyesvelarde@latimes.com
Twitter: @r_valejandra
---
The stories shaping California
Get up to speed with our Essential California newsletter, sent six days a week.
You may occasionally receive promotional content from the Los Angeles Times.