California test scores dip slightly but L.A. Unified holds steady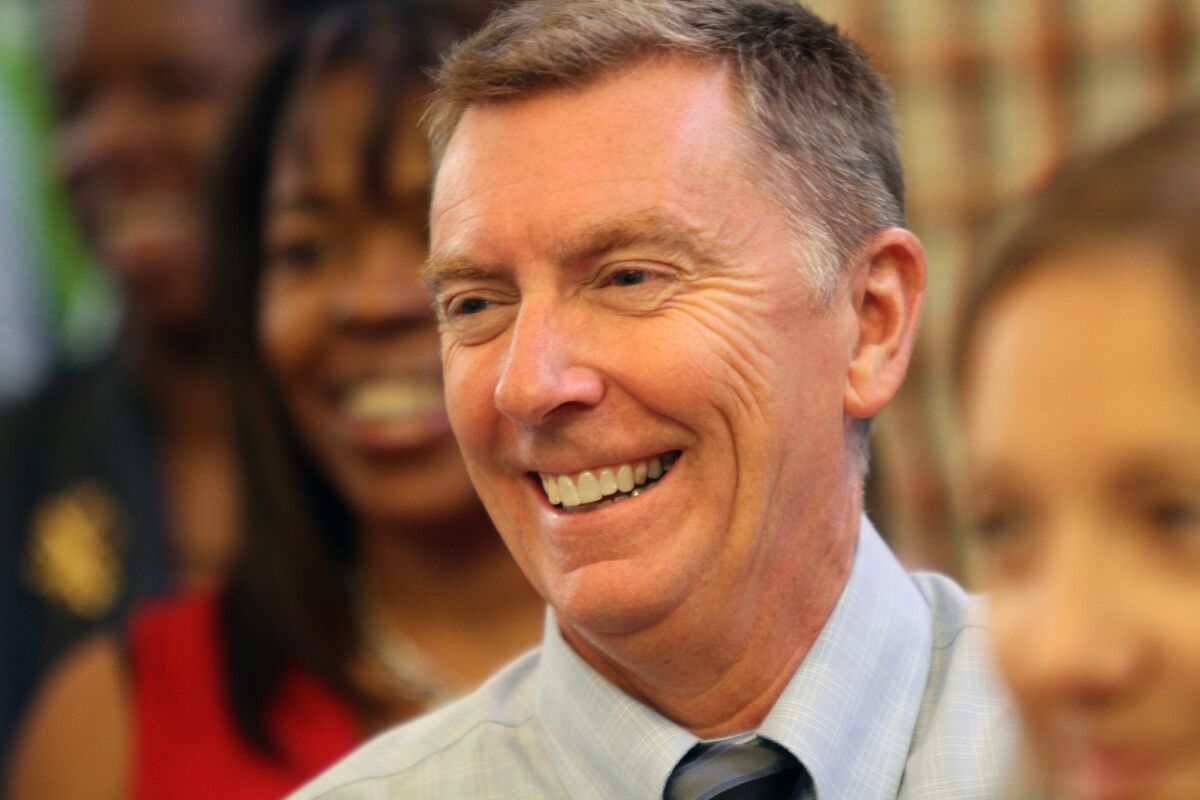 California students scored slightly lower in math and English on standardized tests this year, the first dip since 2004, in what education officials Thursday blamed in part on brutal budget cuts over the last several years.
But Los Angeles Unified School District students posted small gains in math, the best performance among the state's 10 largest school districts, and had a smaller dip in English than their peers statewide. Overall, 48% of students were at grade level in English and 45% in math.
L.A. schools Supt. John Deasy credited district teachers for the steady performance despite widespread cuts during the recession. The state has slashed $20 billion from campuses in the last five years, prompting the loss of 30,000 teachers, a shorter school year, larger classes and cutbacks in summer school, after-school programs and other offerings that educators say help boost achievement.
"In the midst of the ridiculous recession, we made progress," Deasy said. "This is all due to teachers. I couldn't be more proud of them."
Statewide, the percentage of students at grade level in English slipped to 56.4% from 57.2% and in math to 51.2% from 51.5%. But achievement in both subjects has steadily improved since 2004, when only about a third of students performed at grade level.
DATABASE: Look up the latest test scores for any public school in California
The test results showed no gender differences in math, but girls outperformed boys in English. The achievement gap between students who are African American, Latino, low-income and limited in English and their white and Asian peers showed little sign of closing, however, remaining largely unchanged between 2003 and 2013.
Fewer than half of African Americans and Latinos were at grade level in English and math, compared to three-fourths of Asians and more than two-thirds of whites.
Dean Vogel, president of the California Teachers Assn., said the statewide dip in scores was not surprising amid budget cutbacks. But he called the overall improvement of the last decade a "success story ... that's a testament to teachers."
State Supt. of Public Instruction Tom Torlakson additionally blamed the decline on the state's transition to new national learning standards called Common Core. Those standards aim to challenge students with less subject material taught more deeply and are being eased in across the state for full introduction by next fall.
"As you would expect for a school system in transition, results varied ... but the big picture is one of remarkable resilience despite the challenges," Torlakson said in a statement.
In Los Angeles, however, Deasy said the greatest improvement this year came among students in the two grades -- sixth and ninth -- that have shifted to Common Core standards. Among ninth-graders, for instance, the percentage at grade level in English rose to 45% from 40%, and in algebra I to 31% from 27%.
Despite such gains, the district failed to achieve its ambitious performance goals, falling far short of targets for English and math, along with algebra and third-grade English.
Deasy singled out Hoover Elementary, King Middle School and Venice High School for impressive improvements. And Miramonte Elementary managed to improve its test scores this year despite upheaval stemming from the highly publicized arrest of a teacher on lewd-conduct charges involving students.
Some schools that made significant progress last year slipped this year, however. Test scores at Jordan High School, which posted the largest gains among the district's traditional high schools last year, fell across the board. Officials there attributed the setback to the midyear departure of the principal, two major outside reviews, a campus reconstruction project and other challenges.
Elsewhere, the percentage of students at grade level in both reading and math fell in six of the state's 10 largest districts. The largest declines came in Santa Ana Unified, but districts with small slippage in both subjects included Fresno Unified, San Bernardino City, Corona-Norco Unified, Capistrano Unified and Elk Grove Unified.
About 4.7 million students in grades 2 to 11 took the annual standardized tests this year. The subjects tested include English and basic math until students move up to more specific courses, such as algebra or geometry; various history and science courses are also tested. The tests include five performance levels, ranging from "far below basic" to the desired levels of "proficient" and "advanced."
Torlakson said that many students will be shifting to Common Core tests this year, marking the likely end of the 11-year California Standards Test.
ALSO:
9 Powerball tickets in California come oh-so-close to jackpot
Amber Alert: Relationship between missing girl, suspect unclear
Man suspected of killing mom's boyfriend, hiding body in freezer
Twitter: @TeresaWatanabe
The stories shaping California
Get up to speed with our Essential California newsletter, sent six days a week.
You may occasionally receive promotional content from the Los Angeles Times.