Montecito fire and mudslide victims accuse power utility of removing potential evidence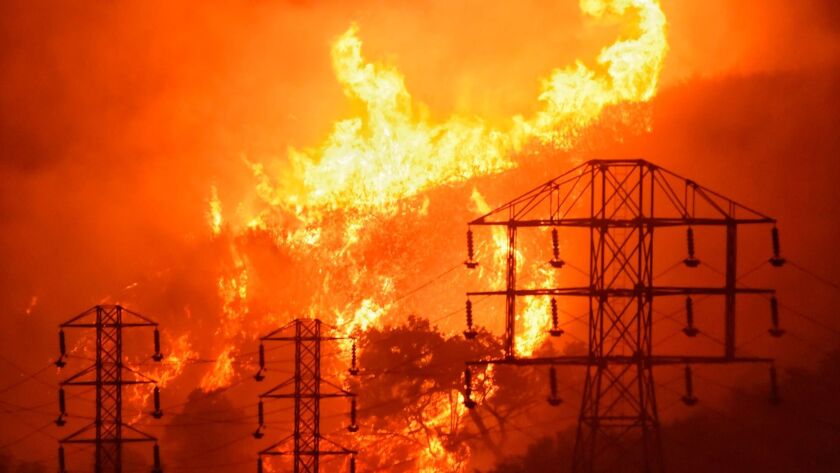 Southern California Edison is removing power poles from the Santa Paula foothills that could be vital to determining the cause of the deadly Thomas fire, as well as the ensuing debris flow that devastated Montecito, according to area residents.
Lawyers representing Ventura and Santa Barbara county residents who lost their homes in the December wildfire and subsequent mudslide sought a temporary restraining order Wednesday that would bar the utility from removing poles and other equipment along Anlauf Canyon Road — an area where the blaze is believed to have started.
The equipment may be key in determining financial liability for the damage, as the fire created the conditions responsible for the Jan. 9 mud and debris flow, attorneys said. The fire left steep mountains and slopes above Montecito bare of vegetation and unable to absorb heavy rainfall.
"We are very concerned they are moving so quickly … and hauling off critical evidence," said Alex Robertson, one of the attorneys seeking to stop the utility's work.
But the poles and equipment aren't being destroyed, SCE attorneys argued, they're being photographed and stored in a secure location.
"SCE will meticulously photograph and tag each pole that is removed and store the poles in a secure, temperature-controlled evidence preservation facility," the utility argued in an opposing court document.
The company already has agreed to leave 15 specific poles in place at the request of the attorneys. Robertson's request on Wednesday sought to preserve more.
The judge did not reject the request outright and instead gave SCE and Robertson's team until Tuesday to file additional arguments.
"SCE believes the granting of the requested temporary restraining order would harm the public interest by further delaying the restoration of power to customers in the Anlauf Canyon area who have been without utility service since December 4, 2017, as well as leaving in place fire-damaged poles that pose a safety risk to the community, and the judge in Santa Barbara court agreed," SCE said in a statement.
More than $1.8 billion in insurance claims have been filed as a result of the Thomas fire. The blaze, which grew to become the largest on state record, burned more than 280,000 acres, killed two people and destroyed hundreds of homes.
State insurance officials are still calculating total claims from the Montecito debris flow, which killed 21 people and destroyed at least 100 homes.
For breaking California news, follow @JosephSerna on Twitter.
---
The stories shaping California
Get up to speed with our Essential California newsletter, sent six days a week.
You may occasionally receive promotional content from the Los Angeles Times.