L.A. panel backs making Tom Bergin's a historic monument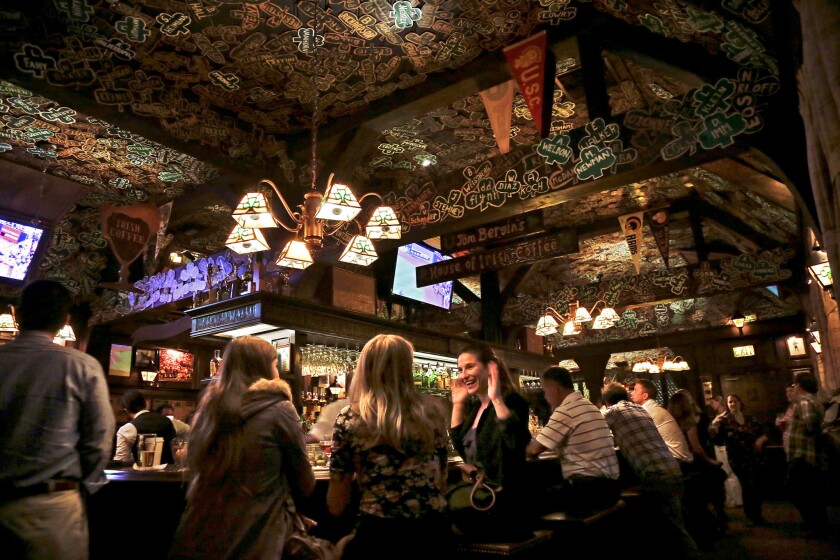 It was a beloved spot to celebrate St. Patrick's Day, warmed by Irish coffee, under a ceiling blanketed with cardboard shamrocks.
Now Los Angeles politicians are backing plans to enshrine Tom Bergin's, an Irish bar that now sits shuttered on Fairfax Avenue, as a historic and cultural monument. At a meeting Tuesday, a City Council committee threw its support to the idea, which now goes to the full council for approval.
Committee members did, however, make one key concession to the bar owner who opposes the plan: Excluding the parking lot from the monument designation, a move that could make it easier to redevelop the site.
The Miracle Mile Residential Assn. pushed for the nomination, arguing that the city should protect the treasured tavern. Ken Hixon, senior vice president of the group, said the former bar and restaurant, which closed its doors last year, was a "classic neighborhood joint" that hosted everything from anniversary dinners to graduation parties to wakes.
City staffers said its historic value lay not with its architecture — the 1949 building was deemed "not a unique or outstanding example of the Tudor Revival style" — but with its role as a community institution.
"It is vital to all cities to hold on to such gathering places to maintain cultural identity," L.A. resident Crystal Us wrote in a letter to council members backing the nomination. "Los Angeles does not have many of these spaces left … Starbucks is everywhere. Tom Bergin's is only in Los Angeles."
But the plan has been sharply opposed by bar owner Derek Schreck, some residents and parents of local schoolchildren, and even by a grandson of original owner Tom Bergin.
In a letter, Joe Bergin argued that enshrining the building as a monument would doom his plans to relocate its iconic signage and furnishings and reopen Tom Bergin's in a new location.
"The nomination kills this possibility and ensures that the building remain useless to the community," Joe Bergin wrote.
Backers of the nomination "seem fixated on the image of an old-style Irish pub … not on current realities," David Weissman, a neighbor who knows the owner, said in a letter to council members. Making it a monument would not reopen Tom Bergin's, but "instead create a blight on the neighborhood, a definite security and safety risk, and keep the building closed, empty and unused."
Benjamin Reznik, a lobbyist representing the property owner, complained that a city commission had misused the process to try to preserve a "legacy business" — a term that he argued could not even be applied to a tavern that had repeatedly shut down as one owner after another struggled to make it work.
Reznik also argued that the Cultural Heritage Commission, which voted unanimously to recommend making the bar a monument, had relied on faulty information.
And he charged that the nomination was "tainted": In a letter, he accused the Mid City West Community Council of breaking city rules that bar neighborhood councils from spending money on projects that affect the value of private property, by funneling money for a private consultant to help prepare the nomination through the Los Angeles Conservancy.
The Miracle Mile Residential Assn. fired back in a letter saying that while the neighborhood council had offered to chip in for the cost of preparing the nomination, the "offer has gone unpaid" and the Miracle Mile group had ultimately provided all the money for the consultant.
Reznik also argued that Councilman David Ryu should recuse himself because he had become "personally embroiled" by committing to assist the neighborhood council with funding; a Ryu spokesman said the councilman had no control over how the group spent its money, which had never been dispersed anyway.
Hixon, the senior vice president of the Miracle Mile group, added that supporters of the historic nomination "have Bergins on our side" as well. Katie Bergin, a granddaughter of the original owner, said she hoped the restaurant would be preserved and ultimately resume operating the way it had before.
"You do walk in and you feel like you're in another world," Katie Bergin said of the tavern interior, recalling the shamrocks on the ceiling marked with the names of bar patrons. "Some of them are sort of yellowed. There's a little piece of everyone in there."
Reznik said the Fairfax Avenue property is in escrow to be sold to a developer who wants to build a new mixed-use project. During the Tuesday meeting, Councilman Gil Cedillo questioned whether the city could afford the "luxury" of preserving such a building while L.A. was in dire need of housing.
Historic buildings can be altered under Los Angeles city rules, but the rules allow for added review and scrutiny of alternatives before that can happen, according to city officials.
Cedillo ultimately recommended that the city exclude the parking lot from the monument designation, and the rest of the committee agreed.
Frank Schreck, co-owner of the bar with his son, called that "the only way Tom Bergin's will ever survive," arguing that other development was needed on the site to provide revenue.
"It gives us a chance," Frank Schreck said after Tuesday's hearing.
L.A. has deemed other business sites to be landmarks, including a Norms restaurant on La Cienega Boulevard and the shuttered Johnie's Coffee Shop at Wilshire and Fairfax. The Black Cat, a bar that was historically important in the gay rights movement, is now a Silver Lake gastropub but still bears its historic sign of a cartoon cat.
Even if a building becomes a monument, the city cannot force a particular use — such as beloved business — to continue or reopen its operations. At the Tuesday meeting, Councilman Bob Blumenfield said the decision gave him "a lot of heartburn," questioning how protecting the building itself would preserve what residents had valued.
"A lot of this is a proxy fight over development, as opposed to actually honoring the culture," Blumenfield argued. "I do think we need to fix this system. Because it's broken."
Backers of the monument said their battle was not about stopping development, but preserving L.A. history. Chris Henrich, who said he had worked in the area, lamented that to many L.A. visitors, "the impression of the city is one of endless, featureless strip malls, places with really no community value." Tom Bergin's, he said, was "a focal point."
"Once we let go of our history, it's gone. It's just gone," Henrich told committee members.
Twitter: @AlpertReyes
---
The stories shaping California
Get up to speed with our Essential California newsletter, sent six days a week.
You may occasionally receive promotional content from the Los Angeles Times.