Norms restaurant designated as L.A. historic monument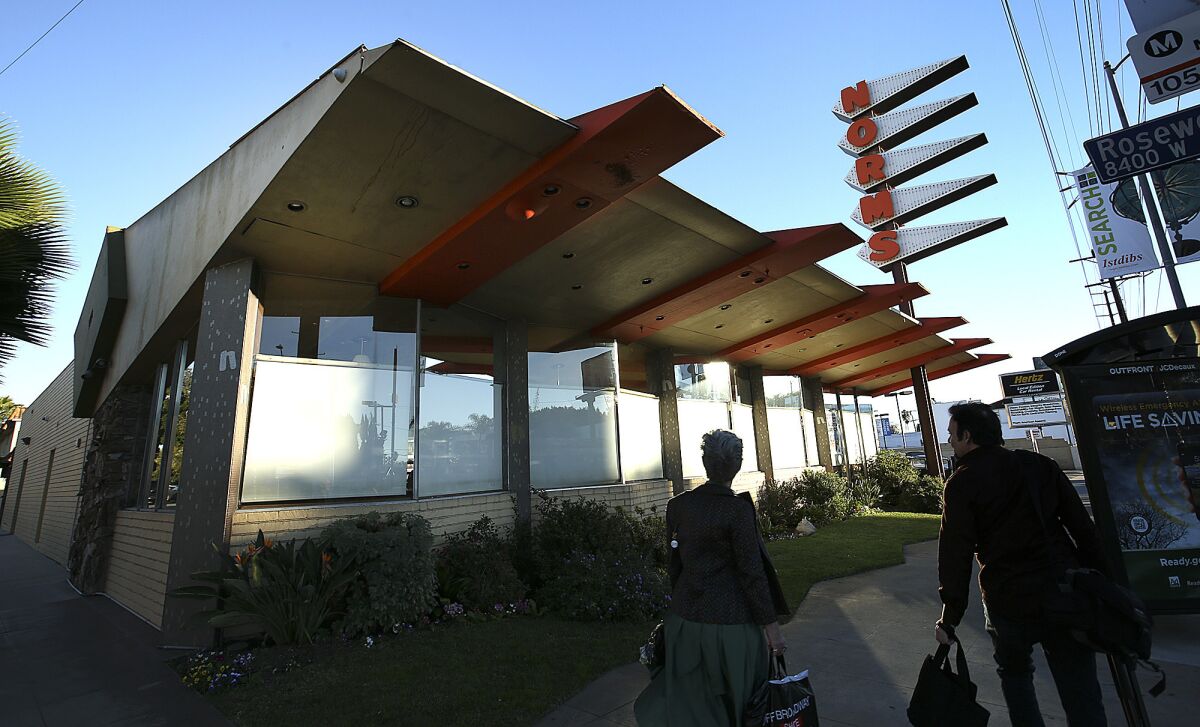 The Los Angeles City Council on Wednesday backed a plan to designate a Norms restaurant famous for its zigzagging architectural lines a historic and cultural monument.
The 12-to-0 vote marks an important step toward giving the 24-hour eatery on La Cienega Boulevard added protection from alteration and demolition. The move means city leaders would have to review any plans to demolish the site.
"It has probably the most diverse customer base, from small children and senior citizens to rock-and-rollers," said City Councilman Paul Koretz, whose district includes the '50s-style building. "It's really not just culturally significant but culturally uniting."
Mike Colonna, president of the Norms chain, said he's been talking with the new landlords about the retro-restaurant's future. Colonna said he was optimistic that the building's new status will not only preserve the architecture but a small business that is an important part of Los Angeles' culture.
Adrian Scott Fine, director of advocacy for the Los Angeles Conservancy, a historic preservation group, said Norms is important because it is a rare example of Googie architecture. Many such buildings have already been destroyed.
Googie is an exuberant, postwar Southern California style of sharp angles and sweeping curves meant to grab the attention of passing drivers.
The effort to save Norms comes at a time when historic preservationists say postwar buildings — especially on a smaller scale — face an increased threat from development pressure.
Some vintage examples of this style have been torn down, including the old Googies coffee shop in Los Angeles, from which the style got its nickname. But there have been more preservation successes in recent years.
In 2013, the L.A. City Council granted historic-cultural landmark status to Johnie's Coffee Shop at Wilshire and Fairfax. Burbank, meanwhile, is considering ways to preserve some of the distinctive commercial signs from that era.
Koretz said too many of these old buildings have been torn down.
"We're down to the few and this is perhaps the most glorious example of what we have left," he said. "Let's preserve a key part of Los Angeles history."
For more California news, follow me on Twitter: @ParviniParlance
The stories shaping California
Get up to speed with our Essential California newsletter, sent six days a week.
You may occasionally receive promotional content from the Los Angeles Times.