Ex-Assemblyman Tom Calderon is sentenced to a year in federal custody in bribery case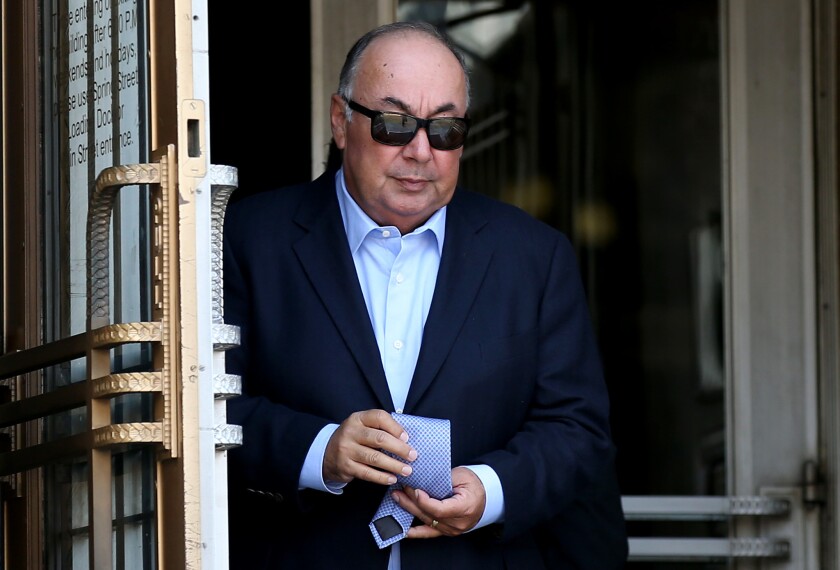 Former California Assemblyman Tom Calderon, a member of a now disgraced California political dynasty, was sentenced Monday to a year in federal custody for laundering bribes taken by his brother.
Citing Calderon's significant health problems, U.S. District Judge Christina A. Snyder showed some leniency, ordering Calderon to serve only the first half of the sentence in prison. For the second half, Calderon will wear an electronic monitoring device and live under house arrest.
The punishment, which sends Calderon to prison for significantly less time than the 18 to 24 months called for under federal sentencing guidelines, stemmed from a plea deal Calderon struck with the U.S. attorney's office. Under the terms of the agreement, Calderon admitted to the money-laundering charge and prosecutors agreed not to seek more than 12 months behind bars.
The proceedings Monday brought to a close part of an FBI sting operation and bribery case that primarily targeted Calderon's brother. Former state Sen. Ron Calderon has pleaded guilty to accepting bribes from undercover FBI agents and a corrupt hospital executive. He is scheduled to be sentenced next week.
After being indicted by a federal grand jury in February 2014, the brothers, Democrats from Montebello, insisted they were innocent. Ultimately, however, they admitted their guilt in June, shortly before their trial was to start.
In pleading guilty, Tom Calderon acknowledged in a court filing that he had "agreed to allow bribe money to be funneled through the Calderon Group in order to conceal and disguise the fact that the money represented the proceeds of bribery." The Calderon Group is a political consulting company.
Calderon addressed Snyder briefly before she handed down her sentence. "I am truly remorseful and regret my mistakes," he said. "I am ready to move on and accept my punishment."
Ron Calderon faces a harsher sentence from Snyder. In his own deal with prosecutors, he pleaded guilty to a count of mail fraud. He admitted to accepting bribes in 2013 from an undercover FBI agent posing as a film industry executive in exchange for advocating for an extension of tax credits for film productions. Investigators also allege he took bribes from the owner of a medical firm in exchange for action on legislation involving workers' compensation.
In court Monday and in court filings, Calderon and his attorney, Shepard Kopp, had asked Snyder to spare him from any time behind bars. Heart problems and diabetes, they said, would be difficult to treat if Calderon was not under the care of his physicians.
Snyder agreed somewhat but said Calderon needed to spend some time in prison, largely to send a message to others that corruption by public officials would not be tolerated.
She decided on the split sentence, saying she expects Calderon to serve the first five months in a federal facility with adequate medical services and another five months at home with an electronic monitor locked to his ankle. Assuming Calderon does not have any discipline problems while in prison, he'll receive credit for good behavior and his sentence will be cut to 10 months.
For more news on federal courts in Southern California, follow me on Twitter: @joelrubin
ALSO
Man accused of bludgeoning his friend with an ax and dumping the body pleads not guilty
L.A. officials launch campaign for homeless housing bond measure
Remains found during dig for missing Cal Poly student Kristin Smart could be human or animal
---
UPDATES:
7:25 p.m.: This post was updated to include the Calderons party affiliation.
4:35 p.m.: This post was updated to include a quote from Tom Calderon.
4:22 p.m.: This post was updated to remove comments by Ron Calderon's attorney, which were made at an earlier court hearing.
This article was originally published at 4:05 p.m.
---
The stories shaping California
Get up to speed with our Essential California newsletter, sent six days a week.
You may occasionally receive promotional content from the Los Angeles Times.