More than a dozen tanker cars derailed in San Bernardino on Tuesday, prompting authorities to evacuate at least one nearby building.
The BNSF Railway train heading to Los Angeles from Barstow derailed at about 9:25 a.m. in the 7200 block of Cajon Boulevard near Devore Boulevard, police and company officials said.
BNSF representative Lena Kent said 15 tanker cars derailed in the incident.
No one was injured.
San Bernardino police evacuated the FedEx Freight building on Cajon Boulevard as a precaution. It is not clear how many people were evacuated.
Police said "a gas and alcohol-based liquid" is leaking from three of the train cars. However, Kent said only two of the cars are leaking.
One car is carrying a type of waxing grease that is considered a hazardous material. The other car contains a nonhazardous material, Kent said.
Police said a hazardous materials assessment determined there is no danger to the public. Officials are using drones to identify rail car contents.
The incident has closed a stretch of Cajon Boulevard and Glen Helen Parkway.
It is not clear what caused the train to derail.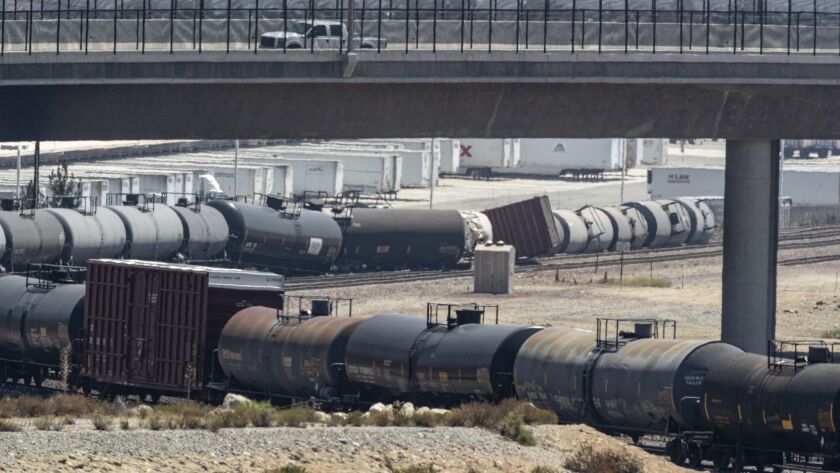 EVACUATION ALERT! A train has derailed and we are evacuating the area around Cajon Blvd. and Devore Rd. There is no immediate threat to the area, this is for safety only at this point.

— San Bernardino PD (@SanBernardinoPD) August 21, 2018
---
UPDATES:
11:50 a.m.: This article was updated with comments from BNSF Railway representative Lena Kent.
This article was originally published at 10:55 a.m.
---