A fatal heart attack on Metrolink prompts calls for defibrillators on commuter trains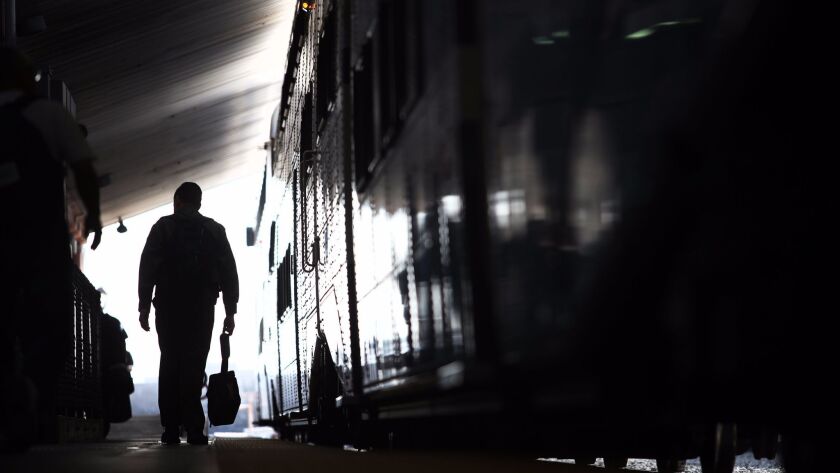 Early on a recent Monday, a Metrolink train bound for downtown Los Angeles screeched to an unexpected stop in Buena Park.
The train had struck debris on the tracks earlier that morning, and the train's air conditioning and electricity had just shut off, a conductor told passengers. The cars grew stuffier and hotter as the train baked in the morning sun.
More than an hour later, cool air began to flow and the train slowly moved north toward Los Angeles. Then a man collapsed into the aisle.
As he lay motionless, a passenger checked for a pulse, ripped his shirt open and started chest compressions. A woman began pushing her way through the crowded car, asking for a doctor. Several passengers called 911.
A half-hour later, he was pronounced dead at Union Station.
"There were people who were desperately trying to bring him back, and there was nothing there to help them," said Zaz Suffy, a chef at USC who was seated in front of the man when he collapsed. "I honestly thought the train would be better prepared for emergencies like this one."
The death on Train 601 has left Metrolink passengers shaken and upset. Some riders have questioned why the train did not stop to allow paramedics on board. Others have questioned why Metrolink trains do not carry defibrillators, a relatively affordable tool that can be used to revive people who've had a heart attack.
Metrolink's conductors are trained in first aid and CPR, spokeswoman Sherita Coffelt said. The agency does not provide defibrillators, nor are they required in stations, which are maintained by municipalities rather than the agency.
Federal officials have required defibrillators on commercial airplanes since 2004, but there is not a similar law for passenger trains.
The handheld devices, sometimes called AEDs, deliver an electrical current that resets an irregular heartbeat. They have become increasingly common in government buildings, offices and schools.
The passenger, Chandra Vudavagandla, died of natural causes related to heart disease, the Los Angeles County coroner's office said. A final autopsy, including a toxicology screen for any drugs or medications, is still pending.
The Los Angeles County Sheriff's Department is investigating how Metrolink handled the death. Separately, Metrolink will review the autopsy "to determine if we can take any steps to improve our service and passenger safety," Coffelt said.
Metrolink's policy for medical emergencies instructs engineers and conductors to stop at the next station or street-level rail crossing "if possible," and to contact the rail line's operations center. Employees can also seek help from passengers with medical training.
According to two passengers on Train 601, a police officer walked through the car to tell the conductor that he had called 911 and had arranged for paramedics to meet the train at the next stop on the line, in Commerce.
The conductor responded that the train was already late, the passengers said. The train passed through Commerce and headed to Union Station, a trip that took about 20 minutes.
"The conductor took it upon himself to say, 'We're not going to stop, we're going to pass by,'" Suffy said. "There was no call to the engineer operating the train. There was no communication that we could see."
An initial investigation suggests the conductor followed agency policy, Coffelt said in an email to Metrolink board members. But, she said, the agency has received complaints over the conductor's actions, and he has been removed "as this investigation continues."
Two riders toward the front of the train said the engineer used the public address system to call for a doctor or nurse on board, but that the problems with the train's electrical system made the message staticky and difficult to understand.
At a meeting three days before Vudavagandla's death, a Metrolink board member suggested the agency look into the cost of installing AEDs on trains or at stations.
Employees are now studying the possibility across the 409-mile system. Brian Humphrey, a Ventura County representative who works for the Los Angeles Fire Department, said he was eager to see changes that will keep passengers safer.
"I wish we could go back and change this death, and we can't," Humphrey said. "We can't un-ring the bell. But we do pledge to look into this and understand how we can do better."
Officials sometimes worry that providing defibrillators can expose an agency to lawsuits if a device is used incorrectly or fails to resuscitate someone. But California law protects government agencies from such liability.
"In general, it's something that we have been advocating for, to make AEDs as common as the fire extinguisher," said Kristine Kelly, a spokeswoman for the American Heart Assn. in Los Angeles.
Two other major commuter rail systems in the U.S. provide defibrillators, a change that was prompted by similar passenger deaths.
In 2009, Boston became the first U.S. region to install defibrillators on commuter trains and in stations as part of a settlement agreement with the widow of a man who died of sudden cardiac arrest on a train.
The devices have since been used to revive several passengers who collapsed on train platforms and on trains.
After a passenger died on a Metra commuter train in Chicago, transit officials installed defibrillators on all trains and in police vehicles. Officials also began offering CPR training to commuters on train platforms.
Twitter: @laura_nelson
---
For reporting and exclusive analysis from bureau chief John Myers, get our California Politics newsletter.
You may occasionally receive promotional content from the Los Angeles Times.