Community gathers to say goodbye to Trinity Love Jones, girl found dead in duffel bag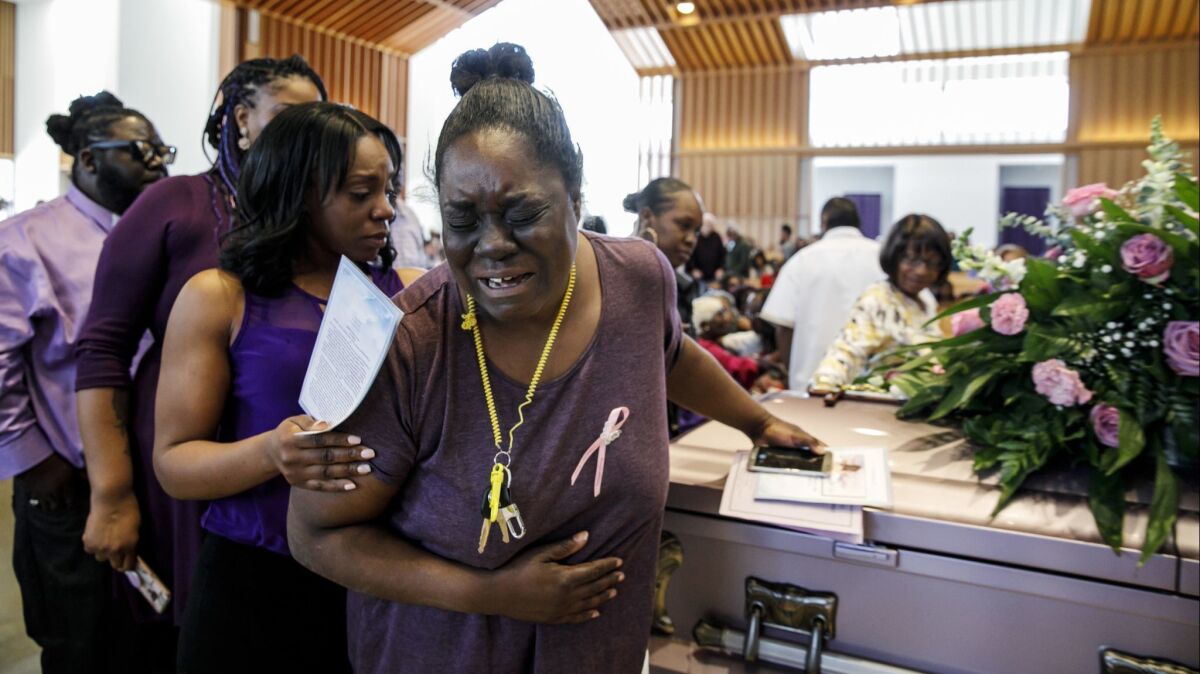 Mourners gathered on Monday afternoon in Hacienda Heights at a memorial service for Trinity Love Jones, the 9-year-old girl whose body was found stuffed inside a duffel bag along a trail earlier this month.
The service, at St. John Vianney Catholic Church in Hacienda Heights, was open to the public in recognition of the outpouring of community support for the girl and her family in the weeks following her death.
The service began with a bell-tolling ceremony followed by a 75-candle procession escorting the casket into the church. The interfaith ceremony included a Catholic priest, a Protestant pastor and a Buddhist monk.
"After speaking with Trinity's father and witnessing each of you here today, I now realize this is who she is: a unique, gifted, charismatic, beautiful, life-of-the-party young girl, and as her father described her, someone with so much character," pastor Darnell Hammock said.
Hammock, making note of the variety of people attending the service, said Trinity clearly had the capacity "to transcend generational borders and surpass economic, religious and even political party affiliations."
The Rev. Egren Gomez, St. John Vianney's associate pastor, said that despite the "destruction and darkness" that inevitably occur in life, "Today, Trinity comes down from heaven and blesses the darkness with her eternal life."
The girl's father, Antonio Jones, urged attendees to "wear bright, cheerful colors, as we are celebrating a young and vibrant life."
"We sincerely appreciate all of the prayers and kind acts of love and generosity shown to our family," he wrote in a posting on Facebook last week.
Trinity's body was found March 5, bent into a black roll-away duffel bag, her head and torso slightly protruding. Her body had been dumped onto an embankment along a popular equestrian trail in light brush and was found by a Los Angeles County Parks and Recreation Department worker who was clearing the landscape there.
Her small body was clad in a pink long-sleeve shirt proclaiming "Future Princess Hero," but officials had little else to go on to identify her remains. The Los Angeles County Sheriff's Department immediately set out to determine who she was.
It would be nearly a week before the girl was identified, but in the meantime, a makeshift memorial sprouted up along the trail where her body was found. "Rest in Heaven Princess" read one day-glo pink sign adorning the fence at the entrance of the Hacienda Heights trail. Stuffed animals, heart balloons, ribbons and bouquets of flowers covered the chain link.
Prosecutors have since filed murder charges against her mother, Taquesta Graham, and her mother's boyfriend, Emiel Hunt.
Times staff writers Richard Winton, Nicole Santa Cruz, Hannah Fry and Jeanette Marantos contributed to this report.
---
The stories shaping California
Get up to speed with our Essential California newsletter, sent six days a week.
You may occasionally receive promotional content from the Los Angeles Times.