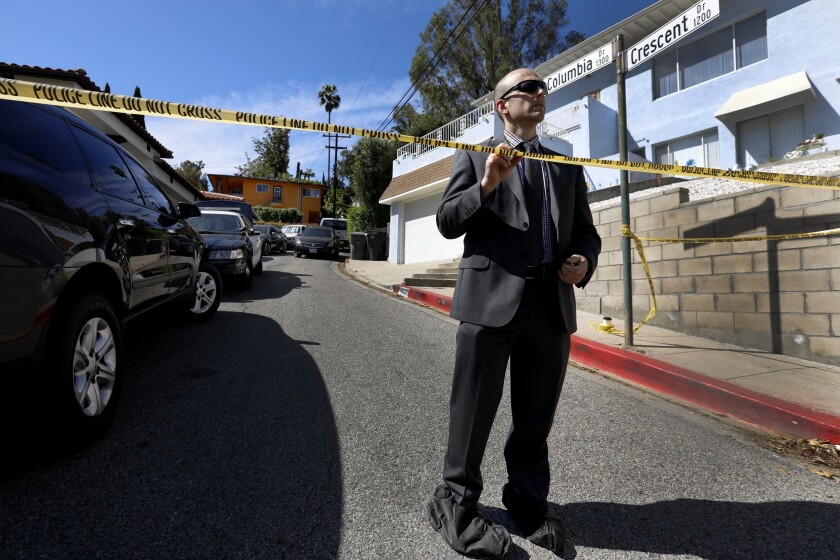 The bodies of three men were discovered in a Glendale home early Thursday after police received a call about gunfire in the area.
Glendale police officers responding to the call arrived at the 1300 block of Columbia Drive in the Adams Hill neighborhood about 12:15 a.m. and noticed one home's garage door was open, which seemed suspicious given the hour, Sgt. Dan Suttles said.
When officers got closer to the home, they saw a man in his 40s or 50s dead in the driveway near the garage. They found the bodies of two other men, who appeared to be in their 20s, inside the home. All had been shot, and based on the men's wounds, all three deaths are believed to be homicides, Suttles said.
The men's names were not released, and police are still trying to piece together how they were connected. The man found in the driveway lived at the home. Four minors who live there part time were not present when the shooting occurred, Suttles said.
No suspect information was immediately available. Investigators plan to review video from security cameras outside the house and are using 3-D scanning technology to analyze the crime scene, Suttles said.
The neighborhood — tightly packed with eclectic hillside homes in the southeast portion of the city — is known for being a quiet and safe place to raise a family. On Thursday, Columbia Drive was bustling with activity. Police cars lined the street as neighbors walked past the crime scene, which had been cordoned off with yellow police tape.
"Some of my colleagues have talked and said all the years that they worked here they have never seen a triple homicide," Suttles said. "And this is a very quiet and peaceful neighborhood. This is Adams Hill in Glendale — it's known for being a nice area to live and a peaceful place. So it's an extremely rare event."
Victor Marquis, 70, who has lived in Adams Hill for more than 21 years, was listening to jazz on the radio early Thursday when he noticed lights from emergency vehicles racing by his house. News of the triple slaying came as a shock to him.
"I've never seen anything like this here in my life," he said.
Neighbor Ivo Ivankovich was out walking his dog when he came across the crime scene. He said he knew the owner of the home in passing, noting that he was a friendly man who was easy to talk to.
"To this moment, I'm still a little bit in shock," said Ivankovich, who has lived in the area since 2002. "My thoughts are that maybe it's not him, but if it is, my prayers go out to his family."
There has been only one other homicide in Glendale this year, a murder-suicide in February, police said.
Nguyen writes for Times Community News
---