Trump called Oakland mayor a 'disgrace' for revealing ICE raids. Then he did the same thing
When Oakland Mayor Libby Schaaf tipped residents off last year that immigration agents would be conducting enforcement operations, President Trump called her actions a "disgrace."
A Republican congressman from Iowa proposed criminal penalties for officials in so-called sanctuary cities who make similar disclosures.
The acting Immigration and Customs Enforcement director at the time, Thomas Homan, said Schaaf was "no better than a gang lookout yelling 'police!' when a police cruiser comes in the neighborhood."
Then, in the last month, Trump himself announced impending immigration operations over Twitter. On Friday morning, he reaffirmed that the operations to remove a large number of immigrants in the country illegally were set to proceed, stating that there was "nothing to be secret about."
"If the word gets out, it gets out. It starts on Sunday," Trump told reporters outside of the White House. "They're going to take people out and they're going to bring them back to their countries."
ICE is expected to pursue at least 2,000 immigrants beginning Sunday.
And the Trump administration, it seemed, had pulled a Libby Schaaf.
Critics have said that Trump is touting operations to drum up support for his re-election campaign and believe tweets and leaks have removed the element of surprise for ICE.
"I've never seen anything like this, where they're highlighting an operation in advance," said John Sandweg, who headed ICE under President Obama. "Those people who were in the agency criticizing the Oakland mayor, I don't think you can credibly say there's a distinction here between what the administration has done."
Schaaf said as much last month: "I ... find it a bit ironic that a president who was so critical of my informing my community about the potential of a raid has himself now warned the entire nation."
Schaaf's office said she was unavailable for comment.
The Oakland mayor's warning won cheers in California, where many oppose Trump's immigration crackdown. When the new operations were announced a few weeks ago, many political leaders in California denounced them, with some urging those targeted to know their rights and report any abuses to the proper officials.
Some California law enforcement agencies have stressed that they are not taking part in the immigration actions.
Schaaf issued her warning last year before a sweep that ended in more than 150 arrests.
Oakland, like many California cities, has declared itself a sanctuary for those here illegally.
In slamming the mayor's decision, Homan accused her of threatening the safety of immigration officers by publicizing operations before they happen.
"The Oakland mayor's decision to publicize her suspicions about ICE operations further increased that risk for my officers and alerted criminal aliens — making clear that this reckless decision was based on her political agenda with the very federal laws that ICE is sworn to uphold," Homan said in a statement at the time.
Beginning this weekend, ICE is expected to pursue at least 2,000 immigrants who have missed a court appearance or been ordered removed from the country, according to reporting Thursday by the New York Times. The operations are expected to take place in 10 named cities across the U.S.
Matthew D. Bourke, an ICE spokesman, would not confirm the pending operations or offer further details, citing "law enforcement sensitivities and the safety and security of U.S. Immigration and Customs Enforcement personnel."
"As always, ICE prioritizes the arrest and removal of unlawfully present aliens who pose a threat to national security, public safety and border security," he said in a Thursday statement. "However, all of those in violation of the immigration laws may be subject to immigration arrest, detention and — if found removable by final order — removal from the United States."
Although Trump said the operations will begin this weekend, an ICE official cast doubt on that in an interview Friday.
"The operation is not going to start Sunday, but that doesn't mean it might not start next week, it might have already started," said the official, who declined to be identified because they were not authorized to speak. "We don't want anybody to know when we're doing these operations. We don't advertise them, we don't appreciate when others advertise them .. there's a reason we don't put it out, no matter who we're going after."
ICE typically conducts large-scale operations three or four times during the year and generally average 40 to 50 arrests a day during larger operations, an agent previously told The Times. Those operations specifically target public safety threats, such as convicted criminals and individuals who have violated immigration laws. Last year in California, ICE conducted at least four operations that spanned several days, resulting in nearly 700 arrests.
On Friday, ICE announced that deportation officers in San Diego had arrested 20 people during a five-day enforcement surge focused on immigration fugitives with a final removal order and a criminal conviction or a criminal charge. The week long operation ended on Thursday. ICE officers in L.A. reportedly just finished a similar operation. These operations are separate from the one Trump has cited.
Ninety percent of those arrested by ICE's Enforcement and Removal Operations in fiscal year 2018 had either a criminal conviction or convictions, pending criminal charges, were an ICE fugitive, or illegally reentered the country after previously being removed, according to the agency.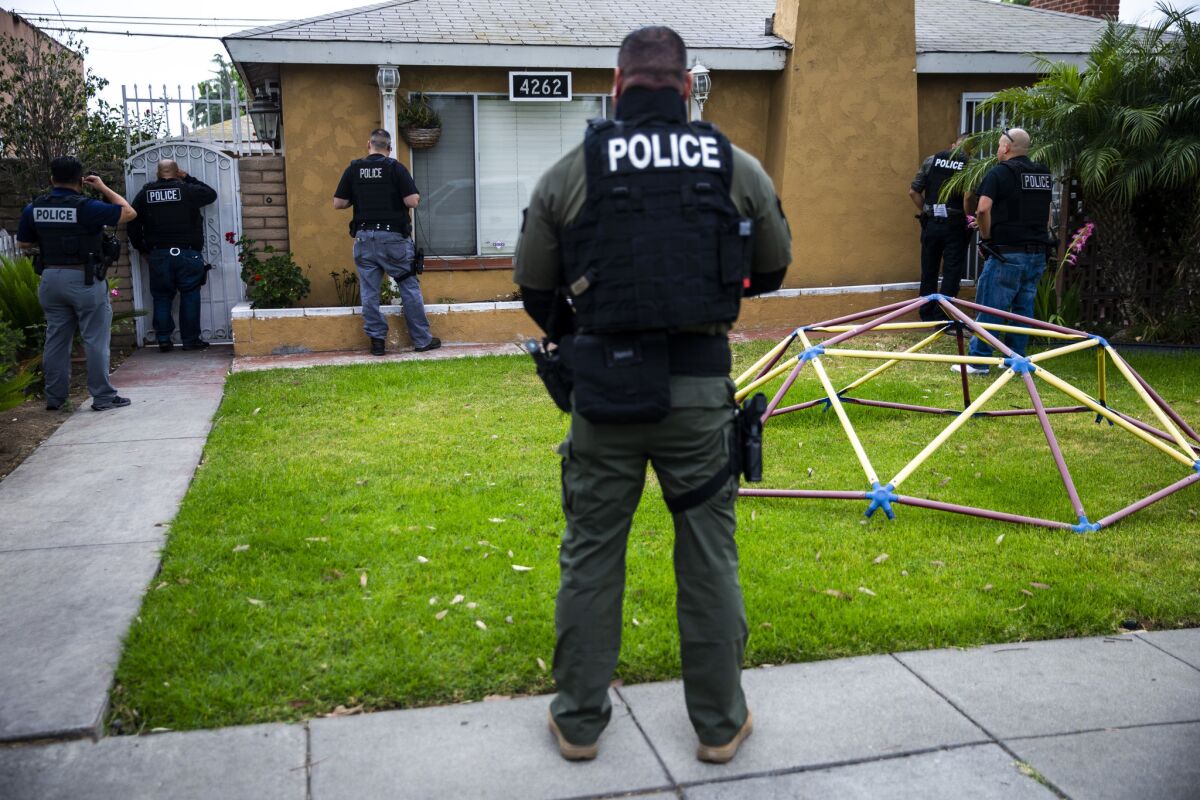 Last June, agents gathered for a 5 a.m. briefing in the parking lot of a Compton shopping mall, where they reviewed the target list they had spent weeks putting together. A reporter who went on the ride along with the team was required to embargo information about the operation until it was over.
Those embargoes are typical, Sandweg said. Congressional notifications and press releases go out after operations, he added.
On the first day of such operations, agents typically are able to get most of their targets "because of the element of surprise," Sandweg said.
"By Day 2, 3, 4, 5, word has gotten out that we're conducting this type of operation and people are gone," Sandweg said. "We knew that once word got out that the effectiveness of the operation would be limited."
If a suspect knows where and when officers are coming, they can either avoid the situation entirely or become confrontational, said Sid Heal, a retired L.A. County sheriff's commander and use-of-force expert.
When a plan is compromised, meaning the suspect becomes aware of it, in many situations the operation will be canceled and rescheduled, he said.
Although Heal believes Trump provided only general information about the operation, he added that "personally, I wouldn't have done it."
"I err on the side of safety, personally. If there is some value in using the threat of arrests to increase the compliance with the laws, I'm all for it," Heal said. "As far as specific information, I just stay away from it."
When Los Angeles police officers plan to serve arrest warrants or are working on investigations, it's important to try to keep details from leaking, said Assistant Chief Robert Arcos. In the case of a dangerous suspect, officer safety could be compromised if details got out.
"We try to do our best to keep everything very close to the vest," Arcos said. "So, the folks who need to know and have the right to know, versus kind of broadcasting ahead of time."
When Trump first announced enforcement operations, officials, lawyers and advocates across the country — including in Los Angeles — scrambled to prepare.
The Coalition for Humane Immigrant Rights of L.A. has been holding "know your rights" workshops and telling community members to come in to speak with immigration attorneys to be screened for immigration relief, said Shannon Camacho, CHIRLA's campaign coordinator.
"Knowing ahead of time that there may be operations coming to Los Angeles … we are now preparing everybody," she said. "That's something that we wouldn't have the opportunity to do if we knew about an operation after the fact or while it was happening."
---
The stories shaping California
Get up to speed with our Essential California newsletter, sent six days a week.
You may occasionally receive promotional content from the Los Angeles Times.