Lawyers for president-elect file motion to delay Trump University trial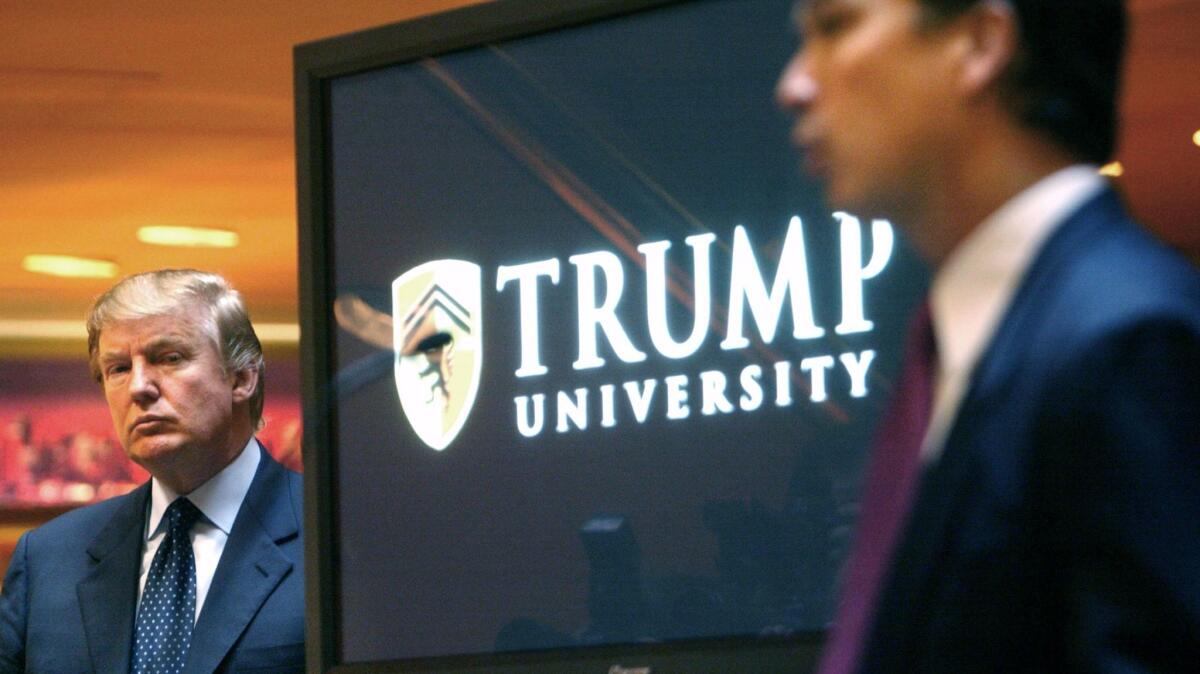 A motion to delay the Trump University trial until after the presidential inauguration was filed in San Diego federal court Saturday night, arguing a few extra months would give both sides time to videotape Donald Trump's testimony or possibly reach a settlement.
U.S. District Judge Gonzalo Curiel was put on notice Thursday during a hearing on the case that Trump would be seeking a continuance to the Nov. 28 trial in light of his election win.
In the motion, Trump's attorney Daniel Petrocelli lays out a detailed plan that would postpone the trial until sometime soon after the Jan. 20 inauguration to allow the president-elect to focus his time and energy on the transition to the White House.
The motion also requests that Trump be excused from having to testify live or in person. Instead, his lawyers argue he should be allowed to be questioned by both sides in a videotaped deposition for trial purposes either shortly before Jan. 20 — when his transition duties would be nearly complete — or at a later time. That video would then be played at trial.
Petrocelli asks that the specific date and location of the recording be kept secret, until trial.
Furthermore, the video testimony would be used not only in this case, but in a similar Trump University lawsuit also in San Diego that is not as close to trial — ensuring Trump won't have to testify twice.
"The videotaped testimony will ensure no additional delay of trial based on future scheduling unpredictability," Petrocelli wrote. "The breathing room also will permit the parties to explore alternative methods of resolving both cases. And the definite period after which to schedule trial safeguards plaintiffs' rights and minimizes the prejudice to them."
If the judge denies the motion, Petrocelli requests an immediate stay of the proceedings so he can appeal to a higher court.
Attached to the motion are some 500-plus pages of government documentation and research detailing the duties of a president-elect's transition period.
Petrocelli also points to Clinton v. Jones, a 1997 landmark U.S. Supreme Court decision that held that sitting presidents are not immune to lawsuits involving incidents that occurred before they were in office. The ruling stressed that, even so, federal courts must still afford the "utmost deference" to the president if he is being sued, giving him wide latitude in his scheduling and recognizing the importance of the office.
The case stems from a lawsuit filed by Paula Jones against then-President Bill Clinton, accusing him of sexual harassment when he was Arkansas governor. The case eventually settled out of court.
Attorneys for the plaintiffs in the Trump University case said Thursday that a delay in the trial would complicate matters and that it would be best to hold it before Trump takes office.
The class-action lawsuit, filed in 2010, accuses Trump and Trump University of misleading students who signed up for seminars that promised to teach insider secrets to real estate investing. The students claim they were told instructors were "handpicked" by Trump when they weren't, and that the program falsely held itself out to be an accredited university when it was not.
The class-member representing California, Sonny Low, is from Chula Vista, while two other people represent members in Florida and New York. There are potentially more than 7,000 eligible class members.
Judge Curiel on Thursday urged both sides to revisit settlement talks with the help of a veteran San Diego judge who has offered his mediation services. Lawyers for both parties agreed they were willing to discuss that with Judge Jeffrey Miller.
Davis writes for the San Diego Union Tribune. Follow @lanow for breaking news.
Sign up for Essential California for news, features and recommendations from the L.A. Times and beyond in your inbox six days a week.
You may occasionally receive promotional content from the Los Angeles Times.