Man on Tulare County sheriff's most wanted list is wounded by deputy during capture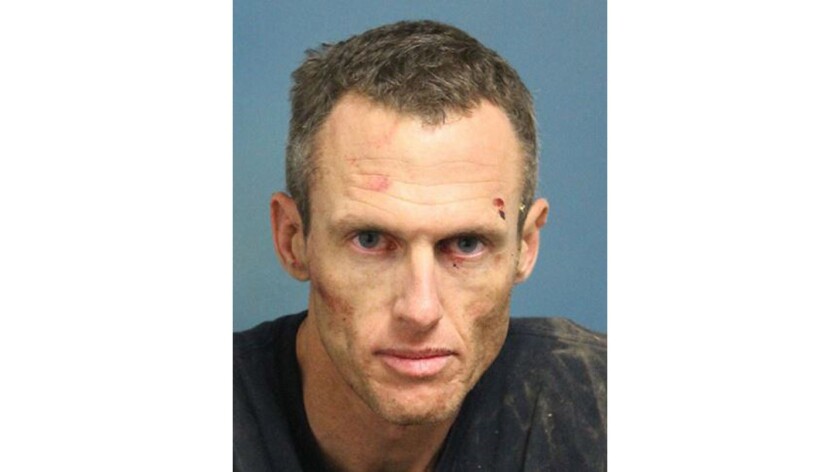 A Tulare County sheriff's deputy on Tuesday shot and wounded a man who was on the sheriff's 10 Most Wanted fugitives list at a motel in Lindsay.
Randall Clay Ver Steeg, 39, was wanted on burglary and weapons charges in Tulare and Fresno counties and was being sought in connection with multiple vehicle thefts, according to the Tulare County Sheriff's Department. He was No. 3 on the sheriff's most-wanted list, authorities said.
A tip from a member of the public led deputies on Tuesday to the Super 8 Lindsay Olive Tree motel near California 65, "where he had been hiding out," the sheriff's department said in a statement.
Deputies confronted Ver Steeg at about 11 a.m. on the motel's second-story outdoor breezeway and told him to show his hands and get on the ground, Sheriff Mike Boudreaux said at a news conference. Ver Steeg "refused to comply with those orders" and reached for a loaded .357 magnum revolver in his waistband, Boudreaux said.
A deputy fired once and hit Ver Steeg in the upper torso, Boudreaux said. No other shots were fired.
Ver Steeg was taken to Kaweah Delta Medical Center, where he underwent surgery and was in critical but stable condition, authorities said.
"Obviously, this officer felt a threat to his life and took the action necessary," Boudreaux said of the deputy. "You know, Mr. Ver Steeg, he's the one who created this situation by reaching for a weapon."
Boudreaux told KSFN-TV of Fresno that Ver Steeg tried to escape from a hospital while in custody a few months ago. The sheriff said two deputies were guarding him at the hospital.
The Porterville Police Department is investigating the shooting, and the deputy who fired his weapon has been placed on paid administrative leave, the sheriff's department said.
The shooting caused a scare at the Country Waffles restaurant next door to the Super 8 motel.
"We had an officer with a big gun telling us to get down and go into the back room," store manager Diana Austin told KSFN. Customers waited in a back room, and the restaurant was closed for the day.
MORE: Get our best stories in your Facebook feed >>
Follow me at @haileybranson / Google+
ALSO
Video shows thieves taking Easter eggs of boy with Down syndrome
2 men killed, 3 others injured in 'horrific' crash in Pasadena
Silicon Valley executive dies trying to rescue daughter from electrified pool, authorities say
---
The perils of parenting through a pandemic
What's going on with school? What do kids need? Get 8 to 3, a newsletter dedicated to the questions that keep California families up at night.
You may occasionally receive promotional content from the Los Angeles Times.