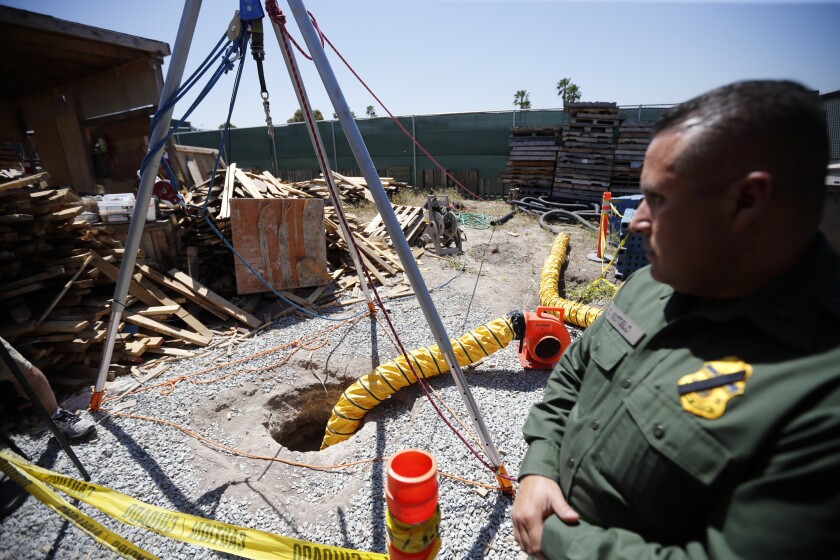 You can't be claustrophobic if you want to work for the U.S. Border Patrol's Tunnel Entry team -- the unit that explores underground drug-smuggling passages near the U.S.-Mexican border.
To prove they don't freak out in tight spaces, prospective confined-space rescue technicians, or "tunnel rats," have to wriggle through a two foot-wide pipe for about 20 yards before they can join the squad.
"You know right off if it's playing with someone's mind," said Lance LeNoir, who leads the five person squad. "It takes some psyching up, to say the least, to do the job."
Given their job description, tunnel team members need steady nerves. Underground passages beneath the U.S.-Mexican border have become longer and tighter over the last decade, according to law enforcement officials.
Between 2006 and 2013, the average completed tunnel in the San Diego area had air vents and machinery to transport drugs. They also extended roughly 1,750 feet and were about 3½ feet wide, according to statistics provided by U.S. Immigrations and Customs Enforcement officials.
Over the last two years, however, the average tunnel has stretched to a total length of about 2,450 feet, while its width has shrunk to just over 2½ feet.
The latest San Diego County tunnel, discovered last month in the Otay Mesa neighborhood, was 2,700 feet long and 3 feet wide, authorities said.
See more of our top stories on Facebook >>
The passages are often twisty, especially as they get to the U.S. side of the border and tunnelers try to burrow to an exit point -- usually in a warehouse or other building. That's about as easy as trying to park a car in the dark without any headlights, LeNoir said.
After a tunnel's discovery, Mexican authorities usually go through first to clear any remaining smugglers. Then LeNoir and his team enter from the U.S. side after making sure the tunnel isn't in danger of collapsing and that there's breathable air.
They remove any leftover drugs or evidence while also mapping the tunnel's path. Most of the passages are at least 30 feet underground, making some technology nearly impossible to use. "It's a GPS-denied environment," LeNoir said.
Even robots designed to map tunnels are difficult to operate at that depth, so agents almost always have to crawl through with a compass and tape measure, or a tracking device, to estimate the pathway's dimensions.
Tunnel agents communicate with devices that resemble old-fashioned telephones, complete with a wire trailing back to the surface. Depending on how twisty the tunnel is, the setup can quickly turn into a mess resembling a tangled fishing line.
Interested in the stories shaping California? Sign up for the free Essential California newsletter >>
Once the tunnel is mapped, Lenoir and his team drill holes down from the surface and pour concrete in the passage. That filler prevents collapse and deters smugglers from using it in the future.
Lenoir said he wouldn't be surprised if the shrinking trend continues. The entrance of a recent tunnel discovered in Calexico, about 100 miles east of San Diego, was only 14 inches wide, he said.
"I have no idea how people got through," he said.
Follow @byjsong on Twitter.
ALSO
CHP arrests dozens, seizes vehicles in street racing crackdown
L.A. County severely restricts solitary confinement for juveniles
Driver in wild L.A. County chase arrested again — this time on a motorcycle
---